Hadestown is a new musical that just opened on Broadway, based on the myth of Orpheus and Eurydice. It was written by musician and songwriter Anaïs Mitchell, directed by Rachel Chavkin (Natasha, Pierre and the Great Comet of 1812), and it is the only new show on Broadway this season written and directed by women. It stars a diverse cast of performers, from Les Mis breakout Eva Noblezada, to former Penny Dreadful star Reeve Carney, to theater legend André De Shields. It has gone from a 2010 concept album to an off-Broadway show (recorded for posterity and available on Spotify!) to its current incarnation, with a Broadway cast recording coming next month.

The cast performed "The Road to Hell" on Live with Kelly and Ryan, as seen above, and "Livin' It Up on Top" on the Today Show, which can be seen under the cut. They've also posed for photoshoots, taken interviews, and are making bank at the box office. Click the cut for more Hadestown-centric content, including pics of a tall, muscled chorus member that literally made me think of ONTD.





"Livin' It Up on Top" on the Today Show.



"What's beautiful about the play has nothing to do with whether Orpheus wins or loses in the end but just that he tries and keeps trying." @anaismitchell gave @voguemagazine the lowdown about @hadestown. 🌹 https://t.co/YJaNSHV47j

— Hadestown (@hadestown) May 18, 2019

Vogue interviewed Hadestown author Anaïs Mitchell about the show. She is the first woman in a decade (!) to be the solo author of a musical, and has been writing and rewriting the show since 2006.


Hotter than a crucible. 🔥 #AnnieLeibovitz for @VogueMagazine. #Hadestown pic.twitter.com/62FPiA9aZ6

— Hadestown (@hadestown) May 16, 2019

Vogue also had Annie Leibovitz photograph the cast. From left to right: Patrick Page (Hades), Jewelle Blackman (Fate), Amber Gray (Persephone), Reeve Carney (Orpheus), Eva Noblezada (Eurydice), Yvette Gonzalez-Nacer (Fate), Kay Trinidad (Fate), André De Shields (Hermes) and Liam Robinson.



Get an exclusive first look at the cast of musical Hadestown in full costume https://t.co/En1ObjViDD

— VANITY FAIR (@VanityFair) April 10, 2019

More photos of the cast in costume, shot by Vanity Fair. Amber Gray as Persephone is shown above. Click on the link for all of the pics - some highlights:


https://instagram.com/p/BwF1cjKhCUl
Chorus member Timothy Hughes, who is 6'7"(!). I think you guys would love him - check out his insta.


https://instagram.com/p/BwF-aF0pPFs
Eva Noblezada, who plays Eurydice.


https://instagram.com/p/BwGCLOjBhAz
Kay Trinidad, who plays one of the The Fates.


Pour the wine and #RaiseACup! @Hadestown has been nominated for 14 #TonyAwards including BEST MUSICAL, more than any other show this season. pic.twitter.com/LIwZOgGWEx

— Hadestown (@hadestown) April 30, 2019

Hadestown has been nominated for 14 Tony Awards, the most of any show this season. They've also been awarded by the Drama League and the Outer Critics Circle, and won a Chita Rivera Award for its choreography.



Broadway Box Office Finds Pre-Tony Groove At $35M; 'Tootsie', 'Cher Show' & 'Hadestown' Score $1M+ https://t.co/IV14fQWUYT pic.twitter.com/gLyMEI0tzd

— Deadline Hollywood (@DEADLINE) May 20, 2019

Hadestown made 1.13 million dollars last week, topping its own weekly total for the third week in a row.



Source 1 2 3 4 5 6 7 8 9 10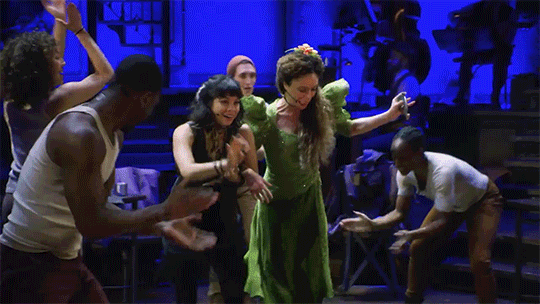 I absolutely love this show and cannot wait to see it again. I'd highly recommend entering the lottery if you live in NYC! Have you seen any shows lately, ONTD?