Thank you, next? An executive from Business Insider has drawn criticism after saying that you shouldn't hire someone who doesn't send a thank you email after a job interview.

🗣How diligent are you about sending thank you notes? pic.twitter.com/m9BHP5IgKz

— The Talk (@TheTalkCBS) April 10, 2019
Over the weekend, an article titled
'I've been hiring people for 10 years, and I still swear by a simple rule: If someone doesn't send a thank-you email, don't hire them'
went viral. The piece was written by Jessica Liebman for
Business Insider
and has since angered several people and has slowly started making the media rounds on television. The article's title was mocked on Twitter in viral fashion, with several people making up their own ridiculous headline.
Since the article was published and after some major backlash, Liebman
wrote a follow up article
to "clarify" her statements. She goes on to say that Business Insider has hired people who did not send thank-you emails and suggested that readers think of it as a "final pitch" rather than just a thank you.
Hey, I wrote something! … I've been hiring people for 10 years, and I still swear by a simple rule: If someone doesn't send a thank you email, don't hire them. https://t.co/NWXB1ozNgr

— Jessica Liebman (@jessicaliebman) April 5, 2019
Last week our executive managing editor @jessicaliebman wrote about sending thank-you notes after a job interview. The article sparked a ton of debate https://t.co/y2obCETpBk

— Business Insider (@businessinsider) April 9, 2019
The executive managing editor at Business Insider has the Internet fired up after revealing she never hires anyone who doesn't send a "thank you" note after an interview - Like It Or Not? @MarinaMarraco @nicksmithnews @STEPHMHAMILL @RealBramW #FOX5LION pic.twitter.com/qxmhkPj27c

— FOX 5 DC (@fox5dc) April 10, 2019
Twitter doing it's thing:
Hi! I've been hiring people for 10 years and I still swear by a simple rule: If you don't swing your leg over a chair like Will Riker before sitting down - don't hire them. pic.twitter.com/ZmLwiHM74a

— Sopan Deb (@SopanDeb) April 8, 2019
I've been hiring people for 10 years, and I still swear by a simple rule: have four rounds of interviews, two unpaid copy tests, an "Escape Room Test" where the room is a deep well, and then pivot the role to an internal hire.

— Jason Sweeten (@jason_sweeten) April 8, 2019
I've been in recruiting for 16 years, and I still swear by a simple rule: If someone pronounces gif with a soft G, don't hire them. #recruiting #recruitinghack #AsInJessicaYouAreARecruitingHACK https://t.co/veOcjBUo6U

— Michael G. Cox (@Mike_Recruiter) April 9, 2019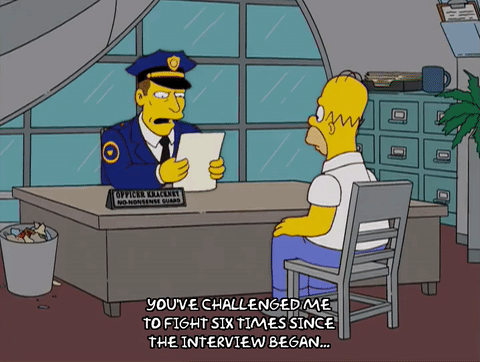 ONTD, do you agree or disagree?
Have you written a thank you note after a job interview?Sources:
1
|
2
|
3
|
4
|
5
|
6
|
7
|
8
|
9