Challenge: Road Warrior
Each partner is going to be on top of a trailers and must swing to their partner to pass rings.
https://instagram.com/p/Bvt-A8cgpbt
Tribunal - Kyle/Mattie, Hunter/Georgia, Cara Maria/Theo
Tribunal Nominees
Nany/Turbo
Wes/Dee
Paulie/Ninja Natalie
Killing Floor: Wheel of Death
Paulie/Natalie
vs.
Kam/Ashley C
One partner is going to be attached to wheel, the other partner will be blindfolded.Tiles with images need to be placed on grid with the help from their partner.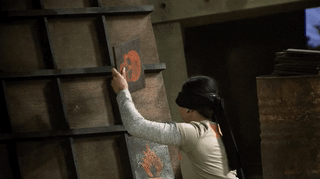 Eliminated
Kam/Ashley C
Teams are no more, they will play individually.
sources mtv,
castpics
,
ig