ONTD Original: These Were Mall Concerts
Having up and coming pop stars performing at malls scarcely exists today but was a true relic of 80s/90s/and a bit of 2000s yesteryears. Safiya Nygaard in her dressing like it was 1987 video lowkey gave me a frame of reference of how it was an actual thing for artists to reach out to younger audiences by being at the mall and for youth culture, especially noted in the 80's classic Tiffany's "I Think We're Alone Now" music video and the loosely parodied "Let's Go to the Mall". Maybe some of your very own favs had their humble beginnings #booking that #stage that was right next to the escalators.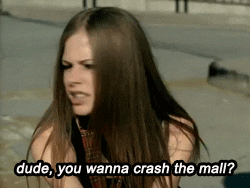 Who knows if this is a pathetic pr move or if it actually helped gain audiences or if it could gain traction if more people did it today. From stand-alone concerts to actual mini tours, here are 10 instances of musicians jamming it out in the middle of a mall. If this post inspired you to go shopping, you can catch
stewie_e's list of shopping songs to further get you in the mood.
Britney Spears - Hair Zone Mall Tour (1999)

Debutney did an early promotional mall tour *WITH live vocals for her debut album sporting a Spongebob-esque ensemble school uniform moment in reference to her debut hit single "Baby One More Time" and the music video for it that featured a school theme - the debut and beginning of an array of other iconic looks, hits, and music videos by Britney.

It was a debut that gave us an insight that A Star was Born, that she was American dream since she was 17, and a part of that debut took place in a mall. The fans were already hyped for the debut of a living legend, and not many pop artists debut with such warm welcomes. #debut

Songs also included: "Sometimes", "Crazy", "Born to Make You Happy"

Tiffany - Mid Rivers Mall (2017)

The legend so famous she only goes by her first name Tiffany celebrated the 30th anniversary of the Full House-featured hit in a St. Louis mall a couple of years ago and showed the 80's girls what they shoulda did by giving this meta performance, and life imitates art.

She is surprisingly booked and busy this year as an opener for New Kids on the Block following other 80's acts who are opening for them including then-pop rival Debbie Gibson, Salt-N-Pepa, and Naughty by Nature.

Willa Ford - Nautica Girl Tour (2000)

Before "Dirrty", the bad girl of pop was Willa Ford of "I Wanna Be Bad" fame. The large blue tinted 2000's glasses, crop top, and baggy pants gave us peak Y2K aesthetics.

She also performed the song "Not Such an Innocent Girl", assuming before it was snatched by posh queen Victoria Beckham and became a top 10 hit in the UK.

David Archuleta - SM Fairview (2012)

American Idol contestant of mormon background David Archuleta performed the late 2000's hit "Crush" mostly on pitch and gave the Filipino audience their life in a Manilla mall. He continued to cater to his Filipino audience that year releasing a cover album of Filipino songs called Forevermore, exclusively released in the Phillipines.

Avril Lavigne - Toronto Mall (2004)

Pioneer of punk and Alanis Morissette of 2000s Avril Lavigne was widely well known by the time she released "My Happy Ending" and was met with a frenzy performing an acoustic set in a Canadian mall in 2004 - a definitive moment of punk mall rat culture of the 2000s. I don't know how long this mall tour was but she also performed in California during this time as well.

Songs included "He Wasn't", "My Happy Ending", "Sk8er Boi", "Don't Tell Me", "Take Me Away", "Nobody's Home", and "Complicated"

Ariana Grande - Macy's Summer Blowout (2011)

Transracial woman of pop Ariana Grande did a set of concerts with Macy's even before her first album was released. She gave us a peep at the doo-wop theme of Yours Truly but did mostly covers.

Other songs include: "Only Girl" (Rihanna cover) and a mashup of "Born This Way" and "Express Yourself" (shade but come through with the Italian pride)

Lady Gaga - IKEA Parking Lot (2008)

San Diego's 933 FM radio station pulled together a concert for charity in an IKEA parking lot (not a mall, but fits in with the retail vibe of this post) and one of the performers included now Oscar and 9x Grammy winner Lady Gaga. She danced, gyrated, and hyped the crowd to donate toys for children in need. Maybe she had some Ikea meatballs afterwards that day.

Songs included: "Beautiful Dirty Rich", "Poker Face", "Just Dance"

Nobody's Angel - Houston Mall (2000)

True 2000's kids who watched Boy Meets World re-runs, Model Behavior, and Life-Size would faintly remember this short-lived girl group Nobody's Angel and their "As Long As You Love Me" attempt semi-smash in the Disney world "I Can't Help Myself". The uploader of this video also has footage of more early 2000's pop acts including Britney's mall concert.

Dream - Macy's DKNY Music Mania (2001)

Dream of "He Loves You Not" and "This is Me" fame did a medley of their hits giving you the whitest girl group performance skills ever, with a mish mash of live singing and lipsyncing. OP just discovered that the original "This Is Me" and not the remix is actually a bop.

The girls did a nostalgic tour a few years ago called My2K Tour including a slew of forgotten acts including 98 Degrees, Ryan Cabrera and O-Town.

Other songs included: "What We Gonna Do About Us"

Debbie Gibson and Tiffany - Mall of Asia (2018)

The two rivaled (by the media) 80's queens Debbie Gibson and Tiffany showed us unity, empowerment, and harmony covering Journey's "Don't Stop Believin" in Mall of Asia (this Filipino Mall actually has its own arena and is the 14th largest mall in the world #themoreyouknow). Maybe we can hope for a Britney and Christina performance one day to announce peace and pop prosperity - don't stop believin indeed.

Have you ever witnessed a mall concert before?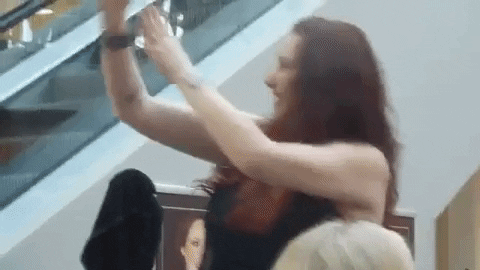 sources: 1 2 3 4 5 6 7 8 9 10