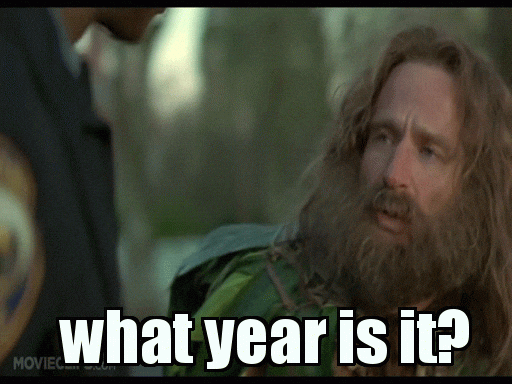 April's task in the ONTD Reading Challenge is to read a book that involves time-travel - and get lost in the pages like Robin Williams (or Nick Jonas in the remake) did in the game Jumanji.
As always,
milfordacademy
and myself have come up with ten
suggested
titles. Feel free to talk about the book(s) you plan on reading or any books on the theme that you'd recommend!
Kindred



by Octavia E. Butler

Having just celebrated her 26th birthday in 1976 California, Dana, an African-American woman, is suddenly and inexplicably wrenched through time into antebellum Maryland. After saving a drowning white boy there, she finds herself staring into the barrel of a shotgun and is transported back to the present just in time to save her life. During numerous such time-defying episodes with the same young man, she realizes the challenge she's been given: to protect this young slaveholder until he can father her own great-grandmother.
Doomsday Book



by Connie Willis

For Kivrin, preparing an on-site study of one of the deadliest eras in humanity's history was as simple as receiving inoculations against the diseases of the fourteenth century and inventing an alibi for a woman traveling alone. For her instructors in the twenty-first century, it meant painstaking calculations and careful monitoring of the rendezvous location where Kivrin would be received.

But a crisis strangely linking past and future strands Kivrin in a bygone age as her fellows try desperately to rescue her. In a time of superstition and fear, Kivrin--barely of age herself--finds she has become an unlikely angel of hope during one of history's darkest hours.
The Time Traveler's Wife



by Audrey Niffenegger

Audrey Niffenegger's innovative debut, The Time Traveler's Wife, is the story of Clare, a beautiful art student, and Henry, an adventuresome librarian, who have known each other since Clare was six and Henry was thirty-six, and were married when Clare was twenty-three and Henry thirty-one. Impossible but true, because Henry is one of the first people diagnosed with Chrono-Displacement Disorder: periodically his genetic clock resets and he finds himself misplaced in time, pulled to moments of emotional gravity in his life, past and future. His disappearances are spontaneous, his experiences unpredictable, alternately harrowing and amusing.
11/22/63



by Stephen King

Life can turn on a dime—or stumble into the extraordinary, as it does for Jake Epping, a high school English teacher in Lisbon Falls, Maine. While grading essays by his GED students, Jake reads a gruesome, enthralling piece penned by janitor Harry Dunning: fifty years ago, Harry somehow survived his father's sledgehammer slaughter of his entire family. Jake is blown away...but an even more bizarre secret comes to light when Jake's friend Al, owner of the local diner, enlists Jake to take over the mission that has become his obsession—to prevent the Kennedy assassination. How? By stepping through a portal in the diner's storeroom, and into the era of Ike and Elvis, of big American cars, sock hops, and cigarette smoke... Finding himself in warmhearted Jodie, Texas, Jake begins a new life. But all turns in the road lead to a troubled loner named Lee Harvey Oswald. The course of history is about to be rewritten...and become heart-stoppingly suspenseful.
Passenger



by Alexandra Bracken

In one devastating night, violin prodigy Etta Spencer loses everything she knows and loves. Thrust into an unfamiliar world by a stranger with a dangerous agenda, Etta is certain of only one thing: she has traveled not just miles but years from home. And she's inherited a legacy she knows nothing about from a family whose existence she's never heard of. Until now.

Nicholas Carter is content with his life at sea, free from the Ironwoods—a powerful family in the colonies—and the servitude he's known at their hands. But with the arrival of an unusual passenger on his ship comes the insistent pull of the past that he can't escape and the family that won't let him go so easily. Now the Ironwoods are searching for a stolen object of untold value, one they believe only Etta, Nicholas' passenger, can find. In order to protect her, he must ensure she brings it back to them—whether she wants to or not.

Together, Etta and Nicholas embark on a perilous journey across centuries and continents, piecing together clues left behind by the traveler who will do anything to keep the object out of the Ironwoods' grasp. But as they get closer to the truth of their search, and the deadly game the Ironwoods are playing, treacherous forces threaten to separate Etta not only from Nicholas but from her path home... forever.
The Restaurant at the End of the Universe



by Douglas Adams

Facing annihilation at the hands of the warlike Vogons is a curious time to have a cosmically displaced Arthur Dent and his curious comrades in arms as they hurtle through space powered by pure improbability - and desperately in search of a place to eat. Among Arthur's motley shipmates are Ford Prefect, a long-time friend and contributor to the The Hitch Hiker's Guide to the Galaxy; Zaphod Beeblebrox, the three-armed, two-headed ex-president of the galaxy; Tricia McMilan, a fellow Earth refuge who's gone native (her name is Trillian now); and Marvin, who suffers nothing and no one gladly.
The Time Machine



by H.G. Wells

So begins the Time Traveller's astonishing firsthand account of his journey 800,000 years beyond his own era—and the story that launched H.G. Wells's successful career and earned him his reputation as the father of science fiction. With a speculative leap that still fires the imagination, Wells sends his brave explorer to face a future burdened with our greatest hopes...and our darkest fears. A pull of the Time Machine's lever propels him to the age of a slowly dying Earth. There he discovers two bizarre races—the ethereal Eloi and the subterranean Morlocks—who not only symbolize the duality of human nature, but offer a terrifying portrait of the men of tomorrow as well.
The Anubis Gates



by Tim Powers

Brendan Doyle, a specialist in the work of the early-nineteenth century poet William Ashbless, reluctantly accepts an invitation from a millionaire to act as a guide to time-travelling tourists. But while attending a lecture given by Samuel Taylor Coleridge in 1810, he becomes marooned in Regency London, where dark and dangerous forces know about the gates in time. Caught up in the intrigue between rival bands of beggars, pursued by Egyptian sorcerers, befriended by Coleridge, Doyle somehow survives. And learns more about the mysterious Ashbless than he could ever have imagined possible.
The Winter Sea (Slains #1)



by Susanna Kearsley

In the spring of 1708, an invading Jacobite fleet of French and Scottish soldiers nearly succeeded in landing the exiled James Stewart in Scotland to reclaim his crown.

Now, Carrie McClelland hopes to turn that story into her next bestselling novel. Settling herself in the shadow of Slains Castle, she creates a heroine named for one of her own ancestors and starts to write.

But when she discovers her novel is more fact than fiction, Carrie wonders if she might be dealing with ancestral memory, making her the only living person who knows the truth—the ultimate betrayal—that happened all those years ago, and that knowledge comes very close to destroying her.…
An Ocean of Minutes



by Thea Lim

America is in the grip of a deadly flu pandemic. When Frank catches the virus, his girlfriend Polly will do whatever it takes to save him, even if it means risking everything. She agrees to a radical plan—time travel has been invented in the future to thwart the virus. If she signs up for a one-way-trip into the future to work as a bonded labourer, the company will pay for the life-saving treatment Frank needs. Polly promises to meet Frank again in Galveston, Texas, where she will arrive in twelve years.

But when Polly is re-routed an extra five years into the future, Frank is nowhere to be found. Alone in a changed and divided America, with no status and no money, Polly must navigate a new life and find a way to locate Frank, to discover if he is alive, and if their love has endured.

[

A couple of more resources

]

MORE RESOURCES:
The Best Time Travel Books of All Time
The Best Time-Travel Romance NovelsSOURCES 1 2 3 4 5 6 7 8 9 10