HBO's
documentary
The Inventor: Out for Blood in Silicon Valley,
aired earlier this week. The documentary tells the bizarre and horrific story about the rise and fall of founder Elizabeth Holmes and her company Theranos. Here are some things that stood out while watching the documentary.
1. We see the disgraced founder of Theranos dancing to MC Hammer's "Can't Touch This" after learning that the FDA had approved a patent.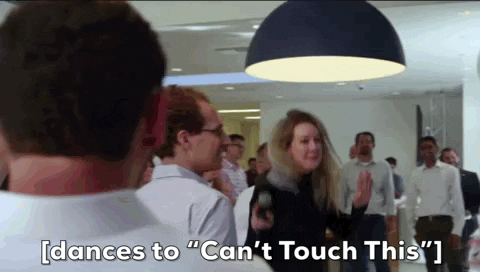 2. According to various employee interviews during the documentary, Elizabeth does not blink when you meet her in person.
3. Holmes mentions that she has been wearing black turtlenecks since she was five years old.
4. In 2013, biochemist Ian Gibbons took his own life after he was diagnosed with cancer and felt guilt knowing that the Theranos technology did not work. His wife Rochelle says that the company only reached out to her to ask her to return documents that belonged to the company that were last in his possession. No condolences, nothing.
5. Holmes is a big fan of Yoda. She even quotes him during an interview and says, "Do or do not. There is no try." We then we see an image of her posing in front of a mural with that same quote.
[
Five More
]

6. Blood, there's a lot of blood in the documentary. This is after all a documentary about fraudulent blood-testing "technology."

7. Her 2002 High School yearbook quote was "Dream. Laugh. Reach for the stars."

8. In a Walgreens commercial shot by Errol Morris, a grandmother receives a gift card for a Theranos blood test from her daughter. Her granddaughter, who is also in the room, begins to cry. The grandmother smiles and wipes away her tears.

9. One of the engineers that worked with the faulty Theranos blood-testing machines explained how the machines would often freeze and he'd have to place his hand inside the machine and risk getting punctured by needles. This was especially troubling since the equipment handled blood samples that contained various diseases like hepatitis.

10. Lawyers for Theranos hid inside Tyler Shultz's grandfather's house and then proceeded to threaten and silence him to bury the Wall Street Journal story exposing the company.

Theranos Founder Elizabeth Holmes' Deep Voice Isn't Fake, Family Insists https://t.co/WBbrQi4QUe

— TMZ (@TMZ) March 21, 2019
ONTD, have you seen the documentary?Sources:
Me, my DVR &
1
|
2