Ferris Bueller's Day Off (1986)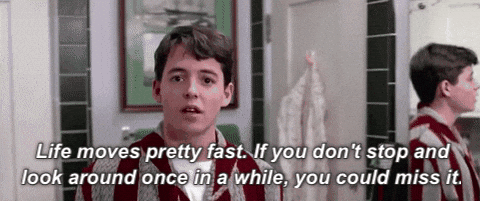 * A couple of the "extras" (construction worker & window washer) during the parade scene were just regular people caught dancing to the music being played. Director John Hughes loved it and had the camera operators catch it.
* Edie McClurg (Grace the secretary) styled her own hair because she felt Grace thought she looked best in the 1960s, and the hairdresser on set couldn't do 60s hair. When John Hughes saw her hairdo he said "How many pencils do you think you can fit in that hair?" (answer: 3)
Aliens (1986)
* Bill Paxton would apologize to Carrie Henn (Newt) every time he had to swear in front of her. Henn said she didn't mind. She didn't know what most of it meant anyway.
* Director James Cameron wanted the actors to customize their own costumes for added realism. Bill Paxton wrote his then-girlfriend/future wife's name Louise on his.
[
Spoiler (click to open)
]
Say Anything (1989)
* John Cusack gave his character (Lloyd) a scar and a back story. The backstory being that someone threw a rock at him when he was a kid.
* The chemistry between Cusack and costar Ione Skye was real. Skye admitted that if they hadn't both been seeing other people, they probably would've went home together the day they filmed the stick shift scene.
The Lost Boys (1987)
* The original screenplay was about a bunch of 5/6th grade kid vampires. One of the screen writers was interested in Peter Pan and the fact that he never grew old, could fly, and only visited the Darling children at night. In the screenplay, the brothers' names were Michael and John and the mother's name was Wendy. David's original name was Peter. Though they aged everyone up so it could be sexier*~, the title still alludes to the Peter Pan story. (There's also Nanook, inspired by Nana the dog.)
* Corey Haim would later say that making this movie was one of the "greatest personal times" of his life.
Back to the Future (1985)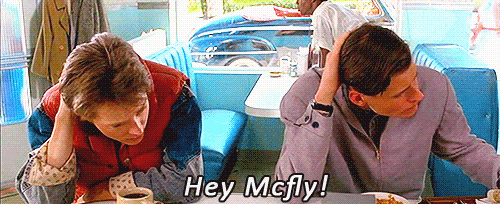 * Michael J. Fox says stranger still call him "McFly!" Once he was in a remote jungle in the South Asian country Bhutan when a group of Buddhist monks passed by and one of them said "Marty McFly!"
* Eric Stoltz (originally cast as Marty McFly) decided to go Method. He insisted on being called Marty at all times even when not filming a scene. When Christopher Lloyd was told that Eric Stoltz was being replaced he replied, "Who's Eric? Oh, I really thought his name was Marty."
Stand By Me (1986)
* Jerry O'Connell, 11 at the time of filming, was impressed that he was being allowed to swear.
* When Jerry O'Connell traveled to his wife Rebecca Romijn's hometown, he discovered from her old high school friends that Stand By Me was her favorite film: "About three months into dating, my wife is from Berkeley, and I went up there to meet her high school friends. We got a little drunk and her high school best friend said to me, 'You know, "Stand by Me" is Rebecca's favorite movie of all time. You know she had posters of it all over her room growing up'. She never told me that.""
BONUS FEEL-GOOD
Happy hump day, ONTD!
SOURCES:
1
|
2
|
3
|
4
|
5
|
6