Who are the most important characters on Riverdale? From Archie Andrews to the Black Hood, here are the 20 most influential residents in the town with pep.https://t.co/VoeeMSMhKq

— Bam Smack Pow (@BamSmackPow) March 13, 2019
Nerd site
Bam Smack Pow!
listed their picks for the most important Riverdale characters, not necessarily the best, but the most integral to the overall storyline.
14.)
Toni Topaz
A bad-ass gang member turned gang leader, loyal friend, and one part of the cutest queer couple on TV right now - Toni is a useful ally to Riverdale's main players and is one of the show's coolest characters.
13.)
Kevin Keller
Sassy and level-headed gay best friend turned angsty and heartbroken cult member, Kevin Keller gets the short end of the stick from the writers often. But Casey's earnest and innocent performance makes him a character you can't help but root for, and his mostly positive experience as an out gay man is rare for TV.
12.)
Fred Andrews
TV's best dad, Fred Andrews brought warmth, heart, and integrity to the darkness that is Riverdale. He was an integral part of lead character Archie Andrews' life, and it's clear how much the father and son loved one another. With Luke Perry's recent untimely passing, it's unclear what the fate of Fred Andrews holds, but his undeniable mark on the show will be remembered forever.
We love you, Luke <3
8.)
Alice Cooper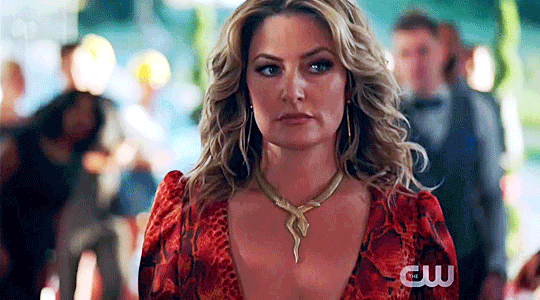 To call her a complicated woman is an understatement. Alice is a chaotic mess, whether dealing with long lost children to serial killer husbands to getting sucked into a cult. But she remains an entertaining spit-fire nonetheless, and the driving force for most of lead character Betty Cooper's drama.
5.)
Cheryl Blossom
The show's most iconic, hilarious, and three-dimensional character - Cheryl Blossom triumphs through adversity and rises like a phoenix with a sharp wit, confident energy, and endless tenacity. She's got a pantheon of biting one-liners and is chock-full of classic BAMF moments that each out-do the one before it. Cheryl's a wild and unpredictable character, but one with so much heart underneath that she's unforgettable.
SOURCE 1
SOURCE 2
Gif sources:
1
2
3
4
5
ONTD, who's your favorite Riverdale character?