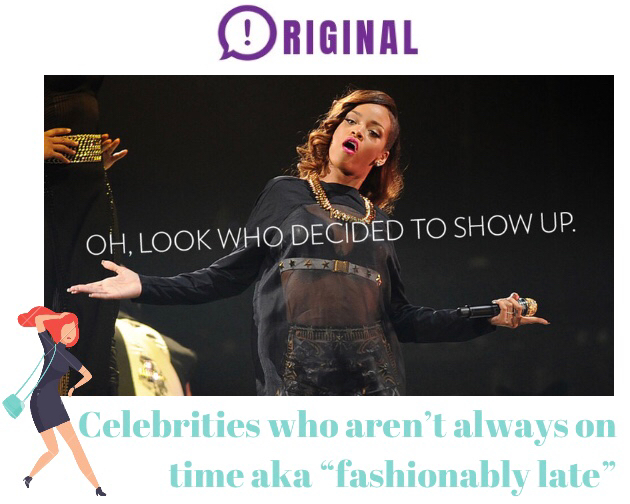 Celebrities are known for sometimes running late or being "fashionably late." Since it isn't your friends pulling these things, most of us don't really pay a whole lot of attention to these "diva like" antics. That is until you're buying tickets or attending events to see these celebrities and they pull that nonsense on your own time. Then it's like, "oh hell no." Here are some celebrities who are known for it or have slipped up a few times before.
Rihanna
We'll start off with lategalriri since she's featured on the main graphic already. The Bajan beauty
has a pretty long list
of instances she's been late to several shows and concerts that Jezebel documented. Fifteen in total. She even angered journalists for her late antics during the 777 Tour which they described as "unbelievably long delays that wasted time by the bucketload." No bueno Ri.
Justin Bieber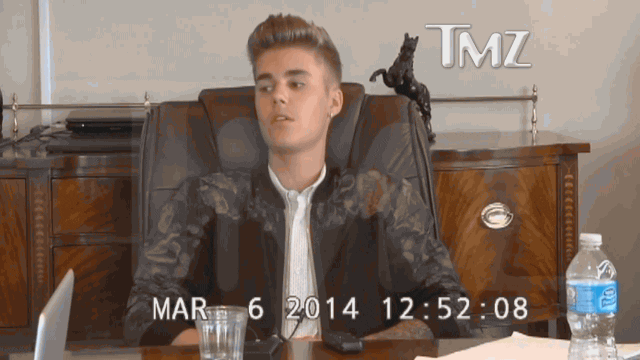 And nobody is surprised to see the Biebs on this list. During his Believe Tour, there were quite a few dates he was late to. In London he was 2-hours late to the O2 Arena and in Germany he was nearly 3-hours late. In Des Moines, Iowa Bieber was an hour and a half late. Things unfortunately only got worse from there for the pop star in regards to his own personal life.
Mariah Carey
And here we're
really
not surprised to see The Elusive Chanteuse on this particular list. Dahlin' it'd be outright criminal if we didn't include her. The "A No No" singer is notorious for being "fashionably late" and since we don't have the time we'll mention two instances. ET Canada waited 5-hours to finally interview the singer in 2014. And more recently, Mariah made late night talk show host James Corden wait nearly 4-hours to film their Carpool Karaoke segment. While James waited in her living room, he admits he stole a candle from her as "retaliation." Celebrity thieves is an entirely separate original darling, coming soon.
Kanye West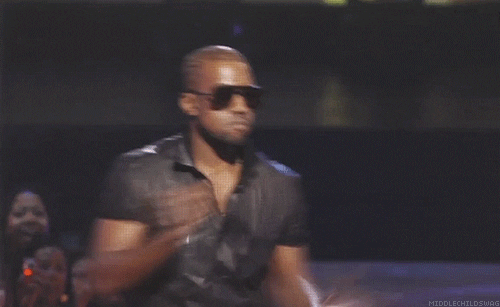 Wake up, Mr. West, Mr. West, Mr. Fresh, Mr. by-his-self-he-so-impressed! In 2016, Ye was late 90-minutes to his concert in Sacramento, CA. He only performed three songs, then went on a long rant before walking off stage and never returning. Needless to say the crowd was pissed.
Paris Hilton
everyone: why were you late

me: wow traffic was insane I am literally so sorry

also me: pic.twitter.com/kD2z3lYdhr

— Paris Hilton (@ParisHilton) August 2, 2017
Hotel heiress, socialite, former reality star turned Pop singer and noted racist Paris Hilton is also known for being late. In 2004, Hilton was late six hours to a club opening ceremony. He sister Nicky had to step in on her behalf to cut the pink ribbon. "I was in the Swiss Alps skiing and I got caught at the airport with all the holiday travel so I've been trying to travel for the past 24 hours," explained a tardy Paris.
Bow Wow
The Growing Up Hip Hop: Atlanta cast say Bow Wow is often late to parties. It's not so bad unless you're friends with the rapper yourself. "Bow Wow" + "late to concert" yielded no results so, good for him. There was that Bow Wow challenge though, but that's another original.
Nicki Minaj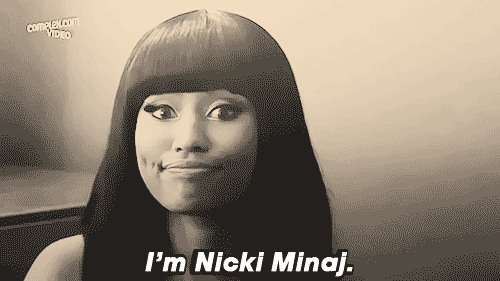 During New York Fashion Week, Minaj was 40-minutes late to the Spring 2018 Monse show. She made Paris Hilton, Sofia Richie, Kate Bosworth and all of New York's top editors who were in the front row wait until the show could finally begin.
Axl Rose of Guns n Roses
Axl Rose is notoriously late to everything. He's been late to so many concerts and shows, truly testing fans and his own band mates throughout the years. We do not have the time nor the energy to list all of the instances. Just literally ask any fan and they'll verify this. And if not read
this
. He's always so late he didn't make it to the photoshoot on time to get a photo for this original.
Madonna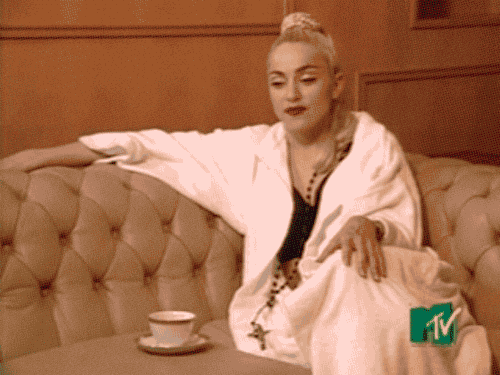 The Queen of Pop made Australians wait 3-hours during her Rebel Heart World Tour. When Madge finally did hit the stage, she joked that she's rarely late and told the crowd, "It's you people that get here early that's the problem. Stay home, do your hair and makeup, have a tequila. Roll yourself a fat one ... Just come late and I won't have to come early." The audience did not find the comment funny. At her Tennessee stop, the "Sorry" singer made Reba McEntire wait two and a half hours before she finally arrived to the stage. The country Legend just wasn't having it taking to Instagram to share a photo from the show with the caption, "At the Madonna concert. She's not on yet...really???" Reba is a
survivor
damn it.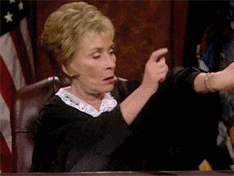 ONTD, are you punctual or are you always running late?
Sources
Me &
1
|
2
|
3
|
4
|
5
|
6
|
7
|
8
|
9
|
10
|
11
|
12