Ariana Grande - "Yuh"
Culture Vulture of Pop
Ariana Grande
is our most recent example with...not yes, not yeah, not yup, not even yep, but "yuh." The bored singer says it at least 80 times on
Sweetener
and 156 times on her latest album
thank u, next
.
[
Sweetener Yuh's
]
Christina Aguilera - "Ha!" and "Say!"
Watch and learn Pop girls,
Christina Aguilera
is an OG when it comes to this. Miss Aguilera has been saying "ha!"
and
"say!" in her songs and live performances for yearsss. She's serving you attitude and vocals, respect. I couldn't find a compilation for "say!" but trust OP or ask any fan for verification.
Trey Songz - "Yuuup!"
You tried it Dave Hester, reality star of A&E's reality show
Storage Wars
! Mr. Steal Yo Girl has been saying "Yuuup!" in his music and on television for years. Eventually,
Trey Songz
and Hester got into a legal dispute over who could trademark "Yuuup!" in 2012. The two settled out of court that same year.
Rick Ross - "Huh"
or is it ugh? anyways, it's basically a grunt okay.
William Leonard Roberts II, known professionally as
Rick Ross
has been grunting in rap music for years. No legal problems here as far as trademarking a grunt is concerned. I think. 🤔
Drake - "Yeah"
Champagne Papi, aka Drake, aka Aubrey Graham really stepped up the "Yeah's" in 2016's
Views
. Except I guess it's more of a... yea or yeh. It's quick. All the same I suppose. Yeh.
Big Sean - "Oh God!"
And we come full circle with Ari's ex Sean Michael Leonard Anderson, known professionally as
Big Sean
and "Oh God!" Not exactly one word but it counts.
By popular demand:
Jason Derulo - "Jason Derulo"
No explanation needed.
Y'all already know he's an OG.
Britney Spears - "Baby"
See also: Crazy, Ooh, and sexy breathing and panting noises.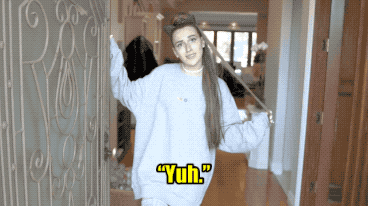 ONTD, is there a certain word you find yourself saying a lot?Sources:
1
|
2
|
3
|
4
|
5
|
6
|
7
|
8
|
9
|
10