Adam Shankman, Marguerite Derricks and Ashley Wallen are all cited in this piece--->
Secrets from 11 iconic rom-com dance breakouts https://t.co/iouJedfRYn

— Kristyn Burtt 💃🏼 (@KristynBurtt) February 13, 2019
-She's All That (1999)
-Was choreographed by Adam Shankman in two hours last minute.
-The Wedding Planner (2001)
-13 Going on 30 (2004)
-The cast practiced for over five hours performing the dance.
-Trainwreck (2015)
"On Bill Hader's coverage, nobody was dancing but he had to react as if we were, so I surprised him and full out did the dance for his reaction shot. And you can see him getting emotional. It was really sweet. It's something that I will never ever forget."
Love Actually (2003)
"He had planned where he turns and what goes where, so the fact that he didn't want to do it didn't mean that he didn't prepare for it." (Richard Curtis on Hugh Grant)
The stories behind 12 showstopping rom-com dresses #LoveEWStyle https://t.co/91aHIHlnMD

— Entertainment Weekly (@EW) February 13, 2019
1. Andie (Kate Hudson) in How to Lose a Guy in 10 Days (2003) wearing that iconic yellow Calvin Klein dress with Harry Winston jewelry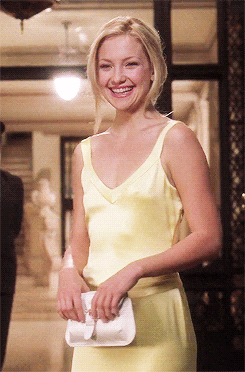 2. Cher (Alicia Silverstone) in Clueless (1991)
3. Andie (Molly Ringwald) in Pretty in Pink (1986)
"She wanted to be the Madonna — the strapless with the full skirt. [But] everybody else was doing that. She's unique. She is not one of those girls." (Molly in real life hated the dress)
4. Gabrielle Union (Eva (Gabrielle Union) in Deliver Us from Eva (2003)
-The dress is unfussy but not too showy, also marks her character's arc from someone shy to someone who grows in her own skin.
5. Vivian (Julia Roberts) in Pretty Woman (1990)
The stories behind the most iconic kisses in romantic comedies #ValentinesDay #LoveEWStyle https://t.co/22gasbVnvb

— Entertainment Weekly (@EW) February 14, 2019
1. The Princess Diaries (2001)
-The foot pop turning the lights on was a surprise and not in the script so his reaction was genuine.
2. Bridget Jones' Diary (2001)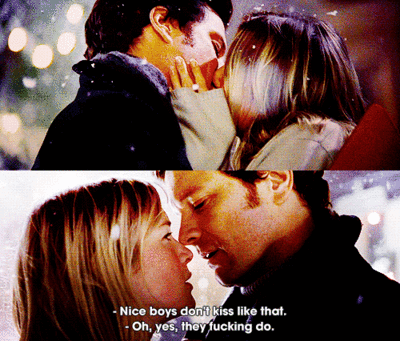 -Having her in her underwear was a last minute addition, and Renee thought it would be funny.
3. Never Been Kissed (1999)
-The actual filming wasn't great during this scene b/c Drew was sick and the pressure to do this well, but with good editing and score it worked.
Here's how much it would cost to live in 6 classic rom-coms #LoveEWStyle https://t.co/Pe3IK5jKTS

— Entertainment Weekly (@EW) February 14, 2019
1. Crazy Rich Asians
Emerald Ring: Michelle Yeoh's own b/c the original one was ugly: $45,000
Peik Lin's 2018 Audi R8 Spyder: $175,000
Rachel's blue Marchesa gown: $1,095
Getaway to a private island in Indonesia: $3,000 per person
The Sarkies Suite at the Raffles Hotel: $7,500/night
Two first-class tickets from New York to Singapore: $21,000
Total: $252,595
2. The Holiday
Amanda's house: $12 million
First-class tickets from Los Angeles to London: $7,500
Iris' house: $900,000
Total: $12,975,000
3. 13 Going on 30
Jenna's Fifth Avenue apartment: $5 million (or $10,000 per month to rent)
A closet full of Manolos: $995 per shoe
One Gucci purse: $1,800
Matt's West Village apartment: $5,000/month ($60,000 per year)
Total: $5,062,795
Sources:
1
2
3
4
5
6
7
8
9
10
11
12
13
14
15
16
17
18
19
20