Jack Falahee Dishes On The Art Of Drinking Scotch + What He Loves About Working With "Murder" Boss Shonda Rhimes https://t.co/MmvI6CHhFT

— Haute Living (@theHauteLiving) February 13, 2019
Jack (Connor) talks about his partnership with Oban Single Malt Scotch Whisky and HTGAWM with Haute Living
How did your partnership with Oban Single Malt Scotch Whisky come about? Did they approach you because you have a hard-to-pronounce name or did they feel your character on HTGAWM gelled with their brand?
I've been a fan of Oban for many years, so it made perfect sense when the brand approached me with the campaign idea. I couldn't say no since, like Oban, people have always struggled to pronounce my last name. I understand the frustrations and love the sarcasm and humor in the videos. At the end of the day, what we're really trying to do is get people to enjoy this incredibly good, craft Scotch whisky."
If you could drink a glass of Oban with anyone, who would it be and why?
Hands down Hemingway. I'd love to have a glass while he reads "A Farewell To Arms" aloud to me.
What is the greatest lesson you've learned from working with Shonda Rhimes on HTGAWM?
The greatest takeaway from working with Shonda has been that hard work pays off. Shonda is talented and driven but from what I've learned is that above all else she is driven. When she wants to do something she gets it done. I admire and respect that, and hope to emulate that.
[
pic of Oban Whisky
]
Episode/Discussion post on S05E13 - Where Are Your Parents?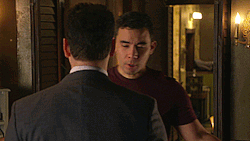 source