These Were Daytime Nightwear Moments

Sometimes we just wanna roll out of bed and go on with the day w/o caring bout how we look, and some celebs did just that - or at least looked like they did when they were following this slip dress/pajamas trend that had its run in the 90's. Since trends come in, out,

in again, then again out of style

, we don't know if they're really giving us a timeless glamorous moment or just utterly inappropriate attempT.

🌙👗☀️

Between the silky satin smoothness - here are

10

musical

icons

figures stepping out in their nightwear.






(warning: image heavy)


Dua Lipa



Dua Lipa... she's a cute girl.gif
I don't know what impact she has in music but she does seem to be one of the it girls atm I guess, and she gave us a stint of this pajama vibe out and about and on social media.


Rita Ora



From singer, to tv host, to gif actress, the real life Albanian Barbie who has every occupation under the entertainment industry sun has been on top of fashion trends, so I guess she's an understated girl of the moment too.
She arrived at the 2017 EMA's in a bathrobe looking like she stepped out of the shower, but it tied in with a skit for the show.


Selena Gomez



I'm taking the liberty to use my voice for something that f-cking matters, including talking about these profound paparazzi pics of Selena making public appearances.
Miss Gomez also sported a slip dress for a seductively sedated performance of her song "Wolves".


FKA Twigs



No comment on her dating life, but Tahliah has been on point in her street fashion (seriously I love ha style in candids) as well as her stage wear. Considering her choreography, it's fitting she'd want to wear flowy and soft borderline sleepwear garments for her live performances.


Charli XCX



Slips were a staple for Sucker era Charli XCX, where her style choices were, and still are in some sense, driven by 90's fashion - citing Rose McGowen's red carpet and film moments.


Teddy Sinclair



We have a sleepy glamorous artist in our midst, and her name is Teddy Sinclair of Cruel Youth.
Teddy had a phase of wearing nightgowns with fluffy slippers in public, and she carried that aesthetic for her video "Mr. Watson".


Christina Aguilera



Xtina's Liberation includes being liberated enough to choose comfort above all - donning a couple of robes even in her live shows.
Not only that, it seems as though she left the bed and took the comforter with her (Norma Kamali coats) during fashion week as well as in a Cosmopolitan photoshoot.
issa life, issa style, issa need... it's burlesque comfortable. ♡ yuh


Rihanna



Rihanna has been one to pull off versatile hairstyles and looks, even with these California King Bed chic vibes. What can I say?


Mariah Carey



Mariah Carey can do whatever she wants, it's Mariah's World after all... and also a short-lived docu-series where she lounges around in lingerie drinking champagne.
Mimi's been one to show up in interviews (Elvis Duran and the Morning Show and The Ellen DeGeneres Show) in straight up night gowns and silky robes. She had others rise to the occasion too including the guests at her MAC launch party and host Kelly Ripa with temp host Jussie Smollett on Live with Kelly & Ryan, cuz she simply felt like it.


Victoria Beckham



Ah Miss Adams - the icon, a trailblazer, etc.
Beyond the little black Gucci dress, Posh Spice would bring this look on stage and even on the iconic Spice World movie poster. The IMPACT.
20 years later, Victoria has her share of continuing to wear night dresses in the day, but also incorporating straight-up pajama-esque sets in her own line seen in her Spring/Summer 2018 resort collection. A Midnight_Fantasy.mp3 during noon.


Do you wish for this nightwear trend should take off in everyday life? (for men and women)
Yes! I already do walk out of the house in my sweats, snuggie, and pj's, I'm ready for this in the workplace
Depends - it can be cute if done right and at the right place
No - This is lame, for second class citizens, stay at home if you must, etc.
Does going commando or wearing underwear only count?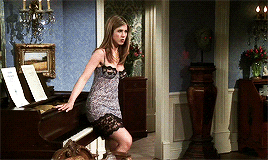 sources:
1
, Google, me