ONTD Original Conspiracy:
Has Lady Gaga Been Stealing from Sailor Moon Characters?

We've heard of the alleged Katy Perry and Katy Keene possibility which has been very convincing, but what if the same rings true to Gaga who might also be taking from fictional superhero legend Sailor Moon? We knew Gaga has kept an eye out on Geri Halliwell's antics to help push her career, so maybe it's not a far off idea people would steal from anime characters.




From the villains and main characters - here are 13 examples of Gaga taking cues from the TRUE guardian of the galaxy's show.
01. Sailor Moon
Sailor Moon
Gaga (2011)
Sailor Moon
and her iconic yard long pigtails (that's a
ponytail
on each side) was stolen in Gaga's runway walk at the 2011 Mugler fashion show.
02. Black Lady
Gaga (2011)
And on that same night, she switched it up to grab Electra complex-ridden
Black Lady
's look right down to the sweetheart neck top and sleeved layer. Nice try Gaga, we're keeping track. ✅
03. Princess Serenity
Gaga (2012)
It's a little TOO on the Italian nose that Gaga was touting herself around calling herself "
Princess High
", while also wearing this renaissance-styled Princess Serenity dress made by the late McQueen.
Psychotic KLEPTO head thaT!
04. Sailor Neptune
Gaga (2011)
I love that lavender teal blonde
especially from
Michiru Kaiou
.
05. Esmeraude
Gaga (2013)
Gaga (2013)
It looks like
neon green hair, long gloves, shoulder pads and bandanas are a thing now
👀.
06. Galaxia
Gaga (2009)
All that is original is not gold, especially this get up on the Monster Ball v1.0 taken from
Sailor Galaxia
.
07. Steering
Gaga (2011)
Not even her wacky
Born This Way
album cover is an original concept, with this Daimon
Steering
that embodied vehicle and woman. Gaga: a motorcycle hybrid of stolen concepts.
08. U-Pasokon
Gaga (2013)
Another Daimon
U-Pasokon
was a woman made from computer, featuring a monitor torso much like Gaga's 2013 iOS (innovating On Stealing) update with this iPad corset featuring the short-lived lackluster
ARTPOP App
.
09. Osoji
Gaga (2009)
Elephant headpieces: not even Dumbo would think this was fresh.
Collect your coin
Osoji
.
10. Cameran
Gaga (2011)
Pointed shoulder prosthetics ✅
One sleeve leotard ✅
Maybe this monster
Cameran
went and
emailed Gaga giving her the blessing
of using this very interesting yet very particular look?? [citation needed]
11. Artemis
Gaga (2014)
Gaga really went through the
G.U.Y.
era in a (human version)
Artemis
wig and all white ensembles huh?
12. Fiore
Gaga (2018)
Just because he wasn't in the original manga doesn't mean we have amnesia (no pun intended) to not see Gaga replicating Mamoru's gay + true lover
Fiore
's teal mullet for the
#Enigma
Vegas 2018 residency.
13. Hairbow
Need I say more? I mean there's probably a ton more examples, but I'm sleep.
What do you think ONTD?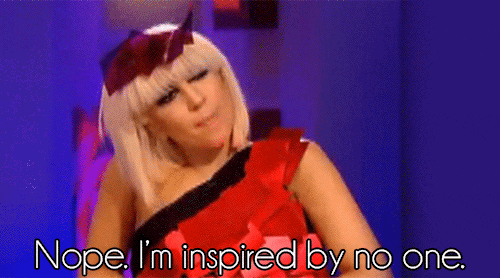 sources: Sailor Moon Wiki, me