Actress
Lana Condor
made her late night talk show debut last night. Unfortunately it had to be on
The Tonight Show Starring Jimmy Fallon
. During her interview, the
To All The Boys I've Loved Before
actress reveals that before filming the first movie, she and her co-star
Noah Centineo
made a "no dating in real life" pact.
Condor explains, "I did [set early boundaries with Noah]. We had just come back from a hot yoga class and went to his apartment, and we ordered pizza, and it's kind of like, ooh, hot yoga, pizza, what's happening? It was right before we shot the movie, just getting to know each other. And I felt something. And then so we went like this, and I looked at him and I went, 'Noah, it's not going to happen between us.' Yeah, because I felt, for the show to do well, we had to be best-friend professionals. And so I was like, 'it's just not going to happen.' And he was like, 'Yeah, it's not going to happen.' And I was like, 'Great!' So we kind of did what we did in To All the Boys the movie, we kind of made a contract and set boundaries and then I'm so happy that we did that because the movie turned out great and now we're doing a sequel. So I have to work with him again so imagine!"
"So you still might have that spark?" asks Fallon.
"We still have the spark, yeah, absolutely," confirms Lana. "We were just on the phone the other day, just talking about the sequel. Okaaay!"
Fallon further pushes it by suggesting that after filming all three films, the two could then fall in love afterwards. Condor simply laughs it off with no further comment.
Someone should remind Jimmy that Lana Condor is currently in a relationship with long time boyfriend Anthony De La Torre.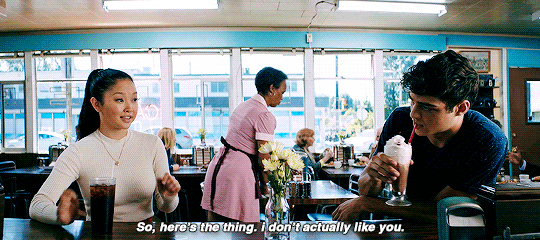 Sources:
1
|
2