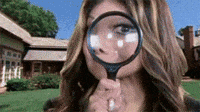 My fellow ONTDers, we have always known that "famous" people and their PR interns walk among us. Who else would submit all those D-list celebrity walking posts on this dying site? Or stan new, fledgling popstars who barely have any google results? This is nothing new.

But none of those reality stars, Lorde clones or social media influencers have the mystique of Orville Peck, a masked LGBT country star who has described himself as a "psychedelic cowboy outlaw" and gained a small following. Surely someone that cool and hipster-y and made for a Pitchfork year end list wouldn't need to promote themselves on the purple site full of jackals? Hm?


(

warning this post contains INVESTIGATIVE JOURNALISM™Collapse

)


SOURCES:
123 +screencaps via my old ass phone



🔍🔍🔍


Do you have a secret identity? What other "celebs" do you suspect post about themselves here? Are you a South African boyfriend?