Part One


TELEVISION

Saturday Night Live: Margot Robbie (2016)

We all know about the over played Sexy Librarian trope. SNL plays with that and adds a twist. I think of this video whenever someone gets creepy at the library so issa a real mood.





All That (1994-2005)

THE LOUD LIBRARIAN WILL NOT TOLERATE ANY NOISE IN HER LIBRARY. SO DEAL WITH IT OR GET OUT.



The Magicians (2015 - )

The Library of the Neitherlands contains all the knowledge in the universe. Protecting that knowledge is the Order of the Librarians.



Stranger Things (2016 - )

It's shitty to ghost anyone but ghosting a librarian? Hello, death wish. Unfortunately, that is exactly what Chief Hopper did to Hawkins librarian Marissa resulting in an awkward encounter in the public library. Ever the professional, she cuts him down to size but quickly helps him with his research.



MOVIES

The Mummy (1999)

Evie is a hard working albeit clumsy librarian who doesn't get the respect she deserves. Her natural curiosity leads her on an adventure of a lifetime with sexy 1999 Brendan Fraser.



An Extremely Goofy Movie (2000)

Miss Marpole (Miss Marple heh), knowledgeable librarian and 1970s memorabilia fan, hits it off immediately with Goofy.



Foul Play (1978)

Like so many cozy mysteries before and after, Gloria is a librarian who finds herself embroiled in a murder mystery!



The Music Man (1962)

Conman Harold bursts into River City with the hopes of swindling the whole dang town. Fearful that the town librarian will find him out, he sets out to seduce her.



BONUS

Night Vale (2012 - )

The Night Vale Public Library is a dangerous place where for a long time there wasn't even an entrance. Patrons would just wake up there in a haze, wander around, then wake up in their bed with a stack of new books on their nightstand. The Librarians are malevolent and deeply feared to the point where librarian repellent dispensers are readily available throughout the library. Please check out your books with caution.





Thanks for the suggestions in the previous comments, ONTD! Don't forget to ask your senators to support funding for the Institute of Museum and Library Services!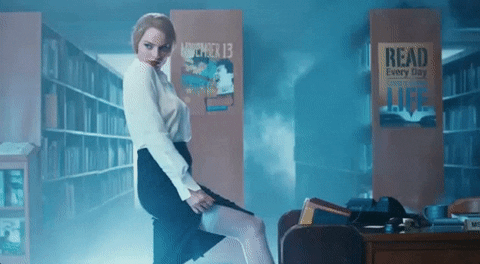 SOURCE: ONE, TWO,THREE,FOUR,FIVE,SIX,SEVEN,EIGHT,NINE