MOVIES

Ghostbusters (1984)

As if the librarian in this 80s classic doesn't have enough to worry about (scarce funding, sleeping patrons, out of touch board members), she now has to contend with a ghost?? Give this woman a pay raise.





The Shawshank Redemption (1994)

Former banker turned convicted murderer Andy Dufresne is sent to work in the prison library not because of his affinity for books, though he does have that, but as a front so he can help prison officials with their financial situations. But Andy thrives in his new role as prison librarian and even scores enough funding from the state for new books and renovations. He helps transform the once dingy store room into a cozy library and helps many a fellow prisoner get their GEDs.



Party Girl (1995)

After she is arrested for throwing an illegal party, Mary asks her godmother for bail money. To pay the money back, Mary begins working as a library clerk. She hates it at first but slowly starts to take pride in her work and herself.*



*Full disclosure: I have not seen this movie but just discovered it is available on Youtube so I'm excited to watch it!

Desk Set (1957)

Bunny Watson is the head librarian of the research department of a television network. Everything is business as usual until Richard Sumner is sent to outfit the department with a brand new computer to take over the research load. (Even all the way back in 1957 they had to deal with this shit!) But Richard underestimates the librarians' knowledge and moxie.



TELEVISION

Buffy the Vampire Slayer (1996-2003)

What librarian list would be complete without Rupert Giles? More than just a mentor for Buffy, Giles guided her through her most difficult tribulations and became a father figure to her.



The Twilight Zone: The Obsolete Man (1961)

In a future dystopia society, those who are no longer considered useful are declared "obsolete" and executed. As books are certainly of no use to the state, Mr. Wordsworth, a librarian, is sentenced to die.



(don't read the yt comments, my god)

Parks and Recreation (2009-2015)

Oh, the hated library. That's right - everyone in the Pawnee Parks department hates the fucking library and all the punk ass book jockeys whom it employs. But is there a more hated librarian than crazy she-demon Tammy Swanson?



Bob's Burgers (2011-)

School librarian Mr. Ambrose is a disillusioned weirdo who also happens to be a witch.





SOURCES: ONE, TWO,THREE,FOUR,FIVE,SIX,SEVEN,EIGHT

ONTD, do you support your local library?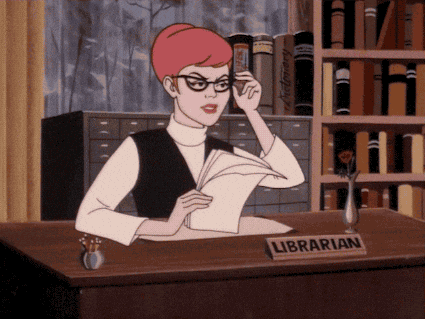 ETA: Please contact your senators to support funding for the Institute of Museum and Library Services!