Like the lover of carpets Jessica Simpson once sung in the 2001 classic, "a little bit goes a long way." We know Xtina's signature belts and runs earned her to be one of the greatest vocalists of our generation (or at least most distinctive), but even her softer tones she 'experiments' with blows these whisper pop singers of today out of the water. If she #stripped it back and #piped down more often, it would have been OVER for these ho's but she's generous and giving them breathing space. Plus, we know the radio likes simpler vocal takes in pop music - queen of sacrificing airplay.

Here's 9 Xtina moments where she did not need to be a vocal acrobat, and let her lush resonance speak for itself (aside from a belt or two). The simplistic BEAUTY of it all.


---
Save Me From Myself (2006)

---
When I'm about to fall
Somehow you're always waitin'
With your open arms to catch me
You're gonna save me from myself
From myself
You're gonna save me from myself

---
So Emotional (1999)
---
It's either black or white that's right
We're making love or in a fight
Sometimes you make me so blue

But then it feels so good I knew it would
You know the way to make me crazy
I want to give it to you
---
Loving Me 4 Me (2002)

---
People ask if I'm in love with you
Because I'm sitting here with your picture
And smiling to myself

I'm kinda lost in my own thoughts of you
My heart speaks before my mind thinks through
And I blush as I say yes
---
Without You (2006)
---
What kind of world
Would it be without you
I couldn't breathe without you here
What kind of world
Would I see without you
I can't dream without you here
---
I Am (2010)

---
Love me or leave me just take it or leave it
It's not that I'm needy just need you to see me
Take me, free me, see through to the core of me
Take me, free me, there will be no more pretending
---
All I Need (2010)
---
You bring me hope when I can't breathe
You give me love, you're all I need

Slowly I'm holding you
Closely you're wrapped in my arms
And you're inside me
---
Birds of Prey (2010)
---
Suddenly lost inside a fantasy
Everything not quite what it seems to be
Slipping and falling through the looking glass
Catching a glimpse at all that lies behind the masks

You disappear with the dawn
You only see what you want
When you're out with the birds of prey
---
Say Something (2013)
---
Say something, I'm giving up on you
And I'm sorry that I couldn't get to you
And anywhere, I would've followed you
Say something, I'm giving up on you
---
Pipe (2018)
---
Don't you know, don't you know
That I got that rah-rah-rah rocky boat
Bet I'll make you splash like Geronimo
If you don't like it fast, I could take it slow
Wanna show you how much I missed ya
My schedule flexible so I switched up
Permanent vacation, we should go away
Way too much for me to wanna throw away
Fav SimplerVocaltina moments?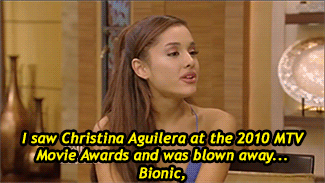 Sources: 1 2 3 4 5 6 7 8 9