• Princess of Pop
Britney Spears
and sleaze of Pop
G-Eazy
both performed their smash worldwide hit
Make Me... (Chart)
at the
2016 Video Music Awards
. It marked Spears' first VMA performance since her 2007 VMA performance in Las Vegas that was panned by critics and nearly everyone alive.
• The two then transitioned into G-Eazy and Bebe Rexha's hit,
Me, Myself, & I
before going back and ending with
Make Me... (Chart)
(available on iTunes and all streaming services).
•
Bebe Rexha
was in the audience at the 2016 VMA's and was not aware that the pair would be performing her hit with G-Eazy.
• Gerald Earl failed to tell her and according to Rexha:
"I didn't know about the performance, I found out at the last minute. They were scared I wasn't going to clear it, which is bull... I was a little shocked by him because I thought he'd let me know. But then I got to meet Britney and take pictures with her. So it made everything way better. She's my idol, you know what I mean?"
• Cohen then asks what exactly upset Rexha about the performance:
"I showed up at the awards and imagine you are part of a song - and I was just there in the audience and they didn't even let me know. And all I hear is, "woo oooh, it's just me..." and I just wished I would have known out of respect from G. But then I got a picture with Britney so I was happy. Cause she's Queen."
Bebe Rexha, Britney Spears e G-Eazy! #Throwback pic.twitter.com/7uZv2ChMtw

— Bebe Rexha Brasil (@RexhaBrasil) May 26, 2017
Video: @BebeRexha is all of us fangirling over @britneyspears in our new interview https://t.co/YytxlsJKzF pic.twitter.com/IhBAoHOaQt

— ET Canada (@ETCanada) January 30, 2017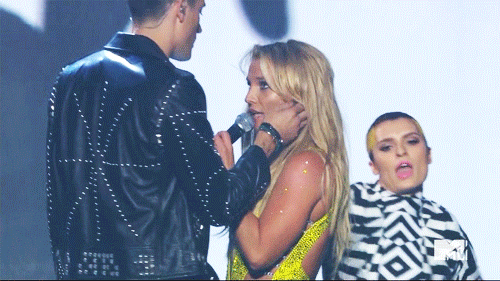 Sources:
1
|
2
|
3
|
4