I hope you got paid, we're going shopping. No? Bring your credit cards. Don't have any? Just come, we'll buy you a mall pretzel. Songs about shopping are nothing new, and man, there are several. No, I didn't forget your song - I narrowed it down to
five
six that made sense to me to post on ONTD. Feel free to share your personal favorites. And yes, butter is a carb.
That's right, I'm coming straight out the gate with hot fire and
Carly Rae Jepsen
herself. Normally we save Jepsen for the end of these lists, but I couldn't think of anyone else worthy enough to lead this thing other than the Queen herself.
Store
is a song off
SIDE B
of
E•MO•TION
, released in 2016. While the song isn't necessarily about shopping, but rather an excuse Rae uses to let her boyfriend know she's breaking up with him. But instead of, you know, just saying that, she says she's just going to the store. A break up and shopping anthem! You know how we pre-party to songs on a Friday night before clubbing? Well, this is a pre-shopping bawp we play before we hit the grocery store. Go easy on me,
laqueeta
. I'll listen to
Higher
right after this, I promise.
I'm not that good at goodbyes
Sometimes it's best to just fly
Ask where we're going, oh, I
Can't talk about it, can't talk about it 'cause
I'm just goin' to the store, to the store
I'm just goin' to the store
You might not see me anymore, anymore
I'm just goin' to the store
Poetry.
Macklemore & Ryan Lewis
hit it big in 2012 with
Thrift Shop
. I could have gone with 3 total choices here because this white straight can't let the shopping concept
go
, repeating himself in 2015 with
Downtown
and again in 2017 with
Corner Store
. Enough. You peaked.
Probably shoulda washed this, smells like R. Kelly's sheets
Piiisssssss
But—shit—it was ninety-nine cents! Bag it
Coppin' it, washin' it, 'bout to go and get some compliments
Passin' up on those moccasins someone else's been walkin' in
Bummy and grungy, fuck it, man
I am stuntin' and flossin' and
Savin' my money and I'm hella happy that's a bargain, bitch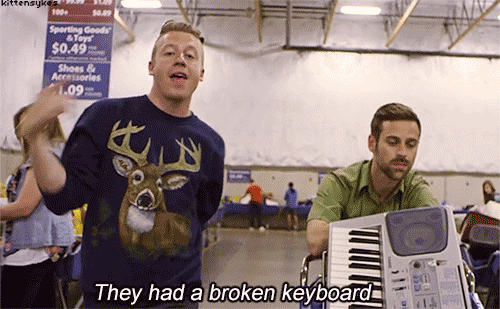 Heyyy Ryannn.
Who? Bih, I don't know, he came up on the search function on my Spotify. He looks and sounds like Sam Hunt's younger brother aspiring to be both a wannabe rapper and country singer. And yes, the song is as ridiculous as it sounds.
Walker Hayes
sings:
Uh, woohoo / Mama let my money say I love you / We takin' you and this GW / Down to the dollar store / Buy you whatever you holla for
. Sam "Body Like a Back Road" Hunt would be proud, bro.
Baby, it's your birthday I'ma be your sugar dad
Don't even think about checkin' one price tag
Whatch you want, flips flops?
Toothbrush, Clorox
Shasta, pop rocks
EPT, hope not!
Paper plates saying' happy Halloween
Candles smellin' like cookies & cream
St. Patrick's day party hat with elastic strings
Girl you look fine in green
Art.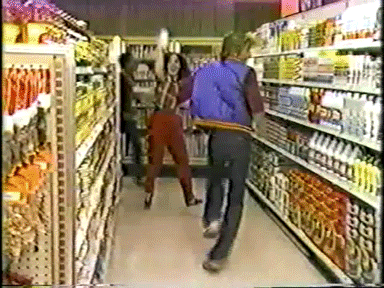 Madalen Duke
is a rather new artist from Vancouver, Canada. Shout out to our neighbors to the North bringing the talent! The singer-songwriter is currently working on her debut album to be released sometime in 2018-19.
I spend all your money at the Gucci store
I got friends I love that I don't call no more
I don't mind, I get it on my own
I don't mind, I get it on my own
Parking lot struttin'.
Oh,
wow
, another certified Canadian shopping anthem! I'm seeing a trend here.
Robin Sparkles
is a fictional teenage Canadian pop star. The existence of Robin Sparkles was first revealed in Season two of How I Met Your Mother, episode nine titled Slap Bet​​. When Robin refuses to go to an event at a mall and doesn't want to explain why, Barney begins to investigate why and finds the music video online. Robin explains she had a minor hit in Canada and had to tour several malls singing this song. "For a whole year I lived off Orange Julius' and Wetzel's Pretzels," explains Robin in this hilarious episode.
I went to the mall with a couple of friends
I had a whole week's allowance to spend
I want hoop earrings and a Benetton shirt
We came here to shop and we came here to flirt
I turned around and who should I see
Prime Minister Brian Mulroney
He said, "Young lady, I don't approve."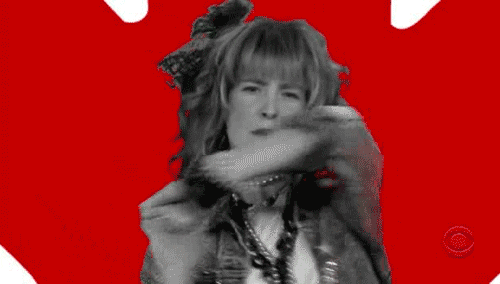 Anthem.Blu Cantrell
(born Tiffany Cobb) is an American R&B singer that rose to fame in 2001 with
Hit 'Em Up Style (Oops!)
. When Cantrell finds her man cheating, the singer goes on a revenge shopping spree and spends all his money. YESSS! I couldn't think of a better day and way of getting back at an ex tbh!
While he was scheming
I was beamin' in the Beamer, just beamin'
Can't believe that I caught my man cheatin'
So I found another way to make him pay for it all
So I went
To Neiman-Marcus on a shopping spree
And on the way I grabbed Soley and Mia
And as the cash box rang I thought everything away
Get him sis. Overdraft his ass!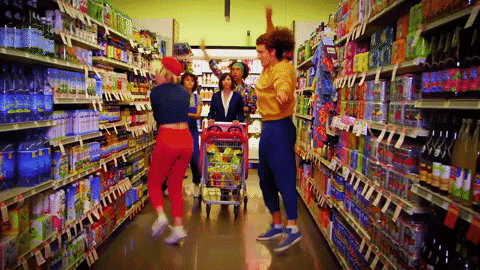 ONTD, favorite place to shop?
Sources:
1
|
2
|
3
|
4
|
5
|
6