Hello everyone! In a recent post
hjalmartazar
bemoaned her inability to find her favorite
Britney Spears gif
which I've seen other users have a hard time locating. It got me thinking, on other forums I've visited there's always a smiley list with the most used/common smileys ready for use. We don't have smileys here tho cuz we are ADVANCED beings who use more emotive gifs instead. So why don't we have a masterpost of the most commonly used gifs on ONTD? That way it'd be easy for users to find their favorite gif without having to download and upload them to the increasingly dying or banned photostoring sites.
My partner in crime
12dozenroses
was gracious enough to start ONTD's official gif tumblr,
ontdgifs
! She has compiled all of the gifs you guys suggested to her on this tumblr for easy use. Since (hopefully) Tumblr won't go the way of imgur or postimg and ban us, you use the images directly from tumblr by
opening the tumblr link, right clicking and copying the link address,
and placing it inside
<*img src=" link to image ">
(and remove the asterisk).
Feel free to comment with gifs missing from the tumblr in the comments so that
12dozenroses
can add them to the Tumblr page.
In conjuncture with our Tumblr page, I've given a brief origins on ten of ONTD's favorite gifs
(that way I can say I actually put some work in on this collab,
12dozenroses did most of the work lol)
!
Brigitte Nielsen Laughing Gif
A gif that's been recently making waves on ONTD, this gif features 90s bombshell and Surreal Life contestant Brigitte Nielsen. The gif itself comes from an episode of Flavor of Love where Flava Flav calls on his amicable ex Brigitte to administer a lie detector test to the contestants. Brigitte is specifically reacting to Hottie (of fucking course lmao) lying about wanting Flav for his money.
View on Youtube


White Man Blinking Gif
This iconic gif originated from a GiantBomb (video game review site) video. Drew Scanlon, the eponymous white guy, was reacting to a fellow co-host Jeff Gerstmann saying "Farming with my hoes" during a video game walkthrough. Idk I don't know anything about video games or walkthrus, but something boring and mundane gave us one of the best reaction gif of all time.
Supa Hot Fire Gif
The 'Supa Hot Fire' gif originated from the first video in a series of increasing ridiculous rap battle parodies posted to the VevoSupaHotFire Youtube channel. The scene in the gif comes right after Supa Hot Fire hands out his ex's wrong phone number.
View on Youtube
Am I Supposed To Feel Sorry For That Bitch Gif
The woman in the gif, Beatrice Starnes had her purse stolen from her by Adrienne Terry. Two days later Terry was arrested and charged with grand larceny and petty thief. When NYC's Pix11 caught up with Starnes to hear her take on Terry's charges, she uttered the now iconic phrase.
View on Youtube
I Wanna See the Receipts Gif
Most of y'all know the story well. In 2002 the VOICE Whitney Houston made an appearance on news magazine 20/20 to do an interview with Diane Sawyer to promote her album 'Just Whitney'. Sawyer asked Nippy about a magazine headline stating that she'd spent $730,000 on drugs. Whit denied the claim and said she wanted to see the receipts… from the drug dealer who allegedly sold her close to a million dollars worth of blow.
The Receipts on Youtube
Oprah Shrug Gif
The Oprah Shrug gif originated from an episode of Oprah's Next Chapter where O interviews a family of hasidics jews about their culture and beliefs. Oprah asks the matriarch about materialism and consumerism to which she replied that she really wanted a good wig after she married and that want and desire is innate to humans regardless of beliefs. True shit, and Oprah hits her with this funny ass shrug after the mother said her trigger word "experience".
I don't think y'all will appreciate how long it took me to find out where this gif was from lmao.
View on Youtube
Dan Typing Gif
An old fave of ONTD, this gif originated from the CW series Gossip Girl. Dan Humphrey is typing a whatever-the-fuck to whoever-the-fuck with the happiest smile on his face. What makes the gif memorable is the fact that Penn Bagley is obviously typing random words on the computer, giving it a cursory glance at the screen while smashing the keyboard.
Source: Me, can't find the video, sowwy
Bitch Me Too, The Fuck Gif
This gif originated from a Vine (RIP to the greatest social media platform to ever exist smh) that was created in response to Beyonce's Drunk In Love lyrics "I've been drankin, watermelon". Our heroine proclaims the statement in the gif. I'd reckon an Arizona watermelon iced tea tastes better than Jay-Z seed, but what do I know?
View on Youtube
Rihanna Winking/Hand Gif
This Good Girl Gone Bad era gif comes from one of Rihanna's first ad campaigns. For Covergirl, Rihanna prances around while a voiceover shills the Exact Eyelights mascara.The gif has had different iterations over the years, but it received a huge resurgence during the 2016 presidential election when Hillary Clinton's face was photoshopped on top of Rihanna's.
View on Youtube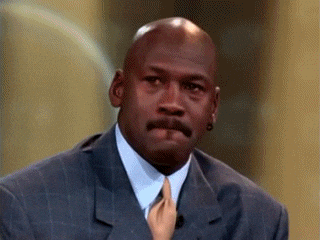 Michael Jordan laughing Gif
Some of the best gifs involve Oprah. NBA legend MJ was visiting the Oprah Winfrey show to talk about his career and clothing line. Oprah invited MJ's friend/rival Charles Barkley out to model MJ's clothes, which sent him into a fit of laughter (which is fair cuz Charles Barkley is a goofy nigga).
View on Youtube
⭐️
ACCESS GIFS VIA THE ARCHIVE HERE
⭐️
PLEASE, ADD MORE GIFS TO THE COMMENTS
NOTE: PLEASE MAKE SURE THE GIFS ARE SMALL ENOUGH IN SPACE SO WE CAN ADD THEM TO THE TUMBLR PAGE! THANK YOU!
POST AND TUMBLR BY (MOSTLY)
12dozenroses and
musicnkisses