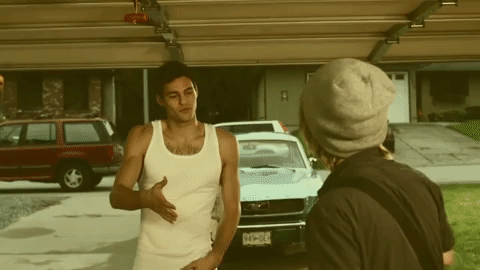 Professional nobody and struggling male model
Holden Nowell
who played
Carly Rae Jepsen's
"love interest" in the
Call Me Maybe
video had an interview with iHeartRadio Canada, and
oh boy
. Somebody hold my E•MO•TION CD! The audacity. Here are choice excerpts from his interview:
• After 2012 when he appeared in the music video, people everywhere recognized him and would call him the
Call Me Maybe
guy. He got sick of hearing it.
• He says he was in the music video more than Carly herself, and was only paid $500 for the day long shoot despite being told he'd receive royalties from the video. He never got a cent from royalties because his agency was "shady."
• "I personally don't have anything positive to say about Carly Rae. She won awards because of that video and she never reached out to me," says Nowell.
• Nowell admits he wasn't comfortable with the storyline. "The fact that they had to make me gay at the end of the video… it was all very… I didn't like being known as the gay guy in the 'Call Me Maybe' video. It was just something I wasn't used to."
• Says the original ending was him kissing the guy at the end, but he wasn't comfortable with it and wasn't doing it for only $500. "I said, 'You know what? What if instead of me kissing a guy at the end of the video, what if I just give a guy my number or something like that?'"
You can read his full nonsense at the source.
Sources:
1
|
2