From the outset, Ranveer Singh (Bhavnani) is quirky, high energy (dancing in the middle of busy Mumbai road in Krrish costume) wears the most random clothes etc etc etc. Truly proving that Ranveer does not give a fuck. After all, he's here to break the barriers of what's considered normal. (He wore a skirt!!!111) He is different.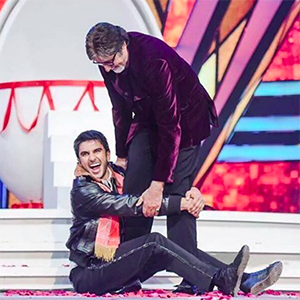 One of the biggest "normal" in Bollywood is nepotism. To succeed in this industry, you need to have some solid familial connections. No matter
how poor actor you are, the goodwill of your family will provide you with innumerable films to ruin. (Abhishek B
achchan, Shraddha Kapoor, Arjun Kapoor entire careers exist due to this fact.) So, in an industry where nepotism and familial connections help you succeed Ranveer would promote that he was a complete outsider to Bollywood. Why would he do this? Because he was building his image to be the
next Shah Rukh Khan.
At first, he would completely disregard the fact he was related to Anil and Sonam Kapoor's family. When Ranveer was asked about this connection, he would assert that the Kapoors did not help him throughout his career, and the family would only come into contact during the filming of Dil Dhadakne Do (2015) where both Anil and Ranveer were cast.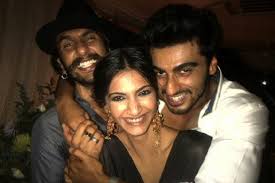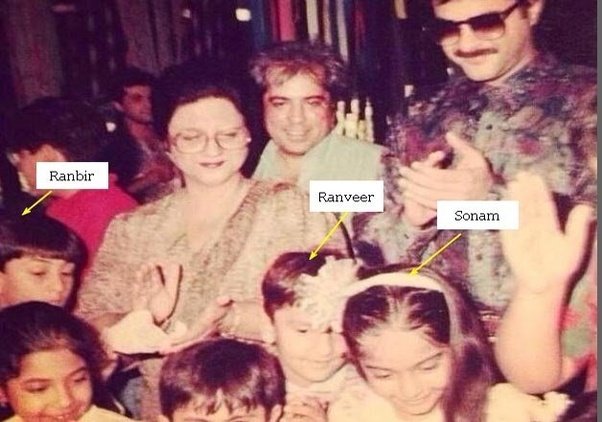 (Arjun Kapoor, Sonam Kapoor, Ranveer Singh)
(Ranveer Singh at Sonam Kapoor's birthday party)
Ranveer Singh claims he has no connections to the industry whatsoever, that he one day gate-crashed a party with a friend at 16 where he met the director Shaad Ali (also at the time working for Yash Raj Films). The director would eventually let Singh assist him on various adverts and films before making his debut.
Interestingly, on an episode with Koffee with Karan, Singh talks about his relationship with Arjun Kapoor (related to Sonam Kapoor through her father's side) developed a friendship due to their love of dancing at parties during sleazy Hindi songs. Ranveer would say they developed this friendship during their debut years ( both having debuted at Yash Raj Films around the same year) however, Arjun Kapoor clarifies that they've been partying way longer than this before he is cut off.
Also, during Vogue BFF's Zoya Akthar describes meeting Ranveer at a mutual friend's party, Ranveer exclaims, "That's 15 years ago, bro!" 15 years puts this event at 2001 – when he was 16 years old.
Singh also shared on 'No Filter Neha' that his girlfriend ditched him for Aditya Roy Kapur, "Ya, he was like every girl's fantasy in junior college and the girl that I was crazy about that time who is now married with a kid, so she, I was really like, this is like, I was mad about her. It was a good 4-5 years that I was crazy over her. And then she finally broke up with me. It was in order to move onto a certain Aditya Roy Kapur."
Again, placing Ranveer at the age of 16 when he met Zoya Akthar and Shaad Ali and again, Aditya Roy Kapur a nepotism kid, part of the industry that Ranveer claims he has no connections to. Who was the girlfriend? Ahana Deol, the daughter of superstars Dharmendra and Hema Malini, you guessed it, within the Hindi Industry!
It's not only enough for Ranveer to claim he's a total outsider he also has to showcase how poor he is. His father Jagit Bhavani is a real estate mogul, rumoured billionaire, whose net worth has been mysteriously wiped off the internet. So Ranveer can make statements like, "The other day I was cleaning my shoe closet, which has some 100 pairs now. It was a staggering sight. Dad walked past the room and he started crying. He said I remember once you had just two pairs – one for everyday wear and one while going out."
In an interview with GQ India for their April issue, Singh revealed how he couldn't afford fashionable clothes and would wear second-hand clothing. He said, "When I was studying in Indiana, I couldn't afford a lot of fashionable clothes, and wore a lot of hand-me-downs. At any given point I'd have a pair of all-white Ice Cream sneakers, which I'd very religiously wipe with Clorox to get the stains out."
Ranveer Singh said to Conde Naste Traveller, "We didn't have a lot of money when I was growing up. So, my parents would save up and save up for that one big summer holiday abroad; I remember going to Indonesia, Singapore, Italy, but most often it was the US – we had a lot of family there. And December was always Goa with my grandparents."
Funnily enough, there is one interview that states that "Singh, who grew up in an affluent family in Khar, Mumbai, says they provide for everything, leaving his money untouched. "I have all the comfort that I need and it is mostly provided to me by my father and my family... Whatever I am making is pretty much there and ready to be invested."

This is not the only part he's exaggerated about his life. "You can check with the women, but I know that I'm the best boyfriend." Ranveer Singh boasts in an interview in 2014, he would repeat this continuously over the next few years. In particular, he would brag about this in an episode of Koffee with Karan alongside contemporary, Ranbir Kapoor in 2017. If Ranveer had been spouting this for many years, why did this claim matter during this moment this most?
Simply because Ranveer Singh had built his image around being the opposite of being a 'Ranbir Kapoor'. For those who don't know Ranbir Kapoor, he is from the lineage of the so called "first family of Bollywood" a total insider, self-admitted cheater, (despite his denials) a playboy. He would date Deepika Padukone for a short while before he cheated on her. Thus, starting Deepika Padukone's persisting 'victim image'. This was Ranveer's moment to remind the audience that he, Singh, was better than Kapoor. A true visual comparison.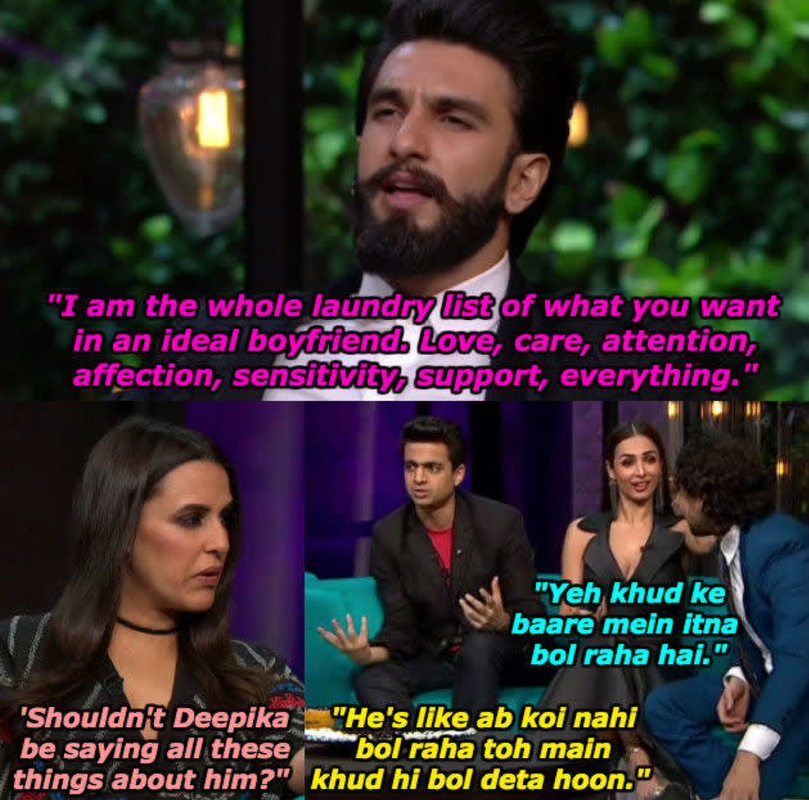 An episode of Koffee with Karan, where a 'jury' comment on the season's iconic moments. (Credits: Buzzfeed India, 4th panel translation: "He's saying so much about himself." "He's like no one saying this about me, so I'll say it myself.")
Ranveer Singh in 2012, within a week after he broke up with Anushka Sharma; would start releasing articles confirming his relationship with Deepika Padukone.


Ranveer & Deepika's (or their shortened portmanteau: Deepveer) relationship would go on to become #relationshipgoals. A relationship beneficial for both as it became the perfect marketing strategy over the past few years. A recent example of this in work would be Deepika's MET Gala appearance, where she failed to make an impact and instead had received criticism for not following the theme. Deepika would post a series of pictures on Instagram, the first justifying her look, the next few her actual look. She would also start a paid trend on Twitter India (reaching #2) "Deepika at MET". When that failed to make an impact outside of a few PR articles; that night in the midst of partying at Sonam Kapoor and Anand Ahuja's wedding reception, Ranveer Singh would suddenly be caught on camera calling her and commenting on the MET pictures on Instagram.
Suddenly the narrative became how sweet Ranveer Singh was to spare a moment for his 'lady love' no matter how busy he was at a family function. Bringing back Deepika's MET Gala appearance and his perfect boyfriend façade to the forefront of the media's attention.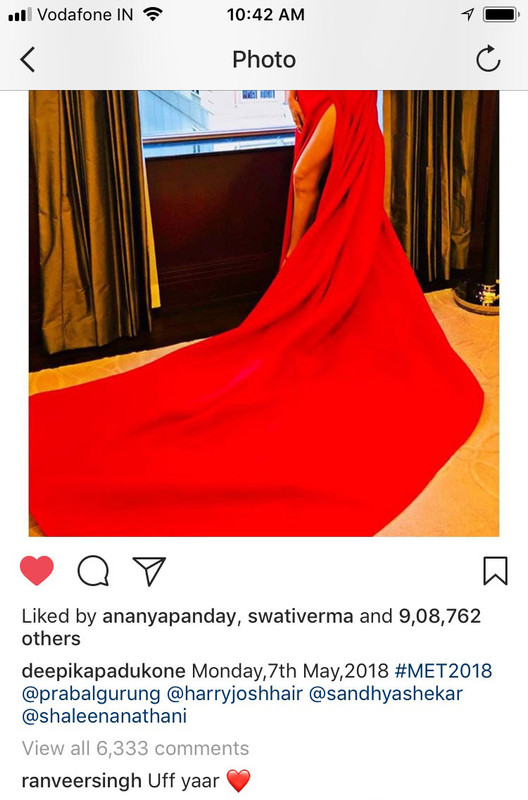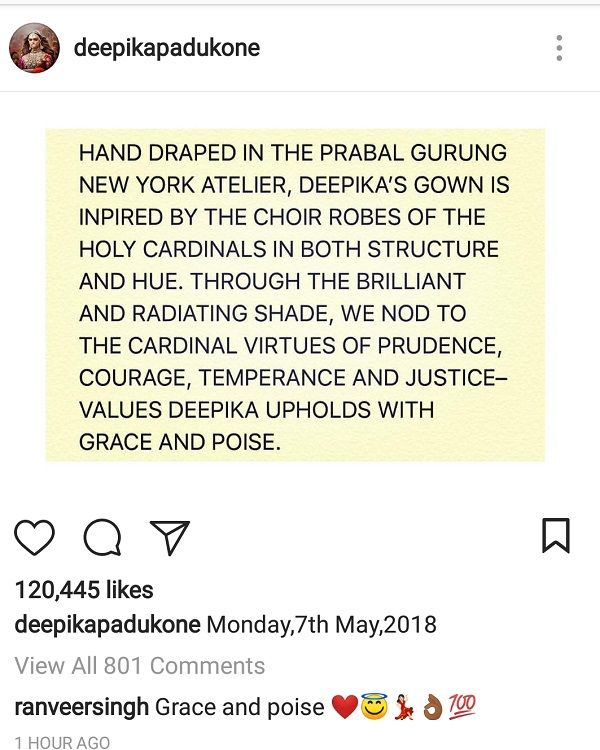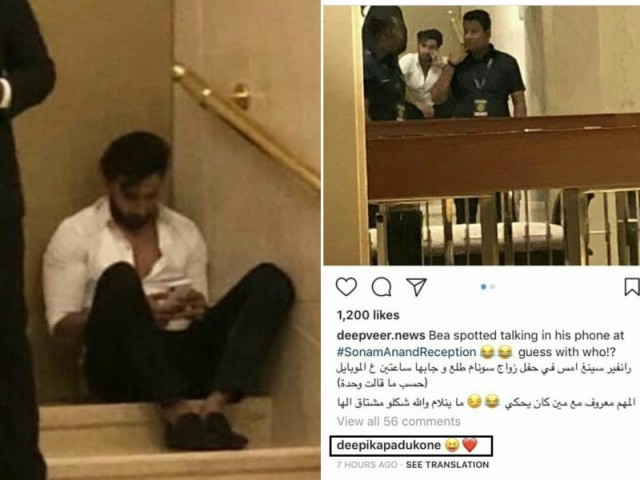 Of course, Ranveer bragging about being the "perfect" boyfriend in what seems to be an average, mutually benefitting PR relationship is not in itself a problematic situation. Fake? Sure, but understandable. The problem with being the "perfect" boyfriend, like his struggler image, is that Ranveer slips up and reveals his misogyny underneath. For example, in 2016, during an interview with Harper's Bazaar Ranveer himself admitted, "See the thing is, I am smarter than all the chicks I have met till date. Their EQ is much higher than mine, but IQ, I am yet to be taken by surprise."

This is not the first time Ranveer has spoken in a demeaning manner about women, in his debut episode of Koffee with Karan he made the following comments about Kareena Kapoor
"She used to come to Otters club, I was a kid at the time and I used to just look at her, and she ushered me into you know?" I went from child to boy."
Kareena who at the time was cast for Ram Leela opposite him would drop out of the film, feeling uncomfortable by Singh's comments. When asked about this, he would comment "Now I don't feel that rush of excitement [for her]. My feelings have waned. (laughs) I've grown up. I was effusive about my admiration, but I didn't do anything wrong. It came and bit me in the face. People really judge you." Effectively shifting the blame back to Kareena Kapoor.
(Also, note Otters club is a very exclusive club, of which many Indian celebrities are a part of)
Ranveer's only gotten into hot water over his sexism once and that was during the Jack & Jones controversy.
A new low for women's rights in the workplace in India. What were they thinking? #Fail pic.twitter.com/3PW5mMaKOt

— Siddharth (@Actor_Siddharth) November 20, 2016
It took actor Siddharth to call out the misogyny in the advert before it caught media attention.
It would take a few days before an "official statement" would be released where a "source" claimed that Ranveer was upset by the controversy. Ranveer Singh is mighty upset that his image took a severe beating after a Jack & Jones advertisement that showed him picking up a miniskirt-clad girl on his shoulders with the tagline 'Take you work home'.
"Ranveer never ever thought endorsing a clothing brand would bring him disrepute. He is someone who is extremely image conscious and has deep respect for women. He is hurt that the tagline written by those who conceptualised the ad went terribly wrong. He has told the brand that it shouldn't have happened and their writers should have been more careful with their words."
Ranveer's official apology would come nearly a week after Siddharth raised the issue: "It was important to give the brand the creative freedom while designing the campaign but I guess we got it wrong on one of those billboards. I am sorry this happened but it is a thing of past. We rectified it immediately by having the hoarding taken down as early as possible from over 30 cities overnight."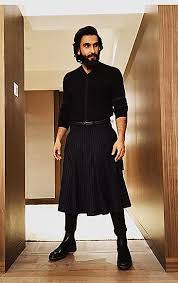 Ranveer's image is more important than his actual work, remember the barriers he was breaking by subverting the norm and wearing a skirt at the GQ Awards? When asked about it his fashion choices, said that he would never cross-dress as that is a bit too extreme. When he was reminded about the time when he had worn a skirt for an award show, he said, "Yeah but...That's like a man's skirt."














Recently, a blind was released: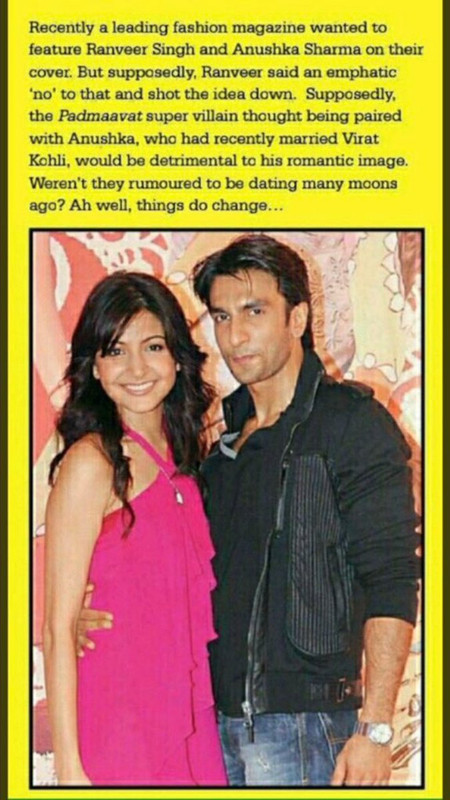 A leading fashion magazine thought it had an innovative cover in mind when it approached a young leading actor and a sprightly female star for its next issue. While the gorgeous pair does look lovely together, the male star had some misgivings. He wasn't too happy to bephotographed with the leading lady because, er, she has just got married. He thought a photograph with her would affect his 'young' image. Tch, some men just refuse to grow up.

It's not surprising that Ranveer has outdated thoughts about women

,

when he asked about feminism in 2017, Ranveer replied,

"I believe in gender quality, so I feel like it's lopsided being on the either side of the coin, you know? By being a 'meninist' and 'feminist', you're essentially already submitting and subscribing to the fact that there's an imbalance. Why won't we just accept the equal status goal and move on?"

This image break-down, doesn't contain his unhealthy obession with sex, including his boasting that he lost his virginity at 12. I also didn't cover that racist, sexist, homophobic, roast he did with All India Bakchod.







Sources 1 2 3 4 5 6 7 8 9 10 11 12 13 14