Adam Nagaitis, who plays Cornelius Hickey on The Terror, answered questions on AMC's blog about his character and the latest episode, "Horrible From Supper."

Some points from the interview, but under a cut because there are spoilers.



He hadn't read the novel before the show, but started to once he was cast. Showrunners told him to put down the book because their Hickey was going to be different from the one author Dan Simmons created.


Says his character is intriguing because he's "playing somebody who was playing somebody or who was pretending to be somebody else."


He discusses how his character felt in episode 2, when Crozier offers him a drink ("Hickey is predisposed to see gestures from the universe as illustrations that he's worthy and that he's capable of ascending his birth in ways that people in his position wouldn't normally be able to ascend.")


He discusses when his character claims there was a connection between him and the Tuunbaq, in Episode 4 ("[It] acknowledges him, looks right at him and walks away. It's just one more sign from the universe.")


He talks the effect of his character finding Crozier's resignation letter ("It means that Hickey becomes ready to make some bold moves.")


On the latest episode, where his character is starting to plan a possible mutiny: "Hickey is an incredibly adaptable survivor. That is what he does best. [...] He doesn't see the value in revenge. He doesn't see the value in glory, but he has questions. He has questions that he wants answered and he has things he's seeking."


Adam says that out of all the "terrors" that the men have to face, in real life he would be most afraid of the cold.


He also talks the reveals in Episode 7, when his character kills Irving ("It's no mind to him, but it just happens to be Irving and that's further proof that the universe approves of it.") and when the audience learns that he's not the real Cornelius Hickey ("For an audience, all bets are off because they now have absolutely no idea what this person is capable of."), so go read the rest of the interview - it's quite good!




Showrunners Dave Kajganich and Soo Hugh took to Twitter before Monday night's episode to answer fan's questions. I've included five of them here (no spoilers), but for the rest check out the official Twitter page for the show.

On having certain actors in mind for the characters:

Every day on set was a master class w/this cast. And no, we didn't go in with specific names. We had the rare luxury of taking our time bc not only did we have to find the "right" actors but also the right chemistry in ensemble. One of my favorite parts of making this show -Soo https://t.co/Q6dE0u9kMd

— The Terror (@TheTerrorAMC) April 30, 2018
On deciding how much of the Tuunbaq to show:
We knew from the outset this couldn't be an "attack of the week" show. Characters needed to drive the plot, to prioritize the psychological over the supernatural. It helped we had a lean budget; We had to deploy creature vfx shots sparsely and smartly. It was a fun puzzle! -Dave https://t.co/SGKWwLjo6l

— The Terror (@TheTerrorAMC) April 30, 2018
On having "Lady Silence" speak:
It makes our jobs a million times easier when the source material is as good&rich as ours. But the jump from written words to the visual medium is tricky & to have a character be seen and never heard is problematic, esp for one of the few women. It was just intuitive for us. -Soo https://t.co/qnbvNs1X19

— The Terror (@TheTerrorAMC) April 30, 2018
On subverting the "mystical Indingeous women" trope with Lady Silence:
We wanted to give "Lady Silence" a full arc that was not subservient to any British character. In many important ways her arc is the same as Crozier's--but even more consequential. We wanted to express that, but on her terms. -Dave https://t.co/bfRHgq9fAZ

— The Terror (@TheTerrorAMC) April 30, 2018
On the most interesting character arcs:
All of them! Truly. But, Lady Silence was the biggest lift bc of our departure from the novel. I cried most in scenes between Crozier and Fitzjames, both on page and on screen. And of course Hickey's. His character is often the lightning rod to the larger questions of humanity. https://t.co/edppd5fcoZ

— The Terror (@TheTerrorAMC) May 1, 2018



SOURCES 1 2 3 4 5 6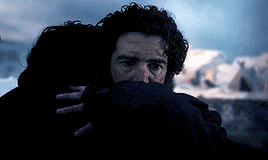 gif source
LET'S DISCUSS THIS WEEK'S EPISODE!!!