Since she was away from the table yesterday, so Meghan McCain had to wait until today to let the world know she was (predictably) offended by the White House Correspondents Dinner. She opens her dramatic, off-base argument with the following line:

"I used to go... once it started turning into this celebrity, oscar red carpet event is when I started being like 'this isn't something I want to be a part of'" - Meghan McCain

Well, I decided to look into that statement, because something told me that it wasn't exactly true. After research, it turns out Meghan has walked the red carpet no less than five times! With that, I now present to you:

Meghan McCain & The White House Correspondent's Dinner: A Hypocritical History

2008
Meghan's first year attending was when her father was in the middle of losing the 2008 Presidential Election. She made sure to smile for the camera, like the public figure that she was angling to become.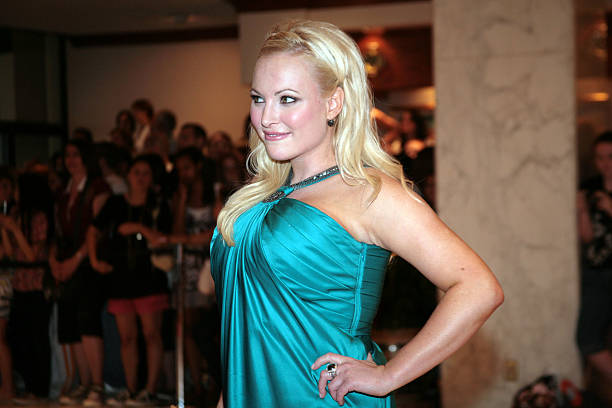 She took the time to pose with Speidi Pratt & Perez Hilton. She must have assumed they were there to honor the press, because she attended four more times before she decided this was a "celebrity" event.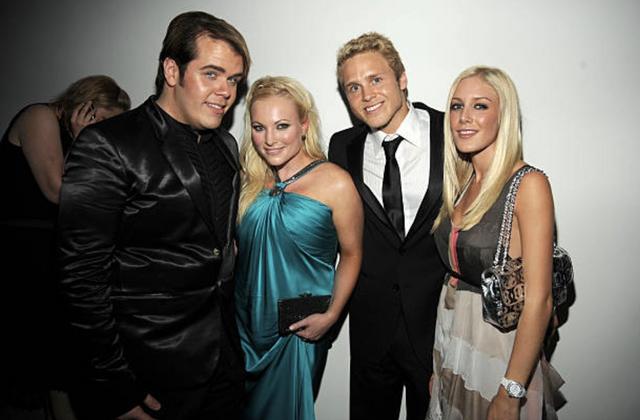 2009
In 2009 she attended the dinner again, and this time she decided to pull a classic "do you know who I am" when her friends weren't allowed inside with her, as anyone who was there to ~celebrate the press~ would. At the time the NY Daily News wrote:

"The security guard sent her to talk to someone to sort out the situation, but Meghan got bratty and nastily told him, 'We'll just stand here then,' like an insolent child," our source said, adding that after dealing with the guard, "She muttered to her friends, 'Does he even know who the f--- I am?' "

Regardless of the hiccup in her evening, she still managed to pose for the camera!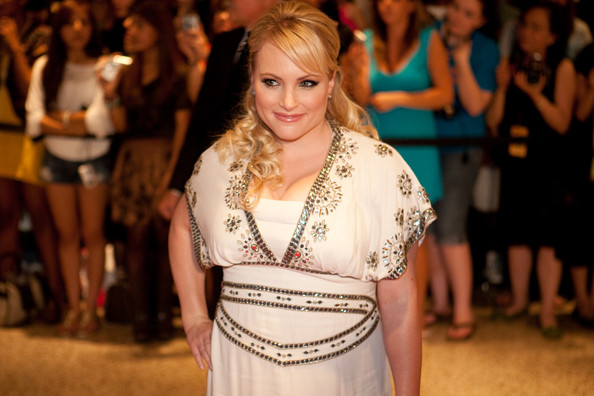 2011
After skipping in 2010, Meghan decided to come back to honour the free press. This time she made sure to give the correspondents what they wanted: her in the PERFECT dress. She took this mission very seriously, and tweeted that she found a great outfit... 2 months in advance of the dinner.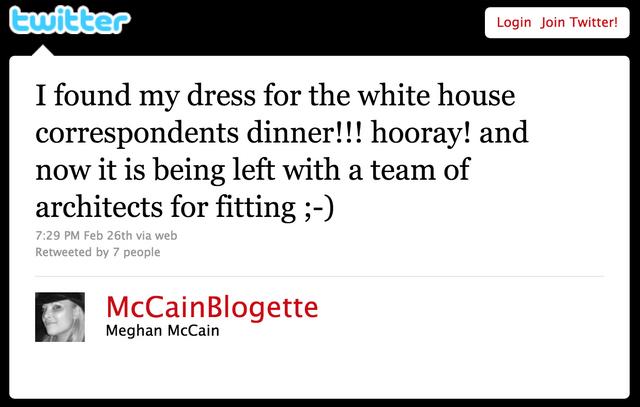 After 60+ days of waiting for her moment to shine, she walked the red carpet for the third time. It is unclear if the place that she found her dress was Hot Topic.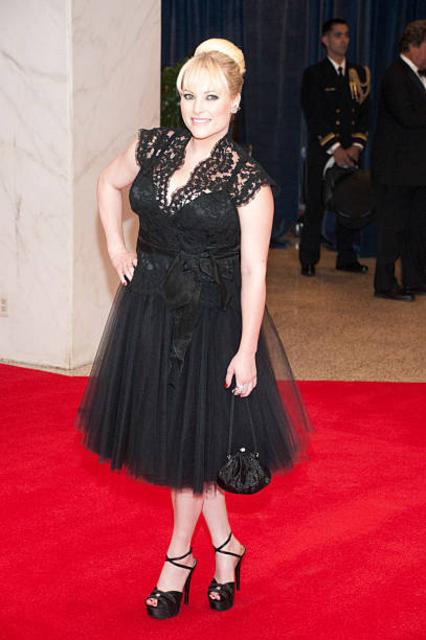 2012
Even though she said she was offended by Michelle Wolf's monologue "against women", she clearly wasn't phased by misogynstic jokes in 2012. Greta Van Susteren wrote an empassioned letter calling for everyone to boycott the WHCD, due to the schedueled entertainment by Louis CK. In the letter, Greta cited Louis frequent disrespect for women on stage, and he eventually dropped out.

When Meghan caught wind of Greta's guest, Lindsay Lohan, she made sure to call Greta out on twitter. It seems the jokes Louis made were as bad as inviting someone more famous than Meghan McCain to the dinner!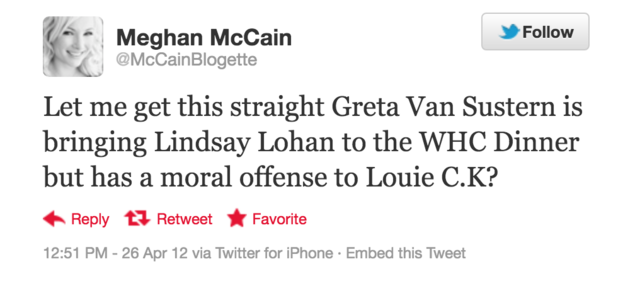 Even though she didn't get to see Louis C.K. perform, and Lindsay Lohan stole a bit of her spotlight, Meghan was sure to get photographed on the red carpet for the fourth time!


She also blogged about her entire weekend.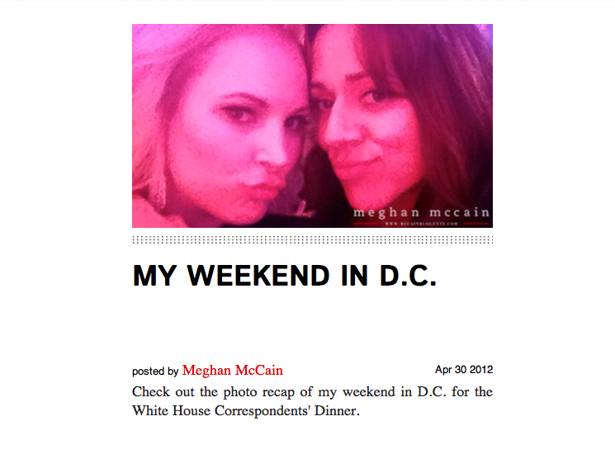 (OP NOTE: omg, wait... does she think she was going to this as a member of the press?!?)
2014
Her final appearance came in 2014. In a full circle moment, she reminded the public why she was ever invited to this event in the first place: her father is famous. She walked the red carpet with her Dad, being photographed for the fifth and final time.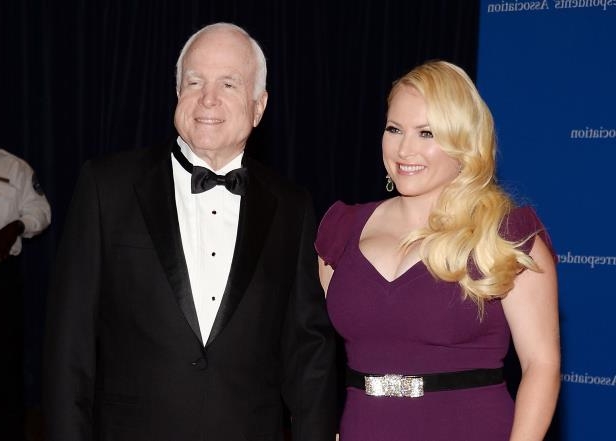 According to her statement today, it was after this that she stopped being invited attending due to the way that the dinner catered to daughters of famous people celebrities.
Thank you - make sure you take a little time to enjoy the view exposure™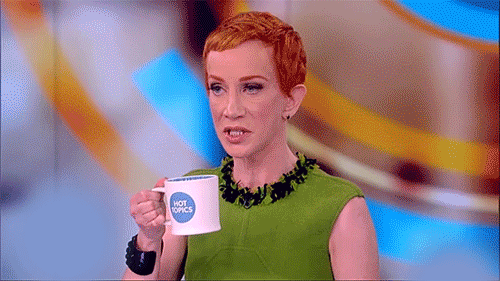 Source + tweet source archive
Photo Sources: 1, 2, 3, 4, 5, 6, 7
Research by Me + The Wayback Machine