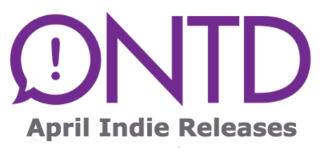 No interest in The Rock's Rampage? Too old for Truth or Dare? Let this week's indie release post help you make informed moviegoing decisions.

Note that the movies listed are in their first week of limited release, so it may take them a few more weeks to show up in your local arthouse theater. Check out last week's post for more movies that may have just opened near you: Indie Releases from April 6th

Beirut (opens today)



Stars: Jon Hamm, Rosamund Pike, Dean Norris, Shea Whigham
Director: Brad Anderson
Genre: Drama, Thriller
Plot: Caught in the crossfires of civil war, CIA operatives (Pike, Norris) must send a former U.S. diplomat (Hamm) to negotiate for the life of a friend he left behind.
What you should know: Jon Hamm is competing with himself in limited release movies this weekend - he is a lead in both this film and Aardvark.


Aardvark



Stars: Zachary Quinto, Jenny Slate, Jon Hamm, Sheila Vand
Director: Brian Shoaf
Genre: Drama
Plot: Emily Milburton is a therapist who is struggling with personal problems. Things change when she meets her new patient, Josh Norman, who is mentally ill. Josh starts to develop feelings for Emily but things get intesting when Emily falls for Josh's brother, Craig.
What You Should Know: This is writer/director Brian Shoaf's first feature.


Flock of Four



Stars: Braeden Lemasters, Uriah Shelton, Isaac Jay, Dylan Riley Snyder
Director: Gregory Caruso
Genre: Adventure, Drama, Comedy
Plot: Four best friends search for a legendary jazz musician on Central Avenue, Los Angeles in 1959.
What You Should Know: Also stars the late Reg E. Cathey.


Krystal



Stars: Rosario Dawson, Nick Robinson, Filliam H. Muffman, Kathy Bates
Director: William H. Macy
Genre: Comedy, Drama
Plot: A young man living a sheltered life develops a crush on a stripper and joins her Alcoholics Anonymous group just so he can be in the same room with her.
What You Should Know: Nick Robinson does a southern accent.


An Ordinary Man



Stars: Ben Kingsley, Hera Hilmar, Peter Serafinowicz, Robert Blythe
Director: Brad Silberling
Genre: Drama, Thriller, War
Plot: An infamous war criminal and former general spending his life on the run from international authorities is suddenly moved to a new hideout, where he develops a relationship with the maid that looks after him.
What You Should Know: The director of this movie also directed Casper and City of Angels.


The Rider



Stars: Brady Jandreau, Tim Jandreau, Lilly Jandreau
Director: Chloé Zhao
Genre: Drama
Plot: Based on his a true story, The Rider stars breakout Brady Jandreau as a once rising star of the rodeo circuit warned that his competition days are over after a tragic riding accident. Back home, Brady finds himself wondering what he has to live for when he can no longer do what gives him a sense of purpose: to ride and compete. In an attempt to regain control of his fate, Brady undertakes a search for new identity and tries to redefine his idea of what it means to be a man in the heartland of America.
What You Should Know: This is Zhao's second feature. The Rider won the C.I.C.A.E. award at Cannes 2017, and the Bonnie Award at this year's Film Independent Spirit Awards.


Submergence



Stars: James McAvoy, Alicia Vikander, Alexander Siddig, Jannik Schümann
Director: Wim Wenders
Genre: Drama, Romance, Thriller
Plot: In a room with no windows on the eastern coast of Africa, a Scotsman, James More, is held captive by jihadist fighters. Thousands of miles away in the Greenland Sea, Danielle Flinders prepares to dive in a submersible to the ocean floor. In their confines they are drawn back to the Christmas of the previous year, where a chance encounter on a beach in France led to an intense and enduring romance.
What You Should Know: Based on the novel of the same name by J.M. Ledgard.


Source 1 2 3 4 5 6 7 8 9 10 11 12 13 14 15


Any of these catch your eye, ONTD? What else do you plan on seeing this weekend? And once again, I'd like to note that these posts are a WIP and I am accepting all feedback to improve them.