*Ari voice* Let's go back to the way it was at the turn of the millennium ('98-'01) where music was filled with bouncy dance beats, computerized harpsichord samples, and sleek synth guitars made by Darkchild, Jimmy Jam & Terry Lewis, and others. And in the music videos of these songs were ambitious CGI visuals depicting what the future would look like with digital themes and futuristic cityscapes. Don't forget about the large gradient sunglasses.

Like how things from the past come back in trend after 20 years, an appreciation of this era is growing, seen with this popular blog dedicated to Y2K aesthetics and upcoming artists who grew up in that time being inspired by it. Here's 21 hits of this era that will make you want to put on your silver popstar space pants and a bandana around your head. S/O to
alienjiive for the glitter text inspiration.





J.Lo was coming off from the success of Selena and launched a somewhat successful musical career with this debut #1 single. The video has to be the epitome of Y2K from the color palette and accompanying aesthetics. Wavy artist Drake referenced this song in 2017's "Teenage Fever."






BadgalWiwi Ford has been accredited as one of the first 'bad girls' of pop of this time with her very sexual image in "I Wanna Be Bad" compared to blonde peers Britney and Jessica. We'll always remember this Bohemian's one bop wonder.





While the video does not seem like anything fancy now, it's one of the most expensive videos ever made. I don't really consider this sound similar to the other songs of this post, but I can't leave out BSB who literally named their classic album Millennium.





Short-lived abandoned Diddy project Dream bumped through with the very girly hit "He Loves U Not." They reformed recently and toured with O-Town, 98 Degrees, and Ryan Cabrerra in the throwback MY2K Tour.





"Anyone can make you sweat, but I can keep you wet."
Who else can pull off singing such provocative lyrics in the middle of an amusement park other than New Kids on the Block member Jordan Knight.

So this list will mention the 1800's 3/4 count waltz harpsichord trend that was in Y2K pop music for some reason... And is it present on here? Yes.





Successica showed off her best hunching choreo in "A Little Bit" with lil sis and punk-rock queen Ashlee as a background dancer. Snatch with the rod choreo at the end.





Mya also did some rod choreo in the middle of a desert for "Case of the Ex (Watcha Finna Dew?)". Tinashe 1.0 is now an independent artist who does experimental r&b and stripper burlesque performance art in clubs.





One of NSYNC's more iconic videos, "It's Gonna Be Me" holds it's legacy being annually meme'd at the end of April when it's 'gonna be May', and was directly referenced to in Fall Out Boy's "Irresistible" where Chris Kirkpatrick and Joey Fatone made appearances in. In their Celebrity album, they had the 3/4 count harpsichord moment with "The Two of Us."





U.K r&b Legend and Spice Girls hater Craig David was in the underground garage scene with Artful Dodger, but broke out with his solo hit "Fill Me In" which is a modern day classic. The song got popularized again in 2016 after he did a mashup with a J*stin B*eber song on a BBC Radio session.





You probably recognize Blaque from the iconic Bring It On movie. This group was founded by Lisa Lopez, and you can find a cameo of her in the music video.





Former black artist and butch queen Pink broke out with "There You Go" and "Most Girls" during her r&b debut, which was more of L.A Reid's doing. She kind of looks back at this era with contempt but she did serve!





Another short-lived girl group 702 had the hit "Where My Girls At" written by Missy Elliott, and I believe they have plans to reform. Also check out "You Don't Know."





DC has a bunch of hits with this era's sound, and it was hard to choose only one. Apparently in the video for the classique "Say My Name" with DC lineup 3.0, the thing where they do different poses on beat throughout the video was kind of a spontaneous idea on the day of the shoot. Craig David nailed a nice cover of this song a couple of years ago.





WAGW originally had a more soulful album version, but went through a dancey single remix and launched to number 1 as the first Billboard Hot 100 number 1 of this century (2000). 3/4 harpsichord moment? No, but there was an 1800's theme going on in the bridge.





"TKO me fall in love
Don't be scared to break my heart
Not gonna fall apart" YAS, LYRICS OF THE CENTURY

During a promotional mall performance, YT footage of Willa Ford can be found singing this song which I'm assuming was originally meant for her. Legendtoria's stint as a solo artist was not that impressive aside from a few songs, but it's cute she tried! She battles "yin" and "yang" sides of herself in a Faerie Cloud Racers-esque scenario in the video and tbh she slayed the dancing sequences.





Kandi of Xscape and The Real Housewives of Atlanta has a lot of bangers in her songwriting catalog including DC hits "Bills Bills Bills," "Bug A Boo," and TLC's "No Scrubs" which was recently given credit by *d Sh*eran for "Shape of You" (get that royalty checkque sis). "Don't Think I'm Not" is kind of a funny song about how her man may be going out and having his fun but she is also, and that there should not be some kind of double standard when women cheat compared to when men cheat... I think?





The Spice Girls had to evolve after Geri left because of her quarter life crisis and ultimately changed the dynamic of the group. With a more 'mature' r&b sound, "Holler" was the second single off of their last studio album Forever. People forget this era of Spice Girls history but it was still moderate success in the U.K. They fed us Avatar teas with each member representing an element, which they did again for the "Love Lead the Way" video. Forever has THE millennium pop jams.





Impactnet was showing us her happy and vibrant side in All For You with a colorful video to match for the first single "Doesn't Really Matter," also known for being featured in Nutty Professor II. J*seph Kh*n decided to shoot the video in portrait orientation I'm guessing.





This might have been a more 'pop' sound for Aaliyah at the time and apparently was considered a cross-over hit. The song did peak at number 1 on the Billboard Hot 100, and Aaliyah's only song ever to do so.





Whitney gave us mathematics and exposed her lover for cheating in "It's Not Right but It's Okay," which is an empowerment anthem for when muthaf*ckas try it with you. My Love is Your Love spawned several hits overall in the late 90's.





"No Scrubs" could have been on this list, but it's too iconic of a song from the best selling American girl group TLC. "Silly Ho" is a certified bop off the iconic album definitive of Y2K, Fanmail, and maybe an unconventional choice to sing as a lullaby to babies, as Kelly Clarkson admitted doing.




So where's the millennium sound today? Here are a few tunes that bring the old into the new.






IMAGINE being a fan of pop music and not knowing London Queen Rina Sawayama with her breakout mini album 'Rina'. "Take Me As I Am" has nods to Max Martin's 90's production via producer Clarence Clarity, and talks about facing society due to her race. She has her harpsichord moment in her single "Cyber Stockholm Syndrome."





Kehlani wears her influences on her sleeve (quite literally, re: her Lauryn Hill tattoo), with SweetSexySavage being a 2017 twist to TLC's CrazySexyCool. People often compared the album track "Too Much" to Aaliyah's "More Than A Woman."





IMAGINE being a fan of pop music and not know about the Y2K legend LIZ Y2K (it's in the name) with the neo-r&b "Horoscope" which I MAY or may NOT have mentioned here before. LIZ's dream of a millennium revival was #aheadofitstime since her 2013 debut and 2014 mixtape "Just Like You." We been knew she was bringing colorful r&b pop back but the world has a thing called "cognitive dissonance" to underrated music!



Happy Friday! Fav songs from this era?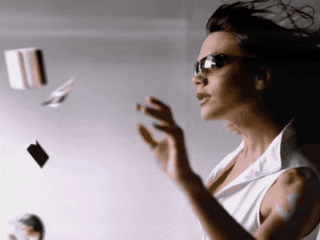 Sources: 1 / 2 / 3 / 4 / 5 / 6 / 7 / 8 / 9 / 10 / 11 / 12 / 13 / 14 / 15 / 16 / 17 / 18 / 19 / 20