Austin bombing latest:
- 24-year-old white male suspect dead after detonating a bomb in his vehicle
- One police officer injured when the bomb blew up
- It's unclear whether the suspect acted alone
- Police do not have a motive for the bombingshttps://t.co/s3jsDErL7C

— CNN (@CNN) March 21, 2018
– Mark Anthony Conditt, a 23 year-old white male, died early this morning after he detonated a bomb in his car when police tried to approach him. Police think they have every bomb accounted for but are still investigating.
– Conditt left a 25 minute confession video on his phone, though Austin PD Chief Brian Manley said he did not offer an explanation behind why he chose his victims. The video reportedly did not contain any references to "terror groups" or bring up "hate". Hours after making the video, police followed Conditt from a hotel to an interstate where he ended up in a ditch before killing himself, where the phone was still in his possession. Manley also said, "It is the outcry of a very challenged young man talking about challenges in his life that led him to this point. I know everybody is interested in a motive and understanding why. And we're never going to be able to put a (rationale) behind these acts."
– There have been five explosions in the last three weeks: On March 2nd, a package left outside 39-year old Stephan House's door killed him in his home. On March 12th, a package killed 17-year old Draylen Mason and injured his mother, and a second package critically injured a 75-year old Hispanic woman.
– Explosions since: On March 18th, the FBI issued a $100,000 award for anyone with info in the killer, and later on that Sunday night, the fourth explosion injured two 20-something white males. On March 20th, the killer's fifth explosion injured one person at a Fed Ex facility.
– There was a sixth explosion that was intially thought to be Conditt's, but it turned out to be an incindeary device and not a bomb. It was a package dropped off at a Goodwill center that contained two artillery simulators, one of which went off and injured a worker. Police have since said, "This incident is not related to any of the other incidents".
– Conditt was raised in a homeschooled, conservative Christian environment. He was unemployed and had two roommates. His family has stated they had no idea Conditt was capable of such evil and didn't see it coming, asking for privacy as they deal and grieve with these events.
– For a college project, Conditt created a blog where he expressed his hatred for LGBT people, women and abortion, and more. In one post, Conditt argued against marriage equality: "I do not believe it is proper to pass laws stating that homosexuals have 'rights.' What about pedophilia or bestiality? These are sexual practices. Should they also be protected by law? If homosexuality is protected by law, why not those as well?" In another, he argued why we "might want to do away with the Child Offender System": "You have to really hate the guy to make him suffer for the rest of his life, even when his prison time is up. This sounds perfect for a serial rapist or pedophile, but its not such a great idea if something as trivial as public indecency or streaking can put you on the registry right alongside them."
– Families are still grieving the loss of Mason and House. Waynewood, House's brother, said that they don't feel safe even after Conditt is dead, and expressed disdain for the police handling the explosion. "When it first happened, we didn't feel like police were taking our family seriously," he said. "If there's been an explosion or bomb, and my family was targeted, why was there no guard outside? Why are they alone?" he said. "I don't know officer protocol, but I want to believe if there was a family threatened like that, they would be protected."
– Initially, House was actually a suspect in his own death, as police suspected that he built the bomb himself, placed it on his porch, and then had it explode in front of him as his 8-year old daughter was getting ready for school inside. "We can't rule out that Mr. House didn't construct this himself and accidentally detonate it," Austin PD Assistant Chief Joseph Chacon told reporters at the time, saying there was no public threat, which Waynewood felt lulled the public into false sense of security. "I do not believe that we have someone going around leaving packages like this," Chacon also said.
– As you can imagine, media coverage is in part describing Conditt like he's a wallflower. One tweet quoting an article read, "The Austin bombing suspect was a quiet, "nerdy" young man who came from a "tight-knit, godly family," said Donna Sebastian Harp, who had known the family for nearly 18 years" which came from... you guessed it... The New York Times.
– The White House stated today that the attacks bear no known links to terrorism. Trump tweeted after ignoring the attacks for weeks, "AUSTIN BOMBING SUSPECT IS DEAD. Great job by law enforcement and all concerned!"
Here's info about the death of the #Austin, #Texas bombing suspect: https://t.co/h8ZZvgW4tA

— Rickey Smiley (@RickeySmiley) March 21, 2018
Praying for my hometown. This is insanity. #Austin

— Gabriel Luna (@IamGabrielLuna) March 21, 2018
The bomber is not a terrorist. Got it. https://t.co/YjQDFhUr5B

— Kumail Nanjiani (@kumailn) March 20, 2018
If this terrorist bomber was a brown guy, my mom wouldn't be able to leave her house for a week.

— Kumail Nanjiani (@kumailn) March 21, 2018
If the Austin bomber had been Muslim, the national guard would be on the streets of Texas by now.

White people wouldn't be arguing over "semantics." They'd be trying to shut down mosques.

— Mikel Jollett (@Mikel_Jollett) March 21, 2018
Just imagine the hysteria is the bomber had been targeting white people.

— Dave Anthony, LLC. (@daveanthony) March 21, 2018
Surprise surprise.
Austin bomber was a white male.
Maybe Mexico will pay for that wall.

— Ethan Embry (@EmbryEthan) March 21, 2018
The Austin bomb suspect, Mark Anthony Conditt, blew himself up when confronted by police. But the authorities are warning he may have planted more bombs before his death. pic.twitter.com/A0VWwQGwVY

— HuffPost (@HuffPost) March 21, 2018
Police: Austin bomber left 25-minute confession video on phone https://t.co/HjlS8gHVzy pic.twitter.com/ZnBkllm7UF

— CNN Philippines (@cnnphilippines) March 22, 2018
$100,000 reward offering from @Austin_Police , @ATFHou , @FBISanAntonio for information leading to the arrest and conviction of person(s) responsible for the Austin, Texas package bombings. Contact the TIPS Hotline at 512-472-TIPS (8477). pic.twitter.com/roR2vYlkvu

— ATF HQ (@ATFHQ) March 18, 2018
BREAKING: Exclusive photos of Austin bombing 'Person of Interest' dropping off 2 packages at Austin @FedEx store. Believed to be wearing wig.
Recognize him? Contact: @FBI @Austin_Police
More info: https://t.co/8bVRGToc7T @News4SA @cbsaustin pic.twitter.com/mpTxxrkYfd

— Randy Beamer (@randybeamer) March 21, 2018
Sixth explosion in Austin, Texas, is not linked to serial bomber, police say https://t.co/J50SPeTXkV

— Metro (@MetroUK) March 21, 2018
This guy belonged to a religious group called the Righteous Invasion of Truth where he practiced weapons skills. If he were Muslim, that fact would be in every single headline. https://t.co/ilqAdjiRTw

— Michael Linden (@MichaelSLinden) March 21, 2018
Mark Conditt was apparently raised in a Christian homeschooling family https://t.co/MJeaQcdI6x

— Sarah Jones (@onesarahjones) March 21, 2018
The family of the Austin bomber says they are "devastated and broken at the news" that 23-year-old Mark Conditt was the person behind the attacks. https://t.co/JGlEC0OWz4

— KXAN News (@KXAN_News) March 21, 2018
The suspect's family issued the following statement through an aunt to @CNN regarding the death of Mark Anthony Conditt and the crimes he's suspected of committing. pic.twitter.com/icpmdDROUn

— Jeff Stensland (@JeffStensland) March 21, 2018
According to a classmate, Mark Conditt created a blog about his political views as a requirement for a political-science class he took at Austin Community College. His posts include arguments against same-sex marriage and a defense of the death penalty. https://t.co/7EBZdfQV9u

— NYT National News (@NYTNational) March 21, 2018
Mark Anthony Conditt blogged about hating homosexuals, opposing abortion, and ironically, being against Islamic terrorists.https://t.co/xtGUJvXnSr

— Eugene Gu, MD (@eugenegu) March 21, 2018
I want to know more about this batshit belief the Austin bomber was espousing, but it's gonna turn out that like one of the top ten most trafficked subreddits is dedicated to it, right? pic.twitter.com/4lpZPJznQG

— Conor Lastowka (@clastowka) March 21, 2018
Have any white people denounced the Austin bomber yet?

— Travon Free (@Travon) March 21, 2018
Glad we're all feeling better in Austin right now, but we should be reading this story from @OliviaMesser and asking hard questions about the #AustinBombings. https://t.co/9SMTOvbUnW 1/ pic.twitter.com/oipQIka08c

— Bobby Blanchard 🌈 (@bobbycblanchard) March 21, 2018
Bombs are illegal you fucking moron. https://t.co/KPz2D3LyW6

— feminist next door (@emrazz) March 21, 2018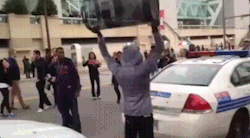 ONTD, what will it take for straight white men to be called terrorists?
Sources:
1
2
3
4
5
6
7
8
9
10
11
12
13
14
15
16
17
18
19
20
21
22
23
24
25