First Ready Player One Reactions: Did Spielberg Make Another Classic? https://t.co/DU6P8uqYLq pic.twitter.com/jboPhRl4dw

— movieweb (@movieweb) March 12, 2018
– First reactions from a screening of Ready Player One at SXSW '18 are coming in, and they're mixed.
But unlike when a certain other movie got mixed reactions, the result for this power fantasy also based on a book is more celebratory. Where's that one user who called people reacting better to this film?
– Charlie Fink of Forbes writes:
"This movie will be revered by science fiction fans for generations. If you're not one of us, well, you've been warned. As for this elder nerd, I am crying with joy as I write this. Though the plot holes are large enough for the Iron Giant to walk through, Ready Player One left me a wobbly, sniffling mess, for reasons personal and professional. It is a love letter to video games and our collective and often misguided tech fantasies but, more than anything, it is, like all of Speilberg's best films, a love letter to the movies."
– Evan Narcisse of iO9 writes:
"Ready Player One exists as the equivalent of a video game that uses microtransactions. Players have an insidious choice in games built on the controversial model: They can either spend hours playing to get the gear and rank they covet, or pay real-world money to acquire those things much faster. The institutional power of Warner Bros. essentially lets the studio able to use pay-to-win mechanics on the audience, unlocking laughter or emotional response by sheer volume of its resources. It's the ne plus ultra of franchise mash-up-a-go-go mega-spectacle."
– Tasha Robinson of The Verge writes:
"The film version of Ready Player One has some major advantages over the book. The exposition is just as bald, but once it's done, Spielberg can focus on the endless dynamism of a world where anything is possible. [...] "The film version does carry over some of the book's most notable flaws, especially a suspicious reliance on narrative convenience and coincidence. The characters are thinly drawn, and most of them are little more than cool avatars and signature moves. [...] "Unequivocally, the film's biggest problem is the half-assed love story between Wade and Art3mis, which operates on approximately 75 percent wish-fulfillment and 25 percent apathetic inevitability."
– Britt Hayes of Screencrush writes: "The parts of Ready Player One that feel truly dystopian probably aren't the ones Spielberg and Penn intended; the real ugliness of this world is that it is a fanboy utopia where every inane piece of useless trivia has some divine purpose, and where all the time these loyal players spent indoors consuming pop culture could very well be their golden ticket to total control over the characters and fiction they love. Ready Player One tells fanboys that the very parts of this culture that have become so toxic — gatekeeping, in particular — are actually good."
– John Defore of The Hollywood Reporter writes: "A rollicking adventure through worlds both bleak and fantastic, Steven Spielberg's Ready Player One makes big changes to the specifics and structure of Ernest Cline's best-selling novel but keeps the spirit and level-up thrills intact. With Cline as a screenwriter alongside Zak Penn, it's not surprising that while some of the book's dorkier elements are excised — sorry, Rush fans! — their replacements display similar pop-culture obsessiveness while lending themselves more to the cinematic gifts of the man Cline surely dreamed would adapt the book. Gamers are far from the only ones who will respond to this virtual-world-set picture, which strikes an ideal balance between live action and CGI."
– Erin Carson of CNET writes: "For all the superficial pleasures of seeing so many video game styles and characters and Easter eggs thrown at the screen in epic, glossy CG, "Ready Player One" never totally fills out what should be the most satisfying part of the story: A David and Goliath tale marinaded in teenage wish fulfillment. And what are video games if not a sizable dose of wish fulfilment? [...] But pop culture nudges and winks will take a story only so deep, however, when there are so many relevant themes to explore. Instead of thinking about the disconnect between our real and online selves, to the precariousness of our privacy, to our need to stay plugged in, "Ready Player One" just keeps playing old games."
– Monica Castillo of The Guardian writes:
"While the movie is visually whimsical with its design and neon colors, the weakness of the source material still pokes out. Plot holes remain, despite screenwriter Zak Penn and Spielberg's efforts to liven up the visuals and punch up the dialogue. [...] For a movie about the hero's journey, there's no arc for any of the characters. They're all already heroes, the big bad is evil from start to finish. [...] Unfortunately, Ready Player One has a noticeable girl problem: it can't see female characters as just other people. For as skilled and resourceful as Art3mis/Samantha (Olivia Cooke) is, her avatar is that of an impossible pixie dream girl – a creature with a svelte body, anime-inspired big eyes, weapons training and the person who knows and loves almost every reference Wade makes. Of course, she's damaged with a birthmark on her face, and he's the only nice guy who can see that she's truly beautiful. Samantha is the artificially programed Eve to Wade's Adam, but worse because she never gets the chance to sin.
– Critics also reacted on twitter outside of full reviews, see below.
– Currently has a 65 on Metacritic and 75% on Rotten Tomatoes.
– The film releases March 29th.
Speilberg's "Ready Player One" is an instant sci-fi masterpiece via @forbes https://t.co/vWB4xOBuqM

— Mark Kelly (@movingpictureTV) March 12, 2018
"Like a rude orgy participant, #ReadyPlayerOne insistently rubs itself on you in ways that it thinks will turn you on, whispering 'talk nerdy to me' into your ear constantly, and with increasing insistence." @EvNarc went *IN* on this 🔥 review: https://t.co/GGpg0Psuqx pic.twitter.com/knxGHxQGMB

— Charles, the Changing Man (@CharlesPulliam) March 12, 2018
Ready Player One is an orgy of nostalgia in all the wrong ways https://t.co/DUddTWbHZ6 pic.twitter.com/5vHu2bmgnR

— Gizmodo (@Gizmodo) March 12, 2018
'Ready Player One': Film Review | SXSW 2018 https://t.co/qB2IByjvV4 via @thr

— Jimmy Palmiotti (@jpalmiotti) March 12, 2018
This paragraph from @MissBrittHayes's review of 'Ready Player One' pretty much says it all. https://t.co/pDvhF6CT1v

Was really hoping the movie would fix what was wrong with the book. Sady, that doesn't seem to be the case. pic.twitter.com/VWzGZnJoEE

— Dennis DiClaudio (@dennisdiclaudio) March 12, 2018
Ready Player One is like futuristic Forrest Gump for gatekeeping fanboys. i really did not enjoy this movie. https://t.co/nbd9CL2AbY

— Britt Hayes (@MissBrittHayes) March 12, 2018
@TashaRobinson says Ready Player One is... good???https://t.co/P1j3TUwfGO

can anyone guarantee that I won't walk out after the first ten minutes just like I can't seem to get past the first chapter of the book, tho

— dan seifert (@dcseifert) March 12, 2018
Steven Spielberg's Ready Player One improves immensely on the book https://t.co/oHrAq9Jxlc pic.twitter.com/bCoEw85wda

— Verge Culture (@vergepop) March 12, 2018
@erincarson's insightful, thoughtful review of #ReadyPlayerOne shown at #SWSX18. LOVED the book. https://t.co/kVf7g9KIMZ

— Rochelle Garner (@rochellegarner) March 12, 2018
SXSW Review: Ready Player One https://t.co/7QgY2RENkX pic.twitter.com/9lnIh2VJt8

— Destructoid (@destructoid) March 12, 2018
Four takeaways from the #SXSW premiere of Steven Spielberg's #ReadyPlayerOne https://t.co/qzgm7MXqV6

— Vulture (@vulture) March 12, 2018
Ready Player One review – Spielberg's shiny VR caper isn't worth playing https://t.co/IS6aNbKJZI

— Guardian US (@GuardianUS) March 12, 2018
Steven Spielberg's #ReadyPlayerOne debuted to a standing ovation at #SXSW2018https://t.co/m4IRANz9Vb pic.twitter.com/rRReWvb49L

— Radio Times (@RadioTimes) March 12, 2018
Ready Player One [71] reviews are coming in: https://t.co/6xpK6iQTDQ
IndieWire: "This is Spielberg's biggest crowdpleaser in years, a CGI ride that wields the technology with an eye for payoff." pic.twitter.com/YPRWInW0e7

— metacritic (@metacritic) March 12, 2018
this is "ready player one"

if you haven't read the book please don't let the trailer make you think it might be ok pic.twitter.com/X2BpfNrpgW

— etdp (@etdragonpunch) December 10, 2017
so I was reading "Ready Player One" when all of the sudden, the book says... pic.twitter.com/4o0igqIeF3

— Nick (@Nicobob4Nicolas) November 26, 2017
so I was reading "Ready Player One" when all of the sudden, the book says... pic.twitter.com/4o0igqIeF3

— Nick (@Nicobob4Nicolas) November 26, 2017
I'm writing an essay about Art3mis in Ready Player One, but this passage (about Aech's mom) is undoubtedly the worst in the entire book. pic.twitter.com/ZWRB6K6bxG

— Beth Elderkin (@BethElderkin) August 23, 2017
I just finished @erniecline's 'Ready Player One,' and this line from the book constitutes my review of the book: pic.twitter.com/aBBToWvFva

— Sean Buckley (@seaniccus) September 12, 2016
Didn't expect Ready Player One to find room for random transphobia and yet pic.twitter.com/sBPb2SJAzH

— Lindsay Ellis (@thelindsayellis) March 3, 2018
You know... I didn't *hate* Ready Player One... I was mostly just bored by it. But between this and Parzival charmingly grinding Art3mis down to interact with him because he's such a nice guy if you'd just give him a chance, Arty... I think I'm ready to take the hate upgrade.

— Lindsay Ellis (@thelindsayellis) March 3, 2018
Since we're bashing Ready Player One, please enjoy @laura_hudson's takedown of Armada, Cline's other even-worse book https://t.co/Ki0r8WUpxH pic.twitter.com/QS5Zc49EBn

— will partin 🌹 (@william_partin) July 23, 2017
Not from the book, but from the same author:
Well everyone relax, Ready Player One will indeed be the biggest thing in the world

— Emily Yoshida (@emilyyoshida) March 12, 2018
I don't know if I have ever seen a #SXSW crowd cheer on a movie the way they just cheered on #ReadyPlayerOne. We haven't seen this Spielberg in a long time - it's just pure entertainment and it's hard not to watch it without a dorky smile on your face the whole time

— ErikDavis (@ErikDavis) March 12, 2018
So yeah, I LOVED Ready Player One. It's perhaps the geekiest movie ever made. So so so happy right now!

— Eric Vespe (@EricVespe) March 12, 2018
Ready Player One is a whole lot of fun. Those who are stuck in pre-release hate mode better prepare to be disappointed. #sxsw

— Scott Weinberg (@scottEweinberg) March 12, 2018
READY PLAYER ONE: So so so much movie. Sometimes too much but what I kept thinking over and over again was "my kids are gonna LOVE THIS." It is joyous and thrilling for the people who it's designed to joy and thrill.

— Brian Tallerico (@Brian_Tallerico) March 12, 2018
I didn't think I would like #ReadyPlayerOne, but I liked it a WHOLE LOT. I think people cheered and laughed every 2 mins and dang this film was entertaining. So many references, I can't wait for everyone to see it so we can all talk about it! #sxsw

— Beatrice Verhoeven (@bverhoev) March 12, 2018
READY PLAYER ONE is a big Trapper-Keeper stuffed full of smiles, Adventure, and heart.

I adore it.#sxsw

— Aaron Morgan (@Aaron_Morgan) March 12, 2018
Mark Rylance can shine in literally anything. That I will say. #ReadyPlayerOne #SXSW

— Joanna Robinson (@jowrotethis) March 12, 2018
READY PLAYER ONE: Good lord I was wrong about this one. It's oodles of fun and kind of the antithesis of Cline's novel in terms of its quality. References weren't too cloying for me, but I was so close I couldn't pick out too much. #sxsw

— Nick Johnston (@onlysaysficus) March 12, 2018
A cacophonous eye-sore. #ReadyPlayerOne #sxsw

— Kristy Puchko ➡️ SXSW (@KristyPuchko) March 12, 2018
#ReadyPlayerOne posits a corporate big wig who exploits fan culture for profit as its villain. The irony of that is giving me a headache. This is no love letter to pop culture. It's a crass play to nostalgia; it offers nothing new or exciting.

— Kristy Puchko ➡️ SXSW (@KristyPuchko) March 12, 2018
There's one point where it tries to critic-proof itself with "a fanboy can always tell a hater."

K. Wait for the "this one is for the fans" defense in 3, 2,...

— Kristy Puchko ➡️ SXSW (@KristyPuchko) March 12, 2018
Just. These movies matter so much to people. To just slap on iconography and references like they are stickers on a bedroom door. It's such shallow use. It exploits your love for these things instead of earning it.

— Kristy Puchko ➡️ SXSW (@KristyPuchko) March 12, 2018
You'll also hear the crowd went wild throughout. Totally true. These opinions are mine. I don't pretend I represent all of the premiere audience or even all critics. I hated this. If you're excited about it, I genuinely hope you enjoy it.

— Kristy Puchko ➡️ SXSW (@KristyPuchko) March 12, 2018
literally my face during every second of Ready Player One. pic.twitter.com/dqZTNeN81r

— Britt Hayes (@MissBrittHayes) March 12, 2018
This aside in the @THR piece on Ready Player One's potential box office fail is the best IWD gift pic.twitter.com/C04JQEH4Cd

— Sam (@SamMaggs) March 8, 2018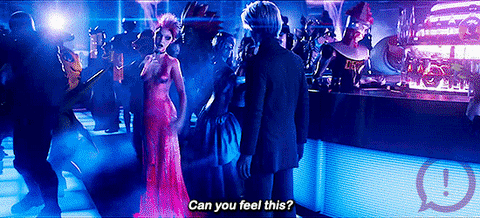 ONTD, what do you think of the reception?
Sources:
1
2
3
4
5
6
7
8
9
10
11
12
13
14
15
16
17
18
19
20
21
22
23
24
25
26
27
28
29
30
31
32
33
34
35
36
37
38
39
40
41
42