– "Adults React" did something it's never done before
by having a few ass adults actually watch the entirety of Love, Simon. (they learned it from Riverdale)
– After watching the trailer the adults were surprised by being invited to a special full screening of the movie. One woman reacted to the trailer and the news with this: "Coming out and having allies and like being represented in the media is so important because like, I struggled with my identity for a really long time." A lot of spoilers are edited out, but their reactions are still there.
– Another woman's reaction: "I came out in 1990 when I was twenty years old, and... there were no laws that protected gay people. And I can't believe that in only 27 years that a major movie production company like Fox has made a film so impactful."
– How one guy described it: "Coming of age that for once felt like a regular movie instead of a gay movie."
– Many expressed how they related to the film: "I wish this was out back when I was going through the struggles, 'cause it made it so simple."
(
Twitter reactions
Collapse
)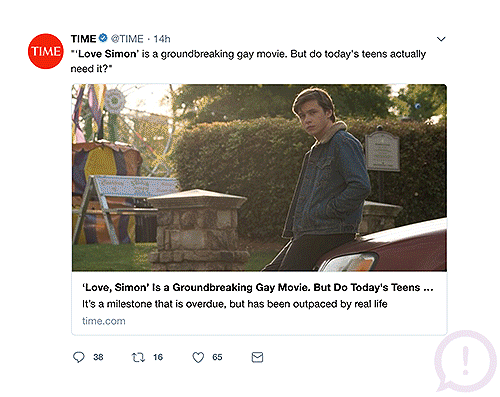 ONTD, do you think homophobia is over?