– "Adults React" did something it's never done before
by having a few ass adults actually watch the entirety of Love, Simon. (they learned it from Riverdale)
– After watching the trailer the adults were surprised by being invited to a special full screening of the movie. One woman reacted to the trailer and the news with this: "Coming out and having allies and like being represented in the media is so important because like, I struggled with my identity for a really long time." A lot of spoilers are edited out, but their reactions are still there.
– Another woman's reaction: "I came out in 1990 when I was twenty years old, and... there were no laws that protected gay people. And I can't believe that in only 27 years that a major movie production company like Fox has made a film so impactful."
– How one guy described it: "Coming of age that for once felt like a regular movie instead of a gay movie."
– Many expressed how they related to the film: "I wish this was out back when I was going through the struggles, 'cause it made it so simple."
Yup, I'm just going to leave this right here. 😭https://t.co/dq7oMMwxt0

— Love, Becky (@beckyalbertalli) March 9, 2018
Dear Twitter, check out the first ever FULL MOVIE Reaction! Adults React to Love, Simon! Thanks to our sponsor @lovesimonmovie (In Theaters March 16th) for making this happen! https://t.co/BA82vqzZ2x pic.twitter.com/KRqzA11aiO

— FBE (@FBE) March 8, 2018
WATCH THIS AND TELL ME THIS MOVIE DOESN'T MEAN ANYTHING IM CRYING SO HARD LIKE MY HEART WHATTGEFUVK https://t.co/nC9ZhRjACL

— love, dani (@bramsbane) March 8, 2018
im tearing up just from their reactions and own stories OH MY GOD this movie guys, its going to change lives... https://t.co/jxS9jwWssA

— HETEROPHOBIC ALLIE (@bramsfeld) March 9, 2018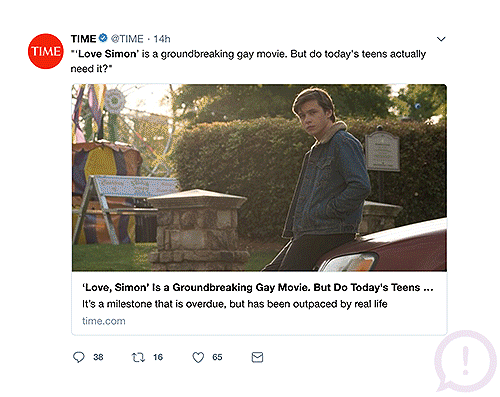 ONTD, do you think homophobia is over?