Here are some of our picks for #Batgirl director! https://t.co/1EfQ6UlAEV
— Den of Geek News! (@DenofGeekUS) February 23, 2018
– Joss Whedon's exit of the Batgirl film was announced yesterday, due to not being able to "find" a story for it.
– Whedon said further on his exit, "BATGIRL is such an exciting project, and Warners/DC such collaborative and supportive partners, that it took me months to realize I really didn't have a story."
– Fans and outlets are currently considering women who could replace him.
– Among the names are Lexi Alexander (Arrow, Supergirl, Punisher: War Zone), Dee Rees (Pariah, Mudbound), Niki Caro (North Country, A Heavenly Vintage, The Zookeeper's Wife, Disney's upcoming Mulan), Michelle MacLaren (Breaking Bad, The X-Files), Mimi Lender (The Leftovers), Amma Asante (Belle, A United Kingdom), Angela Robinson (The L Word, True Blood, How to Get Away with Murder), Reed Morano (Halt and Catch Fire, Billions, The Handmaid's Tale), Gina Prince-BytheWood (Beyond the Lights, Sony's Spider-verse Black Cat/Silver Sable movie, Freeform's Cloak and Dagger), Karyn Kusama (Aeon Flux, Jennifer's Body, The Invitation, The Man in the High Castle) Ava Duvernay (Selma, A Wrinkle In Time), and more.
– Of course, not all the weight should have to be on the mantle of a female director. DC is quietly cleaning house, hiring Walter Hamada for president of DC Comics Films in January and Chantal Nong for VP of Production just a few days ago.
– According to reports, DC will hire a female filmmaker for the film (should the project continue... will Batgirl hang onto the shakeup?)
– On DC's future plate: Aquaman is due to release this year, Shazam is currenly in production, and casting for Wonder Woman 2 is underway and will film next.
"I didn't have a story." - Joss Whedon on why he dropped out of DC's Batgirl movie. https://t.co/qxMHWXPItN

— Twitter Moments (@TwitterMoments) February 22, 2018
In light of Joss Whedon's exit from the #Batgirl movie, fans are offering their own suggestions on who should direct the film. https://t.co/dT8QqE83vS

— Twitter Moments (@TwitterMoments) February 22, 2018
Warner Bros. Reportedly Plan To Hire A Female Filmmaker For 'BATGIRL' https://t.co/dJ0Mh0crPt pic.twitter.com/4p05ByZfgn

— SuperBroMovies (@SuperBroMovies) February 23, 2018
Now that Joss Whedon has left #Batgirl, who should direct it? @RosieMarx has a list of 9 directors who would be the hero we--and Gotham--deserve: https://t.co/EHgO8gbzlS pic.twitter.com/qpaOXG8pnk

— Dan Casey (@DanCasey) February 23, 2018
Wanna know what makes me MAD ABOUT THIS? HE WAS GIVEN THE MOVIE IN SPITE OF THE FACT THAT HE DIDN'T EVEN HAVE A FUCKING STORY.

ANY WOMAN UP FOR THE JOB WOULD'VE HAD TO HAVE HAD LIKE 18 STORIES PREPARED FOR THEM TO "APPROVE."

— Alicia Lutes (@alicialutes) February 22, 2018
Hey Warner Bros, now would be a great time to hire a talented female director for #Batgirl. Here's a list to help you get started. I'll wait:

- Niki Caro
- Dee Rees
- Michelle MacLaren
- Kathryn Bigelow
- Lexi Alexander
- Mimi Leder
- Amma Asante https://t.co/O0mO1fl6Fo

— Ashley Carter (@AshleyLCarter1) February 22, 2018
I'm a little concerned by everyone debating who should direct BATGIRL when there isn't a script yet.

— Jessica Ellis (@baddestmamajama) February 23, 2018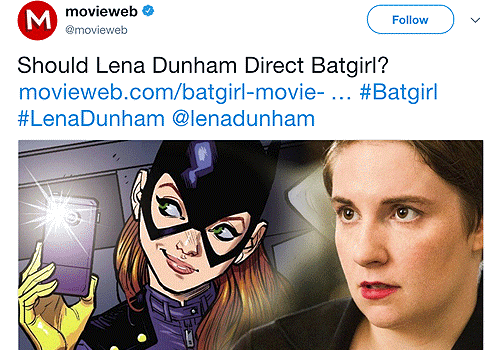 ONTD, who would you like to write and direct Batgirl? Which Batgirl would it be, and who would you cast? What story, tone, supporting characters and more would you go for? Rational solution for the DCEU or just straight up reboot?

Also, if you'd like any writers for the comic character to be involved. Your terms. Go crazy.
Sources:
1
2
3
4
5
6
7