Jared Leto is an angsty yakuza in this trailer for Netflix's The Outsider https://t.co/pTawEMXaBc pic.twitter.com/5HGfLnsQxH

— The A.V. Club (@TheAVClub) February 22, 2018
– Jared Leto stars in Netflix's The Outsider, centered around an American soldier made prisoner of war in post-WWII Japan who enters employment in the dark world of the Yakuza, working for them to repay his freedom.
– Dir. by Danish director Martin Zandvliet, story idea by John Linson and screenplay by Andrew Baldwin.
– Tom Cruise's I mean Leto's love interst is presumably played by Koyuki I mean Shioli Kutsana, Japanese actress.
– The film also stars Japanese actors Tadanobu Asano and Kippei Shîna, Into The Wild's Emilie Hirsch, and features other Japanese women like Yurino in roles like Street Prostitute.
– Director Aaron Stewart-Ahn said he read the Blacklist-approved script a couple years ago back when Warner Bros. had been trying to make it for years. On page 2, the Japanese characters stare at the prisoner of war's (Leto's) dick, trying to see if it's bigger than theirs "as they've heard." Whether this scene was cut or not when switched to Netflix is currently unknown.
– Netflix already came under fire for their Death Note film in 2017, dir. by Andrew Wingard, written by Charley Parlapanides, Vlas Parlapanides, and Jeremy Slater.
– Netflix also recently bought The Cloverfield Paradox from Paramount Studios for more than $50 million.
– It premieres on March 9th.
So I'm sent Blacklist approved script. About a white dude in Yakuza post WW2. Page 2: Japanese characters stare at white dudes bigger dick.

— Aaron Stewart-Ahn (@somebadideas) April 15, 2016
Jared Leto is signed to a white dude in the Yakuza movie WB has been trying to make for years. I've read the script...

— Aaron Stewart-Ahn (@somebadideas) October 10, 2016
...page 2 describes the hero as a POW of Japanese in WW2 and they're trying to see if his dick is bigger 'as they've heard'.

— Aaron Stewart-Ahn (@somebadideas) October 10, 2016
the draft of the Yakuza script I read was the biggest Orientalist piece of shit. Dick size scene on page 2.

— Aaron Stewart-Ahn (@somebadideas) December 14, 2016
Script development is so hard and I think movies are good for taboo subject matter but if you're a white dude & you write a white Yakuza movie and mention Caucasian dick size on page 2, it's fair for me to say I believe you have a small dick.

— Aaron Stewart-Ahn (@somebadideas) February 22, 2018
Jared Leto plays an ex-solider who longs to become part of the Yakuza in Netflix's WWII thriller, #TheOutsider: https://t.co/gBtRmspBWP pic.twitter.com/A8PRjVOL0C

— Decider (@decider) February 22, 2018
Jared Leto as a Yakuza Killing Machine? No thank you to this #WhiteWashing mess. h/t @jesthevu https://t.co/TSrUc0ZasO

— Nancy Wang Yuen (@nancywyuen) February 23, 2018
at least netflix can bounce back with the jared leto yakuza movie, that's sure to be good

— Emma Stefansky (@stefabsky) February 23, 2018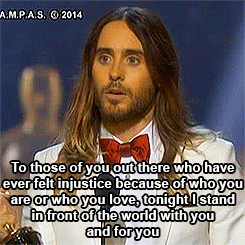 ONTD, do you like to project your own insecurities onto your straight white man avatar two pages into your script other human beings are going to read?
Sources:
1
2
3
4
5
6
7
8
9
10