Forever I'm grateful
Forevery you
Forevereverlove
1990-forever pic.twitter.com/fJ2xNboTeg

— Trevante Rhodes (@_Trevante_) February 10, 2018
– Moonlight and 12 Strong star Trevante Rhodes turned 28 today and took to twitter to thank fans. Ava Duvernay, Barry Jenkins and others have wished him happy birthday on social media.
– Rhodes said in the video above, "28 years of loving... it's a blessing. Thanks for all the love."
– His future projects include Bird Box and The Predator, neither of which he's a lead in, which is frankly not enough like honestly where are his goddamn roles. The latter is a sequel to the 1987 sci-fi film of the sane name and includes Sterling K. Brown, Jacob Trembalay, and Olivia Munn.
– In a recent interview with Complex, Rhodes said he carries the idea of "strong, but also true, vulnerable" depictions of black men in cinema with every gig he looks at. Mentions that moving into the comic book world ala the Green Lantern rumors or the MCU is a possibility but nothing is certain.
Thank you @DreeTV @UpnUp https://t.co/v8lMSNkyqO

— Trevante Rhodes (@_Trevante_) January 19, 2018
A bit of light: HAPPY BIRTHDAY to one of the best men I've ever had the pleasure of knowing and the honor of working with, @_Trevante_, so much fantastic life and work and magic ahead of him! pic.twitter.com/23pYYcbLhR

— Barry Jenkins (@BarryJenkins) February 10, 2018
Man.. I love you B! https://t.co/rHQTYdxpyb

— Trevante Rhodes (@_Trevante_) February 10, 2018
Happy 28th to a brother who I've found to be kind, creative, smart and centered when we worked together. It's your special day, @_Trevante_! A stellar new year of life to you, King! pic.twitter.com/klroMUMPc0

— Ava DuVernay (@ava) February 10, 2018
Happiest of birthdays to the yummy #TrevanteRhodes! Today the #Moonlight and #12Strong star turns 28. pic.twitter.com/Y6pB4xLTVi

— lovebscott (@lovebscott) February 11, 2018
Happy Birthday my friend! See ya soon! ✌

— Jacob Tremblay (@JacobTremblay) February 11, 2018
Oh, it's @_Trevante_'s birthday? Please tell your parents we said thank you! 😍😍 pic.twitter.com/co8e0Z9c2k

— Britni Danielle (@BritniDWrites) February 10, 2017
Happy Birthday Trevante Rhodes!!

We hope it's a "masterpiece" celebration in the #Moonlight :) pic.twitter.com/fQiUlUPeZG

— Palace Nova Cinemas (@PalaceNova) February 10, 2017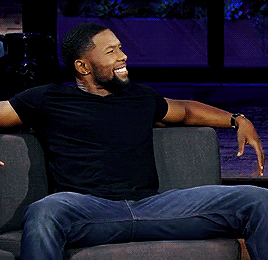 ONTD, what do the local 28 year olds around you look like? My condolences.
Sources:
1
2
3
4
5
6
7
8
9