Rest in peace, John Mahoney. So much I could say, but I think this captures so much of why I love him. Martin Crane's message for future generations: pic.twitter.com/lZlM665M6y

— Anthony Oliveira (@meakoopa) February 5, 2018
– John Mahoney, most well known for Frasier, passed away at his home on Sunday, Feb. 4th at the age of 77.
– Cast members like Kelsey Grammer, Peri Gilpin and other celebrities have been expressing their condolences on social media. Unsurprisingly, a lot of media outlets are omitting mention of him being gay. His on-screen son David Hyde Pierce (Niles Crane) is also gay.
– John was nominated for two Emmys in his role as Martin Crane, the working-class father of his eccentric and neurotic sons Frasier and Niles, and moved in with the former after an accident in the pilot of Frasier. The show went on for 11 seasons. Martin was a beloved character for his humor and warmth, and often displayed more street smarts than his sons in making jabs at them, but always loved them no matter what.
– Below, I've compiled some of his best moments and episodes. (I only let myself choose two episodes per season for the most part or else the list would be very long)
https://instagram.com/p/BQsc31_lahr
He was my father. I loved him. pic.twitter.com/3mGcyEMxoy

— Kelsey Grammer (@KelseyGrammer) February 7, 2018
John singing at my wedding. Watch Moonstruck, Say Anything and/or Frasier or anything you can with him in it and raise a glass to John. Remember him well. pic.twitter.com/Tj3i5B4x13

— Peri Gilpin (@GilpinPeri) February 6, 2018
I'm heartbroken by this news. John was a wonderful and talented man. RIP 🙏❤️ https://t.co/0FGhtFWLx7

— Camille Grammer (@TheRealCamilleG) February 6, 2018
He always said - it took him a long time to find out what he loved - and he loved performing - he was so happy to be there - he made everyone around him better and happier each day - blessed to know him https://t.co/d7UKnCzB6c

— John Cusack (@johncusack) February 6, 2018
The great John Mahoney passed away today at age 77. I've not known a kinder man nor more brilliant actor. We were all blessed to have spent 11 glorious years together. pic.twitter.com/hn3SZwuEy4

— Jeff Greenberg (@JeffGreenbergCD) February 5, 2018
I was so honored to work with the legendary John Mahoney on "The Broken Heart's Club." I was so nervous because "Say Anything" is one of my favorite films ever. He could not have been a kinder man. #RIPJohnMahoney pic.twitter.com/DFp8Dpj6uz

— Zach Braff (@zachbraff) February 6, 2018
John Mahoney has moved on. A Great actor. Incredible wicked sense of humor. And someone who made a huge difference in my life and many others. #RIPJohnMahoney #respect https://t.co/SHNHtff6QJ

— Ben Stiller (@RedHourBen) February 6, 2018
He was Dad to Frasier and Niles (AND Diane Court) but also a Father figure to us all. Rest In Peace, John Mahoney! https://t.co/Bj25Ppd4n6

— KevinSmith (@ThatKevinSmith) February 6, 2018
"When news of Mahoney's death came over the weekend, it was shocking to see that his obituaries were devoid of any mention of his being openly gay." https://t.co/0IdOPxEgS8

— INTO (@Into) February 7, 2018
Season 1 Episode 6: The Crucible
Frasier throws a cocktail party to exhibit a new painting he has bought, but is humiliated when the artist shows up and declares it a forgery.
Season 1 Episode 21: Travels with Martin
The Cranes and Daphne go on a road trip in a Winnebago, but a quick trip across the Canadian border causes certain complications.
Season 2 Episode 13: Retirement Is Murder
Frasier is excited when he believes that he's cracked Martin's long-unsolved case, the "Weeping Lotus" murder.
Season 2 Episode 20: Breaking the Ice
Martin prepares for his annual ice-fishing trip, but when Duke cancels, Niles volunteers to go along, wanting a chance to bond with his father. Frasier does so too, ruminating that his father has never in his life said "I love you" to him.
Season 3 Episode 3: Martin Does It His Way
The boys discover a box full of song lyrics that Martin wrote for Frank Sinatra; with their help, he sets one to music and sends it off. Frasier tries to compose a sincere eulogy for a despised late aunt, while Niles tries to find the perfect place to scatter her ashes.
Season 3 Episode 16:
Look Before You Leap
In honor of February 29th, Frasier encourages the people around him to "take a leap" and do something outside their comfort zone. Unfortunately, their attempts result in failures and make him have doubts about his own leap.
Season 3 Episode 18: Chess Pains
Frasier buys an elaborate antique chess set, but becomes obsessed by his inability to win against Martin.
Season 4 Episode 8:
Our Father Whose Art Ain't Heaven
Martin accompanies Frasier and Niles to their favorite restaurant, where Frasier heaps praise on the hideous paintings that the owner has bought to secure a good table. Martin and the boys get into a fight over who should pay the check. Later, Martin feels bad and makes up by buying Frasier one of the paintings. Frasier can't bear to tell him the truth.
Season 4 Episode 12: Death and the Dog
Eddie is feeling depressed, and Martin calls a dog psychiatrist. Frasier and Niles make fun of the idea, but ruminating about the possible reasons for Eddie's funk leads them to dwell on all the reasons to be unhappy with their own lives.
Season 5 Episode 9: Perspectives on Christmas
While receiving massages for their holiday stress, each member of the Crane family relates the story of the last few days, with subtle differences based on their own perspectives [...] Martin rehearsed a song with an impossibly high note to appear in a Christmas pageant.
Season 5 Episode 14: The Ski Lodge
Roz wins a weekend at a ski lodge, and trades it to Frasier. Daphne invites along her friend Annie, a swimsuit model. Frasier is taken with her, but she is interested in Niles. Added to the mix is their very handsome French ski instructor, Guy. Daphne is taken with him, but he is interested in Niles. That night, confusion runs rampant.
Season 6 Episode 6: The Secret Admirer
An anonymous person leaves an expensive gift in Frasier's squash bag, with a note pleading for a second chance. Thinking he has a secret admirer, Frasier excitedly calls a host of old girlfriends, in spite of the fact that he's already in a promising new relationship with Nancy, a former co-worker.
Season 6 Episode 24: Shutout In Seattle (Part 2)
Part Two of Two. Niles has started dating Kit, a wild waitress from Cafe Nervosa. Frasier becomes increasingly worried about Niles when he begins to adopt Kit's wild, free-spirited approach to life. Meanwhile, Martin is upset with Bonny when her dog, Lady, begins dominating Eddie and Frasier is even more worried about his situation with Faye when Cassandra begins popping back into his life.
Season 7 Episode 7: A Tsar Is Born
The rift between Martin and his sons' tastes is bridged when they find they are all fans of "The Antique Roadshow." The boys have a great time watching it on TV, and when the Roadshow comes to Seattle, they all go.
Season 7 Episode 15: Out With Dad
Fraiser's new girlfriend thinks Martin is gay and tries to set him up with her uncle.
Season 8 Episode 15: Hooping Cranes
Frasier receives tickets to the Sonics game and goes with Martin and Niles (even though he and Niles actually had other plans).
Season 8 Episode 17: It Takes Two to Tangle
Frasier and Niles throw a fancy party to try to convince Penelope, the trustee of a foundation, to donate money to the failing prep school they attended as children. Martin hits it off with her and they go on a date, but afterward he meets another woman named Estelle and decides to date her as well. He's confident in his juggling abilities, but isn't nearly as good as he thinks. The sons race to try to get the money before Martin drops the balls.
Season 9 Episode 4: The Return of Martin Crane
Martin goes back to work as a security guard, and reflects on his last day as a cop, when he was shot.
Season 9 Episode 7: Bla-Z-Boy
On their 8th anniversary of living together, Frasier accidentally destroys Martin's recliner.
Season 10 Episode 13: Lilith Needs a Favor
Lilith asks Frasier to donate his sperm so she can conceive another child; Niles treasures an erotic photograph which he thinks Daphne took for him.
Season 10 Episode 22: Fathers and Sons
Leland Barton, Hester Crane's old research assistant, visits Seattle. He is so alike in personality to Frasier and Niles that Martin starts to wonder who is the boys' real father.
Season 11 Episode 9: Guns 'N Neuroses
[...] Martin's pistol accidentally discharges inside the apartment, creating a trail of destruction that he, Daphne and Niles try to hide from Frasier.
Season 11 Episode 11: High Holidays
Frederick visits Frasier in Seattle, and the family is shocked to see him going through a "Goth" phase. The family talks about the rebellious phase of a child's life, and Niles is stung to hear Martin say that he was always one of the good kids. He decides to rebel by consuming a pot brownie supplied by Roz, but hijinks ensue when Martin eats it.
Honorary Mention: John appeared on Cheers before being cast for Frasier...
Cheers – Season 11 Episode 5: Do Not Forsake Me O' My Postman
Because Gary's Olde Towne Tavern is advertising heavily, Sam and Rebecca decide to hire an ad company to write a jingle for the bar. As Rebecca has only $200 to spend on such, the ad company foists Sy Flembeck (John Mahoney), their resident hack writer, onto the Cheers account.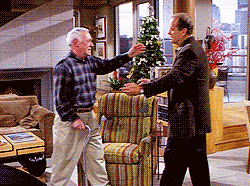 ONTD, who are your favorite TV fathers? Favorite Martin moments and episodes? Also, if you haven't watched Frasier before, there's still time to atone.
Sources:
1
2
3
4
5
6
7
8
9
10
11
12
13
14
15
16
17
18
19
20
21
22
23
24
25
26
27
28
29
30
31
32
33
34
35