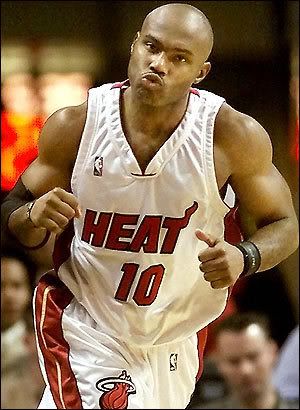 MIAMI (AFP) - Tim Hardaway, who spent 13 seasons in the NBA, was removed from league-related appearances, one day after an anti-gay tirade on a local radio program.

Hardaway responded to a question on WAXY about former NBA player John Amaechi and the Englishman's admission of homosexuality with a hard-line stance against gay players in the NBA.

"I hate gay people," Hardaway said. "I let it be known I don't like gay people and I don't like to be around gay people. I am homophobic. I don't like it. It shouldn't be in the world or in the United States sports."

A statement from NBA commissioner David Stern to the South Florida Sun-Sentinel said Hardaway has been removed from league-related appearances connected with Sunday's NBA All-Star Game in Las Vegas.

"It is inappropriate for him to be representing us given the disparity between his views and ours," Stern said.

Hardaway, who played for the Miami Heat from 1996-2001 before ending his career in 2003 with Indiana, was part of an NBA community program in Las Vegas.

Amaechi, whose book on his closeted life in the NBA was published Wednesday, would not have been someone Hardaway wanted as a teammate.

"First of all, I wouldn't want him on my team. And second of all, if he was on my team, I would, you know, really distance myself from him because, uh, I don't think that's right," Hardaway said.

"You know I don't think he should be in the locker room while we're in the locker room. I wouldn't even be a part of that. There's a lot of other people I hear who are like that and still in the closet. I don't like that."

Amaechi has said there are other gay players in the NBA currently so it is entirely possible Hardaway has had homosexual teammates and not even known it.

Hardaway, who told a Miami television station he would not speak to a gay family member, apologized for his comments in a statement.

"I want to apologize for my comments yesterday regarding gays," Hardaway's statement said. "My comments were offensive and I regret making them. I'm sorry to anyone I have offended."

Beyond mere issues of locker room trust and bonds among teammates, Amaechi said Hardaway's words of anger and intimidation show why gay people worry about making their sexual orientation public.

"It now allows people to take off those rose-colored glasses and understand that homophobia is a problem not only in sports but society," Amaechi told sports TV network ESPN, publishers of his book.

"Spewing vitriol isn't something we should give credit to (for sparking discussion). Society is not for that. One man has made hundreds of thousands of people now feel uncomfortable, unsafe, feel they should hide and run.

"What he has done has made life more difficult, perhaps more dangerous, for people in society, not just in sports. His views embolden those who hold the same views.

"When he depersonalizes it, it's not just a foolish comment. It's a foolish comment that echoes around the country.

"People will feel under pressure, like they are under attack. They will feel anxious. They will know there's a face and a voice for all those people out there who hate them.

"I don't know how that can be conducive to any kind of society at all."

Amaechi, who is black, rejects the idea of mere tolerance for gays, saying "I have no interest in being tolerated" as a black or gay person.

Amaechi said that while response to his revelation has been overwhelmingly positive, Hardaway's comments touched of a wave of threatening anti-gay messages beyond what he had been receiving.

"Every comment that (Hardaway) made is labeled with hate," Amaechi said. "The percentage of e-mails I've received overnight that are going to have to go into a little box somewhere just in case I end up dead are unbelievable.

"He has been a lightning rod for people to finally open the floodgates and decide that they can say some pretty awful stuff."

Hardaway, a five-time NBA All-Star who averaged 17.7 points and 8.2 assists a game in his career, drew Amaechi's ire for his hateful message.

"These are the comments that create the atmosphere that allow some of the tragic incidents of homophobia that we've seen," Amaechi said.

"This is what makes the lives of gay and lesbian young people in schools miserable. It's what stops gay and lesbian people in the workplace from coming out as well as the fact they can be fined in 33 states for being gay."



From here.