¿Questions Asked?

• Amy from Edenburg: Q: My wedding's coming up, and I want to surprise my fiancé by writing a song. Can you give me an opening line?

• Harry Styles Jono from Manchester: Q: I've started balding and my girlfriend is giving me the ultimatum that I get a hair transplant treatment or she's going elsewhere, what should I do?

• Kevin from Nottingham: I'm a recent vegetarian but my boyfriend insists I eat his homemade sausage at least once before I fully commit to the cause. How do I handle this sticky sausage situation?


ONTD, are you a vegetarian or do you love sausage?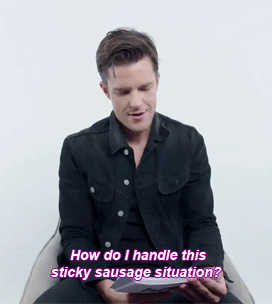 Source