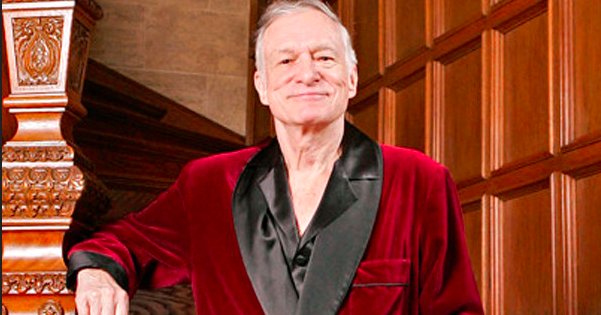 On September 27th, it was confirmed that the founder of Playboy had passed away at the age of 91. However what many people dont realize is that his death has been circulating for as early as
December of 2016
.
It all started late last year around October when the rumor mill surrounding his estate began suggesting that Hugh had quietly passed away peacefully. When this began occurring, Hef used multiple occasions to tweet out to the public to reaffirm he was still alive (in now deleted tweets):
Tonight's Mansion movie is the classic western, "Shane."???????? pic.twitter.com/CJsidHQoPQ
— Hugh Hefner (@hughhefner) October 1, 2016
I wish the tabloids had informed me a little earlier in the week that I'm sick. I might have cancelled my weekend plans.
— Hugh Hefner (@hughhefner) October 1, 2016
On
Dec 10th, 2016,
when the rumors continued to circulate, "Hugh" tweeted out a post of him enjoying quality time with wife Crystal to squash the rumors of his death with an ambiguously-timed photo (since then its also been deleted, but a screencap was taken)
However around this same time, Karissa Shannon, one of the two twins from the forgettable second gen
Girls Next Door
crew, made several IG posts with cryptic messages suggesting Hugh
had
passed.
Karissashannon1
May the wind always be on your back and the sun upon your face and may the winds of destiny carry you aloft to dance with the stars.... Forever Love your babies
Karissashannon1
For everyone who thinks Hef's death is a hoax since ur on my Instagram I'll share something with ya... Playboy will not release a final statement that may effect the brand! Hef did not want anyone to know his condition which I have seen him in for years now! Hef did not want to make a big deal about his death he wants to be remembered for what he has done in his life and playboy! Come up with your own conclusions I don't care but be respectful to me and my relationship with him and the playboy family!
Timeline of events:
October 1st, 2016
: when the rumors first start, Hef posts a tweet indicating him being alive.
December 9th-10th, 2016
: old Playboy bunny Karissa Shannon blabs on social media about Hugh being dead.
December 10th, 2016
: Rumors continue. Hugh tweets a photo of him hanging with his wife.
Jan 22nd, 2017
: Kendra Wilkinson reportedly freaked out about Hugh Hefner death reports, said she checked on him and said "he"s cool" and that he and his estate "didnt even hear the rumor" (lol okay)
April 5th, 2017
: Hugh apparently holds a lavish party to celebrate the new Amazon series about his life called American Playboy: The Hugh Hefner Story, except...he wasnt even in attendance. His son, Cooper hosts the event, who later says his dad is doing "great" and couldnt attend his own party because "his back is bad, that comes along with aging".
September 27th, 2017
: Hugh Hefner ~finally passes at 91.

ONTD, have you ever subversively hidden the death of a loved one because you didnt want it overshadowing their legacy?
Source
Source
Source
Source