Celebrating women in music with a power aesthetic + sound, or who are an all-around concept. Who cares how genuine artists are - give us the gimmicks and glory.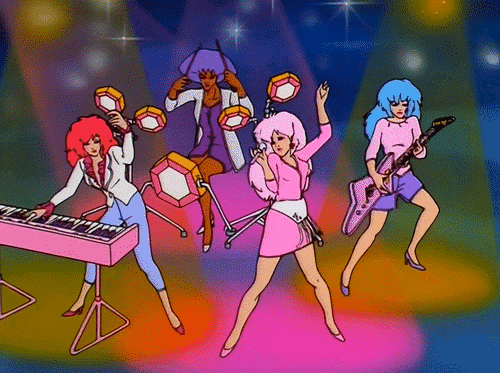 JANELLE MONAE
Her moodboard: Retrofuturism, Mod, James Brown, R&B Funk
Listen to: 'Mushrooms & Roses" (a nod to the psychedelic classic 'Crimson and Clover')


Making a name for herself in both music and acting, Janelle Monae creates a world that's a blend of Metropolis and Wonderland. Throughout her first two LPs, she has an alter-ego named Cindi Mayweather - an android who time travels and tries to survive a cruel world of social unrest. In real life she is a Covergirl, activist, and fashionista. And she has also been robbed of many Grammys (if the Grammys meant anything in this day and age).

Also check out: "Electric Lady" & "Give Em What They Love"





POPPY
Her moodboard: Cyber, Kitsch, Pastels, Creepy & Cute
Listen to: "Altar"


Poppy is slowly gaining a lot of followers since appearing in a series of videos on Youtube. These videos consist of random tidbits, but really boiling down to a blonde girl in a brainwashy state being commanded by the person behind the camera. On top of this, she makes bubblegum pop music with themes of artifice and love. This is a big attempt at viral marketing but we'll see about that. If you are a true Gaga fan, she'll remind you of Candy Warhol. Her #ARTPOP could mean anything.

Also check out: "Interweb" & "Lowlife"




KALI UCHIS
Her moodboard: 60's Beauty Queen Glamour, Lo-fi, Dream-Pop, Tacky-chic
Listen to: "Call Me"


Kali Uchis echoes the sounds of jazz, doo-wop, and cumbia music. Her aesthetics are in the lines of expensive 80s stripper or 60s Hollywood housewife. Once you listen to her music a couple of times, you'll realize she's a romantic not to be messed with. She's also very proud of her Colombian heritage which is present in her artistry, but faces the marginalization of either being too ethnic or too white-washed. In the end, she's an artist to be on your radar.

Also check out: "Loner" & "Tyrant"



LIZ Y2K
Her moodboard: Y2K, Limited Too, Bratz Dolls, Early Mary Kate and Ashley
Listen to: "Star"


Even with a heart of a true fan of 90s teen pop and r&b, don't label her as a throwback artist. Liz brings back the greatness that was colorful pop music of yesteryear (being a huge fan of Britney Spears, Gwen Stefani, Janet Jackson, and Mariah Carey) but with a future twist. She dabbles in sounds that hint late 90s MTV, mid 2000s Myspace, and now in the shameless world of PC Music. Who knows why she isn't on the charts, but her music has always been 3 years ahead of what will trend. Surely keep an eye out for her.

Also check out: "Say U Would" & "Horoscope"



ALLIE X
Her moodboard: Existentialism, Electro-pop, Theatre, Weird Schoolgirl with Dark Lipstick
Listen to: "That's So Us"


At first glance she might reflect Gaga during her Fame era. Allie X is an artist of her own with theatre-pop roots now delving into her own sound of electro-pop. Between her first to albums 'Collxtion I' and 'Collxtion II', she tells the story of a girl and her shadow eventually being split into two worlds. The 'X' in Allie X represents the unknown variable of whatever you'd want it to solve: the confusion of existence or the uneasiness of emotions. This Canadian queen also has some killer vocals.

Also check out: "Never Enough" & "Vintage"


Sources by Order: 0 / 1 / 2 / 3 / 4 / 5 / 6/ 7 / 8 / 9 / 10

This is my first ONTD post! Let's share some more interesting female artists.