Penelope (2006, dir. Mark Palansky)
Who meets who: cursed, pig-faced Christina Ricci meets fedora-wearing, possible curse-breaker James McAvoy, learns about love and life in process
A GIF of James McAvoy with hair: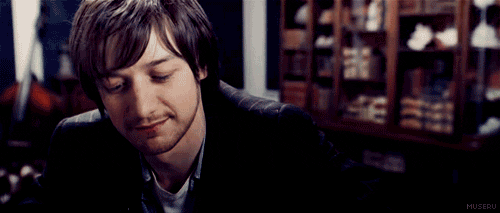 See if you like: Adorable fairy tale movies, super strong character actors (Peter Dinklage, Richard E. Grant, Catherine O'Hara and others co-star), set design to DIE FOR

Waitress (2007, dir. Adrienne Shelly)
Who meets who: Unhappily married, mistake-pregnant pie magician Keri Russell meets adorable, pre-fat and pre-problematic obstetrician Nathan Fillion
A quote: "Dear Baby, I hope someday somebody wants to hold you for 20 minutes straight and that's all they do. They don't pull away. They don't look at your face. They don't try to kiss you. All they do is wrap you up in their arms and hold on tight, without an ounce of selfishness to it."
See if you like: Food porn, feminist vibes, country music

Undertow (2009, dir. Javier Fuentes-Leon)
Who meets who: Artist Manolo Cardona and married fisherman Cristian Mercado have already met and carried on a clandestine affair for years, but when the artist dies and his spirit remains the fisherman has to make the choice to keep his lover with him or help him go on to the afterlife
A gorgeous song from the soundtrack:

See if you like: Magical realism, great music, beach sex with ghosts

Monsters (2010, dir. Gareth Edwards)
Who meets who: Journalist Scoot McNairy meets tourist Whitney Able who is stranded in alien-infested Mexico, as her dad has paid him to escort her safely to the US border
A fun fact: McNairy and Able started dating irl before shooting on Monsters began, and married after completing the film :)
See if you like: Sci-fi as backdrop to very human stories, cool indie effects (the director made all the CGI himself!), road movies

Cairo Time (2009, dir. Ruba Nadda)
Who meets who: Posh ladies' mag editor Patricia Clarkson is supposed to meet her Peace Corps husband in Cairo, but he's so tied up witht work he's sent his charismatic former co-worker Alexander Siddig to pick her up at the airport instead. Great idea obv
A GIF set:


See if you like: Films set in the ME which aren't about terrorism or oil or American soldiers, gentle films for grown-ups

IMDb sources: 1, 2, 3, 4, 5 /// Picture sources: 1, 2 /// Youtube source: 1

Favourite romantic movie ONTD?