- A few weeks ago, Lena wrote about re-homing her dog, Lamby, "after four years of challenging behavior and aggression"
- Lena claims Lamby suffered terrible abuse as a puppy and had multiple owners before her
- She detailed his adoption in a New Yorker article and showed him off in a Vogue magazine spread
- Now, the animal shelter, BARC, where Lena adopted Lamby is disputing her story
- The shelter clapped back: "We checked the records for Lamby. He was 'owner surrendered, not enough time,' so we do not know where she got 'multiple owners that abused the dog.'"
- And: "If Lamby had a bad past or was abused, do you think BARC would have adopted him to Lena knowing she's a new star and put her — or the dog — in that situation? We would have told her if the dog had issues. We are a no-kill shelter. We don't lie about the dogs' histories because that gets them returned — and mentally it's not good for dogs."
- And then: "It's just hard to believe the dog was nasty when she took Lamby to every green room with her when Girls was still a thing 4 years ago."
- Lena's rep has no comment.
- Someone close to Lena says that several vets told Lena that Lamby had "past abuse" and even "possible brain damage."
- Tons more details and quotes at the source.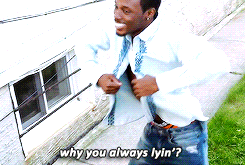 source