I need 'Lordy, I hope there are tapes' on a t-shirt

— Chris Evans (@ChrisEvans) June 8, 2017





It has happened. James Comey has testified before the Senate Intelligence Committee in regards to the Russian interference in the 2016 election. He talked about 45's behavior with him alone, talked about AG Sessions, he talked about leaking his own unclassified memos to the NY Times after 45's tweets, and those memos have been sent to Special Counsel Mueller. He also confirmed that Flynn was under a criminal investigation at the FBI at the time of his departure.






Be a leader @marcorubio! This could have been your moment to shine. Instead, you are a puppet for a corrupt President.

— Alyssa Milano (@Alyssa_Milano) June 8, 2017
Let's hear it for the real heroes of the day: the aides currently restraining the President from tweeting. #ComeyDay

— Late Night (@LateNightSeth) June 8, 2017
Got tickets to this today- anyone else???? #JamesComey pic.twitter.com/l2TM7M2PDL

— OneRepublic (@OneRepublic) June 8, 2017
Wonder if Trump's realized yet that more people are watching #ComeyDay than watched his inauguration. pic.twitter.com/YNenViubMN

— PJ MARSHALL (@ThePJMarshall) June 8, 2017
only in 2017 would one be launching a tour and watching comey testify at the same time

— Lorde (@lorde) June 8, 2017
"Not a question I can answer in open settings" is my new go to

— Spencer Pratt (@spencerpratt) June 8, 2017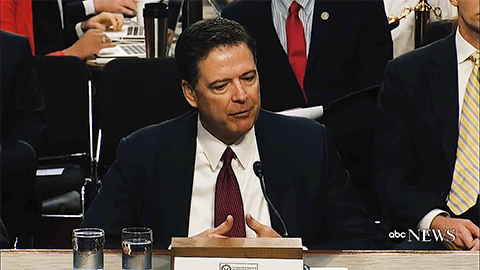 SOURCE: 1, 2, 3, 4, 5, 6, 7