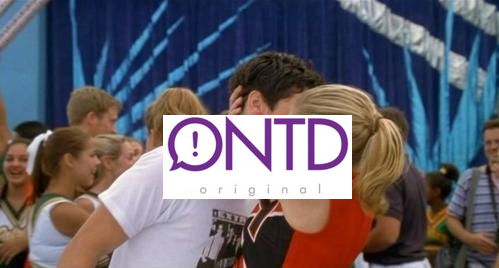 YES ONTD! It is that time again for my SUPER SPECIFIC ONTD Originals! It's been like, 2 weeks since I made one!

This time I'll explore the iconic Kiss scenes of the late 90s/early 00s teen movies, because let's be real, you're not a real 90s kid unless these kisses ruined all realistic expectations you could possibly have had for what your love life would be. Everyone who's a real 90s kid remembers going to Blockbuster on a Friday night with your bffs, going up and down every isle of movies, pretending like you weren't going to pick up the exact same movie you and your besties rented the week before.

After you rented one of these movies for the 20th time, you'd begin to act them out with your friends. There'd be arguments over who got to be Drew or Julia, but eventually you'd compromise and even become so bold as to video tape yourselves performing. But all the while you'd know, you'd never really know what it's like to have Heath Ledger serenade you from the bleachers of your historical landmark of a high school, or have Shane West apply temporary tattoos in his car.

But only real 90s kids know what that's like.




The Notebook (2004)






I mean, there's a reason why ONTD still has McGosling shippers in 2016 even though they've been a sunken ship for nearly 9 years. RIP. There is nothing more satisfying than realizing the man you spent the better part of your youth pining over was also pining for you. And just like the ONTDers who don't love themselves, Allie jumped right back into bed with her first love Noah after this epic kiss.



Never Been Kissed (1999)






If your heart didn't sink just like Josie as she stood on the baseball pitch waiting for Mr. Coulson to come give her her first kiss and he didn't show in time, YOU'RE LYING. Which means you can't say that your heart didn't soar right back up when the cheering of the crowd begins and you see that STUPID MICHAEL VARTAN jogging down the bleechers to the first notes of The Beach Boy's "Don't Worry Baby." While most of our first kisses happened in dark movie theatres or seven minutes in heaven (for me behind the barn in my neighborhood while he snuck away from a sleep over at my neighbor's house), we live vicariously through Josie and relive a glorious first kiss.



Spider-Man (2002)






Now, this is was obviously meant to please the people taking us to these movies, but Kirsten Dunst nipping out and the rain dripping down Tobey's face did something to us. We all began to hope for our own masked crusader who would go around town saving us from attackers and goblins.



Clueless (1995)






"Are you saying you care about me?" ONTD loves this Clueless kiss because it allows them to bring up their favorite topic. Kissing your mother's nephew hot step-brother.



Swimfan (2002)






Now, I really can't remember what this movie was about other than this scene and her going bananas at the end and kidnapping Shiri Applebee. But Jesse Bradford was HOT in this movie, and this SCENE was hot.



A Walk to Remember (2002)






Ugh. Nicholas Sparks, where did you go wrong? Your movies were SO great when you started out, and now, we're looking a a fugly man begging a woman to come out of her coma so she can "bother him." Trash. But, this tragic love affair made us hope for a love that would transcend this life. And we don't even believe in god anymore! We all made a bucket list after this movie, and all stopped on each state border we crossed so that we could be in two places at once. That's an iconic movie.



10 Things I Hate About You (1999)






RIP Heath. Nothing will ever be as sexy as you pushing back Julia's hair and kissing her. Swoon.



Love & Basketball (2000)






NGL, this video I linked is HORRIBLE. But what's not horrible is how amazing this movie is. Everyone dreamt of falling in love with the boy or girl next door, and this movie showed us exactly what we were missing. And strip basketball?! I tried so hard to make this happen after seeing this movie, but unfortunately everyone's basketball hoop was outside and playing strip basketball outside is nagl.



Bring it On (2000)






Okay, okay, so this isn't technically Torrance or Cliff having a kiss, but damn was this a great scene. It taught us the importance of eye contact, which grew with us into adulthood as eye fucking.




Cruel Intentions (1999)






If this didn't teach you how to kiss you're lying.


SOURCESOURCESOURCESOURCESOURCESOURCESOURCESOURCESOURCE



ONTD, what are your favorite teen movie kisses?



**fixed the cut mods, sorry, cuts don't show up in preview.