"MY FRIEND DITCHED ME" Tessa Keller's story.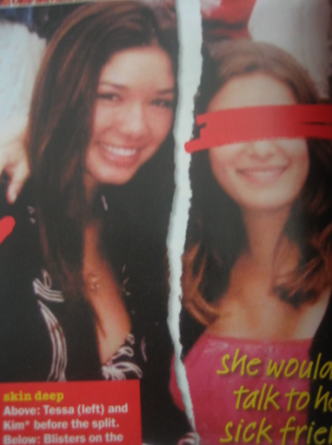 *name has been changed
BEFORE SHE WAS ON THE 3RD SEASON OF LAGUNA BEACH, A RARE ILLNESS COVERED TESSA KELLER IN SCARS-AND TAUGHT HER ABOUT FRIENDSHIP.
At 15 it seemed like everything revolves around the way you look. It did for me and my best friend, Kim*; we hung out with the party crowd and spent most of our weekends shopping, and going to the beach. We all started getting acne around the same time, and most girls got prescriptions to clear theirs up, so I figured I should too. My dermatologist prescribed an antibiotic that seemed to work at first.
NEAR DEATH
Three weeks later I came down with a fever and stayed home from school for two days. While I was sick in bed blisters started to form around my mouth. When my dad came home and saw me, he rushed me to the ER. At the hospital I was diagnosed with Stevens Johnson Syndrome (a rare, life-threatening allergic reaction to medications or viruses that causes lesions to form on your skin and mucus membranes.) By the end of the day I had giant blisters over my entire body; I was in so much pain that the doctors put me into a medically induced coma. I woke up nine days later on a ventilator in the burn unit of a different hospital. As I came out of the haze, all I could think about was how I looked. There were no mirrors in the room, but what I could see was horrifying. My skin was all discolored. My nails were falling off, my eyelashes were gone, and my hair had been cut off to treat the sores on my scalp. My lips were bloody, and I was being fed through my nose. I was in shock: I'd had everything-and in an instant, it had been taken away.
ABANDONED
I had to stay at the hospital for three weeks altogether. One friend visited me there, and a couple more did the day I got home. But the person I really needed was Kim*-and she had vanished. Cell phones weren't allowed in the hospital, but I secretly checked my mine every night. I got no messages. A week after I was released, she finally came by. She brought me a get well gift-a glass banked shaped like a pig holding a shopping bag. We didn't talk about my condition, just about gossip and stuff. I was so happy to see her, I asked her to sleep over like usual. But she said no. Her answer caught me completely off guard. Why would she leave now, when I needed her the most? After that, she was always "busy" and never returned my calls. Later I heard that she and the other girls had said it wasn't because my illness, but because I'd been mean to them. I don't know when I would have even had a chance-they barely talked to me after I got sick. Its true I couldn't do all these things I used to, like go on long shopping trips(I'd get tired after two hours)or to the beach(I couldn't be in the sun without every inch covered) but they never invited me.
A LONG RECOVERY
It took over a year for my body to return to normal. One thing that has changed for the better: my ability to spot a fair-weather friend. If I ever got sick again, I know my current best friend, Raquel, would be there every single day-she has earned my trust times and again. That's why I'm not sad anymore about losing Kim*. I'm just glad that I know who my real friends are.
Source: Seventeen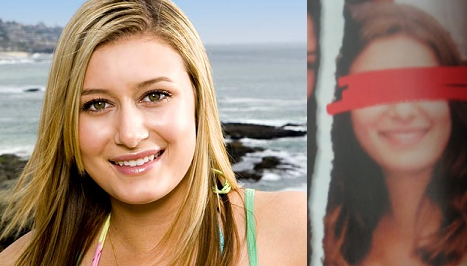 Her name is Tara - that's the girl that Tessa was talking about in the article. She's seen on a couple of episodes.
And just for giggles:
CAMI REMIXED