Susan Sarandon recently sat down with
The Daily Beast
to promote her new film
The Last of Robin Hood
, and she had some pretty juicy things to say about her eighties romance with her
The Hunger
co-star David Bowie as well as Woody Allen's general creepiness. Some choice excerpts are below the cut, but you can find the full interview at the source.
The Last of Robin Hood concerns a couple with a huge age disparity—your daughter in the film is 15 when she meets Errol Flynn, who's 48.
Well, Charlie Chaplin married someone that was 15 around that time. I think she's very mature, which happens when you have alcoholic, non-functioning parents—they grow up very quickly, learn how to take care of themselves, and navigate the waters of life in a different way than normal, functioning parents. And I think that Dakota plays her in a graceful, non-Lolita-ish way. Clearly he was besotted with her, and from the interviews I heard with my character, Florence, she insists it was a legitimate love story, that he wanted to marry her, and that he tried to take care of her in the will.
[...]
It's interesting that this film is coming out at the same time as Woody Allen's Magic in the Moonlight. Many writers have taken issue with the age gap in that film—since Emma Stone is 25 and Colin Firth is 53. Do you think it's healthy to keep portraying the May-December romance in films?
You know, films are great when they reframe reality and cause conversations and dialogue. I'm much more bothered by violence in film—especially violence that's connected in some way to be sexy. For me, that's always been more problematic when I was guiding what my kids were looking at. And again, it has to do with the people. Emma Stone is very together, very centered. I have issues with Woody Allen… but that's another story. But that's always been accepted in films, that guys are with younger women.
What are those issues?
I think he really tore that family apart in a way that was horrible, and hasn't really dealt with the aftermath. He's always had a reputation for being with younger girls—I mean younger girls. And also, that young woman [Soon-Yi] was very vulnerable, and I think it was very hard for the siblings, and certainly for Mia. You just don't go there. You don't go there.
[...]
Last of Robin Hood also centers on a young woman who falls for a rakish older movie star. Have you ever had a wild love affair with a big celebrity?
There was a 14- or-15-year difference between Louis Malle and I. We met on a set. That was such a learning experience because he was French, had a truffle farm, and I really hadn't spent a lot of time in Europe. That was really valuable. But in terms of hooking up with movie stars, I got married really young, which knocked out most of my 20s to be fucking around. There have been a couple of famous, pretty interesting ones. One rock star, and another actor. But I'm pretty much a nester and tend to be monogamous.
Who was the rock star?
Bowie.
Get out. That man is a legend. Did that happen around the time of The Hunger?
Yeah. He's worth idolizing. He's extraordinary. That was a really interesting period. I wasn't supposed to have kids, and I'm the oldest of nine and had mothered all of them, so I wasn't ever in a mode to where I was looking to settle down and raise a family, so that definitely changes the gene pool you're dipping into. But Bowie's just a really interesting person, and so bright. He's a talent, and a painter, and… he's great.
Gratuitous bonus photo of Bowie and Catherine Deneuve from
The Hunger
, purely because.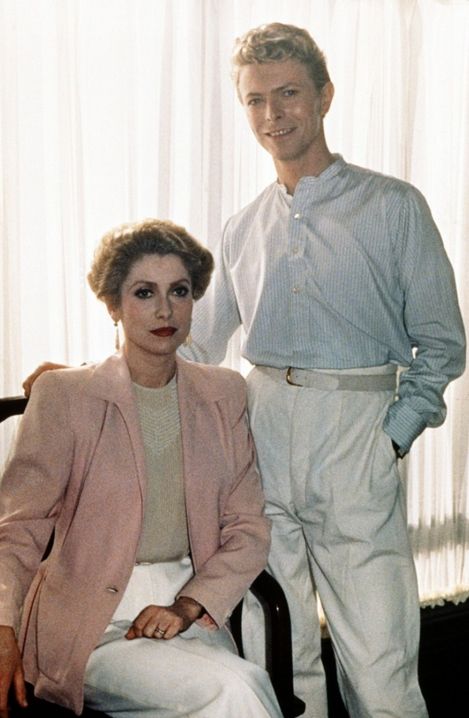 Source One
Source Two