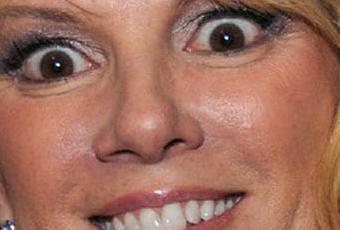 Ramona seems to be having the last laugh in the feud between her and her husband's mistress, Kyle "Kasey" Dexter.
The 32-year-old mistress who gained notoriety after being called Mario's mistress was thrown in jail last month.
RadarOnline is reporting that Dexter spent five days behind bars for disorderly conduct; details as to why the arrest was made are unknown at this time.
News broke earlier this month that the mistress had penned an opened letter to Ramona detailing her and Mario's sex life giving an ultimatum to the Real Housewives star, saying if Ramona doesn't leave Mario then Kasey will.
Ramona learned of the affair earlier this year after which she served husband, Mario with divorce papers, something that she later regretted doing. The pair has since called off the divorce and are currently working on their relationship, something which Dexter is making pretty hard for them to do.
The affair between Mario and Kasey began last summer and resulted in a pregnancy, which the pair decided to terminate. The couple continued to see each other until Ramona caught them together at the Hampton house, her and Mario share. The confrontation between Ramona and Mario turned physical and the cops were called, but luckily no one was hurt and no arrests were made.
This recent arrest for Dexter comes on top of a pretty intense court case with her ex-boyfriend, Gregory Peter, a former employer of Dexter. She previously admitted to Radar that she had an "unhealthy obsession" with Peters who she sued for sexual harassment after their relationship went south.
source:
http://www.mstarz.com/articles/30477/20140512/real-housewives-of-new-york-ramona-singer-husbands-mistress-is-thrown-in-jail.htm
fatal attraction teas, watch ur back ramona