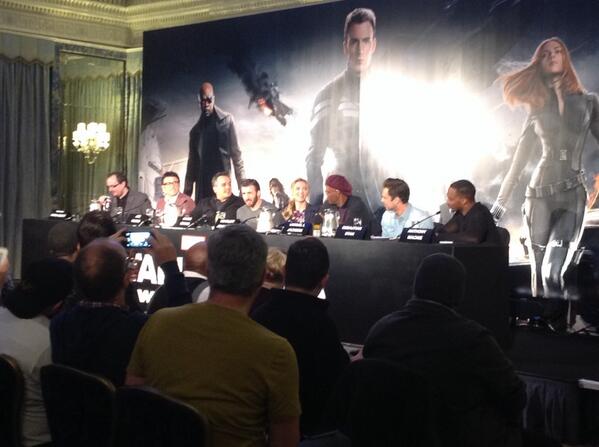 Sebastian Stan sat down with Desde Hollywood to talk about his career, this project, his future in the Marvel Cinematic Universe and more.
You were born in Romania. Do you have ties to the country?
Stan: I have my grandparents over there. It's hard because I don't get to see them that often. The place has changed a lot since I was born and it's a whole different place now but I want to get more educated and familiar with the country again now that I'm starting to have more possibilities to go there.
Across your filmography there are many projects with fantasy elements. Is that pure coincidence?
Stan: It was coincidental because for most of my acting career I was never in a place where I could select and choose. There's a lot of things I got to work on which I'm very proud of but there's a lot of other things that you take on because you needed a job. (lol The Covenant)

What do you do between takes when you have Robert Redford in front of you? Do you go casual like "how was your weekend?" or you ask him about his career?
Stan: I was asking him questions about the 1959's, the 60's, about theater, I asked him about Paul Newman, about Natalie Wood. I asked him about anything I could come up with. You don't always get that opportunity to be on set with somebody like that and the great thing about it is that he was actually looking forward to it, he was very open and very generous. You never know if people want to sit down and talk all the time, but he was more than kind.
In "The Avengers" we see the heroes fighting and measuring up against each other. How do you think The Winter Soldier would do against Ironman, Thor or Hulk?
Stan: I had all those battles played in my head because in the comic books he faces off some of those guys but it'd be really interesting. I guess Ironman would be tough because he has an entire suit or armor and I only have one arm to work with. But I think I could still be a worthy opponent.
Don Cheadle was in Ironman 2 but he wasn't part of "The Avengers." Now they are shooting the sequel. How do you feel about not being invited to 'the big party'?
Stan: I just think I've been pretty good about waiting for my time. But I also know that when my time's come it all turns out well. I think the story of The Winter Soldier is just being developed and I think we're at the point where we're kind of scratching the surface. I really have no idea how it's gonna go forward; I just know that when the time is right, I'm sure I'll be invited to the party.

Writers Tease "Psychotic 1950s Cap" For 'Captain America 3'
In an interview with Den of Geek, the screenwriters talked about the direction they would be heading to with the third film. Says Christopher Markus: "We've definitely set out on a more realistic road in the Cap movies, you know. Even more grounded than in the other MCU movies. And so it kind of rules out Cap fighting the Dinosaur Man or something like that. There are some that aren't gonna start and other ones that — I mean there's a couple we're playing with right now that we really want to take elements from. Which we'll not reveal." Then after a little bit of prying from the interviewer, Markus added, "All I'm saying is psychotic 1950s Cap."
So, to what extent will the third film feature William Burnside? The writers didn't say, but this bit of information should definitely be interesting to fans of the Captain America comics. In the 1950s, Captain America was briefly revived byStan Lee and was battling communists but those '50s plotlines were totally forgotten when Lee revived the character once again in 1964. The second revival had explained Capt. America's absence by saying he was frozen after World War II, thus the 1950s comics were considered outside of the official canon.
This changed in 1972 by Steve Englehart who tied in the 1950s plotlines with the official continuity by explaining that another man, William Burnside, briefly became Captain America in the 1950s but the side effects of the super soldier serum given to Burnside had caused him to go insane which later lead him to becoming brainwashed by a Neo-Nazi army (of which he became leader of).
"In
Avengers 2
we go back…. we definitely learn more about Widow's back-story even more, and get to find out how she became the person you see," Johansson tells
IGN
during a promotional interview for
Captain America: The Winter Soldier
. "All of these characters have deep, dark pasts. And I think in
Avengers 2
maybe the past catches up to some of us a little bit."
IMAX Corporation and The Walt Disney Studios, a division of The Walt Disney Company, today announced an agreement to release several of Disney's upcoming films in IMAX® theatres under an extension of the companies' long-running relationship.
Under the agreement, IMAX will be part of Disney's release strategy for its most highly-anticipated live-action tentpole films, including Marvel's Captain America: The Winter Soldier (April 2014), Maleficent (May 2014), Marvel's Guardians of the Galaxy (August 2014), and Marvel's Avengers: Age of Ultron (May 2015), Tomorrowland (May 2015) and Star Wars: Episode VII (December 2015).
"Disney has enjoyed a terrific ongoing collaboration with IMAX, and we are thrilled to extend this relationship with a collection of exciting, highly anticipated cinematic events that are perfect for the immersive IMAX format," said Alan Bergman, President, The Walt Disney Studios.
Captain America: The Winter Soldier Premiere Report!
Some Agents of SHIELD people are here and Billy has put all of his prized 8×10 photos in one spot is flipping around like a carp looking for oxygen. After a minute, I start grabbing his photos to help him. He needs the Agents of SHIELD people… He's a huge fan. (insert sarcasm here)
Mulan herself Ms. Ming-Na Wen is here and she's signing up a storm. So nice! I wish I had my Mulan mini poster with me. Ah well.


The Agents of SHIELD stars are pretty much doing the full line, and that's pretty nice.
Samual L. Jackson, I mean Samuel L. Jackson is here… I expected him to sign and instead he's doing the Tom Hanks, I'm taking pictures of the crowd trick. Wow… Really Sam?
REALLY?
Harrumph.
Hayley Atwell arrives and signs and signs down the line. Man, she is super nice. I told her how much I hope the Agent Carter series comes to pass.
Emily VanCamp has just arrived, and at first it looks like she's not going to make her way over but she does finally.


Sebastian Stan was coming the other direction and was signing for everyone down the line. I have my Winter Soldier individual mini poster as well as the mini poster. Sebastian Stan was cool enough to sign both and just plowed through the line.


Next up was Frank Grillo who, I loved in Warrior. He was super cool and came over super excited that people yelled for him. Such a cool guy.


Chris Evans arrived and was signing starting at the far far end, which sucks. I'm not sure he'll even get down this far. He's going really really slow. Damn….
Cobie Smulders just arrived and we're yelling for her. She completes my SDCC Avengers art posters, sadly though, Cobie Smulders heads right on in and doesn't sign. I heard she did a little at the end.
Chris Evans took about 20 minutes with the crowd but his publicist had him stop literally at Billy Beer. He had the pen out and was about to sign my poster and then… NOTHING! Ugh… Seriously? Sigh…
Anthony Mackie just dropped and he's not really even looking over at the fans at all. It kind of sucks to be honest, it's like come on man… I have my Falcon mini poster out… But then Scarlett Johansson drops right behind him. Doh… I'm standing behind a sign that says, "I heart Scarlett" and when Anthony Mackie does come over he bee lines it around us.
BUT Scarlett Johansson comes straight over to us.


Then Aaron Taylor-Johnson shows up! We all yell for him and it looks like he's going to run in, but he comes over and signs up a storm. A really cool guy.
Sources
1
/
2
/
3
/
4
/
5
/
6