As a busy mom with a hectic schedule, it's no surprise that Farrah Abraham needed some time at the beach to recharge her batteries.
Farrah Abraham showed off her toned figure in a cut-out one piece bathing suit Monday as she had some fun playing a friendly game of football on a Miami beach.
The former Teen Mom star, who's currently appearing in VH1's Couple's Therapy, was seen running, catching and bending over to hike a football.
The mother of one - to four-year-old Sophia - looked like she was enjoying a much-needed break as she tries to work through some difficult issues in her life including the fallout of her porn video.
The 22-year-old starred in XXX film Farrah Superstar: Back Door Teen Mom and in early January opened up to Intouch about the video - which she originally tried to pass off as a sex tape - saying it had ruined her life.
Farrah told the magazine: 'It made it hard to have friends and a private life and to trust family, who I feel use me for money.
'If I went back in time, I would not have done it. The sex tape ruined my life.'
The star is currently appearing solo on VH1's Couple's Therapy.
The star is solo on the show after her boyfriend DJ Brian Dawe, 31, dropped out at the last minute. Many have since questioned the relationship's validity.
Speaking to Eonline, Farrah said, 'I was never broken up with. I was just neglected...He had some other situations that he was dealing with and I'm just happy that I'm not with that same person currently.'
However, while Brian is a no-show, Farrah's ex-boyfriend Daniel Alvarez will be making an appearance on the show, according to E! News.
'I agreed to appear on the show because I saw an opportunity for me to clear the air regarding Farrah and [my] past relationship,' Daniel told The Ashley's Reality Roundup on his decision to appear on Couple's Therapy.
'In addition and most importantly, I felt it was a good time to give Farrah some direct and honest feedback on what I experienced during our time together.'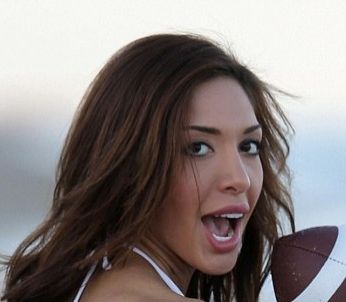 SOURCE