Total Divas Brie Bella and WWE Superstar Daniel Bryan Get Engaged—See the Ring!
by JEFFREY WISENBAUGH Today 2:26 PM PDT
Brie Bella, Daniel Bryan
YES! YES! YES!
Total Divas star Brie Bella and WWE Supsterstar Daniel Bryan (Bryan Danielson) tell E! News exclusively that they are engaged to be married!
The couple have been together for almost three years now and Daniel popped the question on Wednesday, Sept. 25, while they were on a hike in Big Sur, Calif.
The former WWE Champion is used to performing in front of millions of people on live television, but none of that prepared him for this big event.
"I have never in my life seen him so nervous. I've been by him when he's gone out for WrestleMania and some really big things," Brie revealed. "He got really, really nervous and he started talking about how long we've been together. He got down on one knee and compared our love. He said he'll love me forever like the ocean goes on."
How adorable is that?!
The couple has kept the engagement a tight secret by only telling family and close friends. We wanted to know how Brie's WWE Diva sister, Nikki Bella, reacted when she got the news!
"Nikki was over the moon happy for me. I could just see in her eyes that she's just so happy for me," Brie said. "I think she's excited to plan the wedding because she'll be my maid of honor. She's already talking about the bachelorette party." (We'd expect nothing less!)
Bryan said he has been waiting a while to finally take the big step. "I've had the ring for a long time. Just trying to find the moment that fits," Bryan said. "A moment that's worthy of Brie."
Brie Bella, Daniel Bryan
Speaking of the ring...we got all the juicy details!
"It's an old, vintage European diamond. It's 1.5 carats," Brie revealed. "It really fits how Bryan and I are with nature. It's elegant and dainty. It's exactly what I wanted."
The ring was purchased from Ken & Dana Design in New York. Brie and Bryan designed it themselves. They purchased this particular ring because it's an eco-friendly, conflict-free diamond.
Brie is hoping to set a wedding date between April and June of next year and they're going to work it around their crazy schedule.
Brie Bella, Bryan Danielson
Not only did Bryan surprise her with a proposal, he did something even bigger!
"He flew out my whole family and his family and surprised me for an engagement dinner," Brie explained. "That was probably the most special thing anyone has ever done for me."
The cameras were rolling when Bryan got down on one knee and we'll get to see the huge moment on Total Divas!
"When you're older, the things you tell your group of friends is about how your husband proposed, how your wedding went and the birth of your children," Brie gushed. "I'm happy that the world gets to see the moment I'll be talking about for the rest of my life."
And we can't wait to see it! Congrats to the happy couple!
You can watch the whole proposal when season one of Total Divas returns with six NEW episodes beginning Nov. 17 at 9 p.m. on E!
Paul George signs Indiana Pacers contract extension
INDIANAPOLIS — Indiana Pacers All-Star forward Paul George knew keeping a "poker face" would benefit him in his contract negotiations ... but he couldn't.
"My heart was really here and I couldn't see myself anywhere else," he said Wednesday during a news conference at Bankers LifeFieldhouse announcing a multi-year contract extension. Terms of the contract were not released.
EARNED: George deserves this extension
The 6-8, 225-pound small forward averaged 17.4 points, 7.6 rebounds, 4.1 assists and 1.8 steals per game last season, earning his first All-Star Game appearance and the NBA Most Improved Player Award.
"We think, going forward, he'll continue to improve and do the thing necessary to be the face of the franchise and do the things to take us to a place we haven't been in a long time," team president Larry Bird said.
George is eligible for a five-year contract that will pay him approximately $80 million to $90 million, according to the NBA's collective bargaining agreement. If he is named to one of the league's three All-NBA teams at the end of next season, he would be eligible for more than $90 million. If not, he could make almost $80 million.
"There's no better place to play than here," George said. "It's all about basketball here. It was a no-brainer."
The Indianapolis Star is a property of Gannett Company and partner of USA TODAY Sports.
Stephen Curry is endorsing a flavored mouthguard, which doesn't seem totally normal
For successful NBA stars, it's OK to endorse as many products as they choose. While the very best of these players ensure that each extracurricular activity they pursue fits within a strong brand, it can sometimes be difficult to turn down any company offering large sums of money for making few comments regarding the crucial importance of a particular item in a human's day-to-day life. Sometimes, for instance, a player will film an ad for a totally incomprehensible cell phone watch.
[Related: Warriors star Stephen Curry leaves Nike for Under Armour]
Golden State Warriors guard Stephen Curry's latest endorsement is not on that level. However, it does require some further explanation. As announced on Thursday, Curry will wear a flavored mouthguard from MoGo Sport on the court this season.
Here's his very confusing tweet:
I do not know what "Steph Curry flavor" means, and frankly don't want to. Luckily, it turns out that the NBA's all-time single-season three-point leader misspoke. As noted ESPN's Darren Rovell, the sort of person who knows these things, the mouthguard is actually lemonade-flavored.
[More fans choose Yahoo Sports Fantasy Basketball. Sign up today!]
Of course, this does little to explain how a mouthguard can taste like a traditionally refreshing summer treat. The MoGo Sport website is here to help, or at least convince us that it's not weird:






Excited to announce my partnership w/@MoGoSport, the 1st flavored mouthguard! I'll be wearing "Steph Curry" flavor! pic.twitter.com/Tfnik0LmWE

— Stephen Curry (@StephenCurry30) September 26, 2013
MoGo is a sports mouthguard company founded by athletes for athletes. What do most of us do the moment the whistle blows to stop the action? We pull our mouthguard out. Then we hang it out of our mouths or we chew it. Some of us will jam it into our helmets. Others will stuff it down their gloves (yes, that is gross). And if we drop it...well hopefully there is a water bottle nearby. When the action starts again we scramble to get that mouthguard back into our mouths.
Why do we do this? Wearing a sports mouthguard isn't a great experience... it has no taste. Imagine if you regularly chewed gum with no flavor or all you could ever drink is water. Pretty boring, right?! Well, for athletes at all levels, from pee wee to the professional ranks, MoGo has the solution. Using a patent-pending, FDA-compliant methodology, MoGo offers a range of flavored mouthguards. No more dry mouth, no more plastic taste, no more taking your sports mouthguard out. MoGo is the mouthguard you will want to keep in your mouth... great flavors to choose from all the while providing superior comfort, protection and performance. And did we mention that the flavor will last and last? Another great thing about the flavor technology. Letting you focus on the action and perform at your best.
The idea actually makes quite a bit of sense, and it appears to have hooked a growing number of high-profile athletes. Along with Curry, San Francisco 49ers quarterback Colin Kaepernick and Pittsburgh Penguins forward Evgeni Malkin have signed on as endorsers. It's possible that, in a few years, this somewhat goofy and unfamiliar product will be the new standard. Stranger things have happened.
So get used to associating on-court dental protection with the conclusion to a hard day of yard work. The future is now.
RYAN LOCHTE RELEASES NEW YOGURT FLAVORS FOR CHARITY
Ryan Lochte is partnering with Yogurtology to raise (at least) $20,000 for charity. Photo Source: Tim Binning/TheSwimPictures.com
SEARCH
In a release by Jenn Greacen of the Clear Agency, it was announced this week that Ryan Lochte will be debuting and sponsoring exclusive new flavors of frozen yogurt shop Yogurtology in his home-for-the-last-decade Gainesville, Florida.
On September 28th, Lochte will be at the Gainesville Yogurtology store meeting customers, perhaps serving a bit of ice cream, and most importantly raising a significant amount of money to support Lochte's personal charities: Parent Project Muscular Dystrophy and the Mac Crutchfield Foundation.
Lochte has been a long-time supporter in the fight against the Duchenne form of muscular dystrophy. The disease is a crippling physical ailment that leaves most victims wheelchair dependent by age 12, and an average life expectancy of just 25 years old. Around 1 in 3,600 boys are born with this gene mutation.
The big party in Gainesville will coincide with a nation-wide launch at 13 Yogurtology stores in Florida and Arizona, with the company pledging to donate $20,000 to Lochte's charities (and the potential to raise even more).
"Community is at the heart of the Yogurtology brand. With Ryan Lochte, we saw the opportunity to really make an impact in not only the Gainesville community, but that of his charities," says Jaclyn Levy, Director of the Yogurtlands in Florida, said.
Of his new partnership, 5-time Olympic gold medalist Lochte said "I'm proud to partner with a brand that not only values giving back, but rewards giving back. It's cool to know that anyone near a Yogurtology location can help PPMD and the Mac Crutchfield Foundation just by eating frozen yogurt."
The first flavor will be "Lochte Lemon Drop," with "Champion Chocolate Fudge Brownie" coming out on October 5th.
Once more with feeling, this was Mariano Rivera Day in the Bronx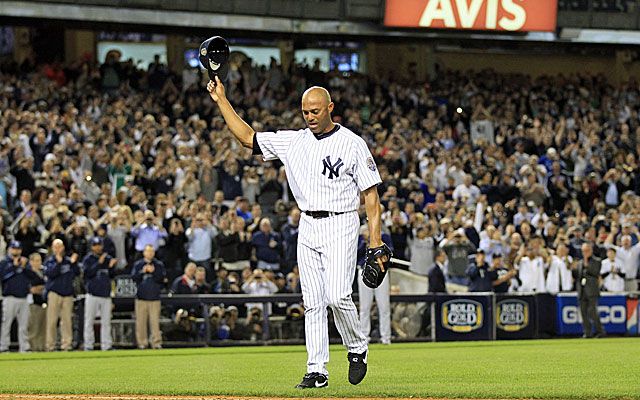 Mariano Rivera leaves the mound in the ninth inning to the cheers of the New York Yankees fans. (USATSI)
NEW YORK -- Standing on the Yankee Stadium mound for one final time, Mariano Rivera was in tears.
He wasn't alone.
They said Sunday was Mariano Rivera Day in the Bronx, but in a lot of ways this was. Sunday was planned, ceremonies and speeches and Metallica.
There was a buzz in the crowd that felt like October. The flashbulbs popped, as if it was the World Series.
And Mariano Rivera pitched for the Yankees, for the final time in the home pinstripes.
It was a meaningless game for the Yankees, who were eliminated from the playoff race Wednesday. It was the only meaningless home game of Rivera's 19-year career.
Still, it was a night that many will never forget.
Rivera faced four Rays batters and retired all of them. He entered to a thunderous ovation in the eighth inning, with the Yankees using a tape of the late Bob Sheppard for his introduction.
He left with two out in the ninth to an even bigger ovation. Yankees manager Joe Girardi sent Derek Jeter and Andy Pettitte to the mound to make the change, and Rivera was in tears as he hugged Pettitte for quite a while.
"I mean, he was really crying," Pettitte said. "He was weeping. I felt like he didn't want to let go, so I just kept on hugging him."

"Thank God they came out there," Rivera said. "I was so glad. I needed them there."
This was a game like no other for Rivera, his 1,115th major-league appearance, but perhaps the first where we saw his emotions on the mound. And maybe the first where he even felt emotions on the mound.
He felt it most after the eighth inning ended. Instead of staying in the dugout, as he normally would, he walked up the stairs to the Yankee clubhouse, to the trainers room, just trying to stay under control.
"Everything started hitting me, flashbacks, to the minor leagues and the big leagues, to this moment," he said. "I was bombarded with emotions and feelings I can't describe.

"I knew it was the last time."
Two outs into the ninth, Girardi sent Pettitte and Jeter to the mound (after clearing it with the umpiring crew). Rivera departed, walking off the mound with the fans roaring, with his teammates and also the Rays players cheering. The fans demanded a curtain call, and Rivera obliged.
Soon it was done, the game (a 4-0 Yankee loss to the Rays), the Yankees' home season and the home portion of Rivera's great career.
When it was over, Rivera remained in the Yankee dugout. After all the other players had left for the clubhouse, he went back to the mound and gathered some dirt, before leaving for the final time.
Later, Girardi would nearly break down crying himself, in his postgame press conference, as he tried to talk about his former teammate.
"He made my job fun," Girardi said. "He made my job easy. But probably more than that, he made all our lives better, and we'll miss that."
The Yankees will play three games this weekend in Houston. Rivera may even play center field in one of those games.
But there won't be a night like Thursday.
Source
1
2
3
4
5
6
Precious bb Ricky thanks you for your time ONTD ! feel free to discuss ur fav yogurt and your dream engagement rings !!!
Enjoy this last Friday in September !!!